2022 is just around the corner, and businesses are planning for another year of uncertainty. With the persisting challenges of COVID-19 and changing consumer privacy laws, companies are asking themselves, where do we go from here?
Paid Media Team Lead Jenny Williamson breaks down how Workshop Digital's Pay Per Click (PPC) team is helping our clients move forward with more nimble strategies.
What's in the forecast?
As we look ahead to 2022, assigning Key Performance Indicators (KPIs) is no easy task.
2020 and 2021 impacted performance across all industries. If possible, positive and negative anomalies from both years should be removed from future planning.
It's fair to ask, if the last two years can't serve as indicators for what's to come, is comparing 2019 to potential 2022 performance the right move?
For some industries, the business environment has drastically changed. If previous KPIs aren't relevant, a direct comparison to 2019 may not be useful to outlining future benchmarks.
For clients who do feel like their industry has been thrown for a loop, our annual planning conversations take a start-from-scratch approach, kicking off with a view of the landscape to determine relevant KPIs to track, followed by measurable targets to aim for.
Look at competitors from a bird's eye view
The pandemic affected regular business practices for most of us. From manufacturing to sales to marketing tactics, the pre-2020 versions of "what works" and "what's to be expected" are no more.
To gauge how our clients should proceed in the PPC space, we suggest zooming out for a clearer picture of what competitors are doing, and ask:
Is it working? (If it's not working, why?)

What emerging industry trends could be adopted, or adapted?

What should the client avoid that doesn't align with their goals or capabilities?
Asking broad questions helps our team understand who our clients are up against, and craft paid strategies to benefit their businesses.
Among other tools, Facebook Ad Library and Google Trends are resources we look to for competitor research.
Facebook Ad Library allows users access to information about ads running across Facebook products, including the funding source, cost per campaign, and reach across demographics. All ads are housed in the Ad Library, and users can search for any term or page name. Ads can also be filtered by country or status (active/inactive).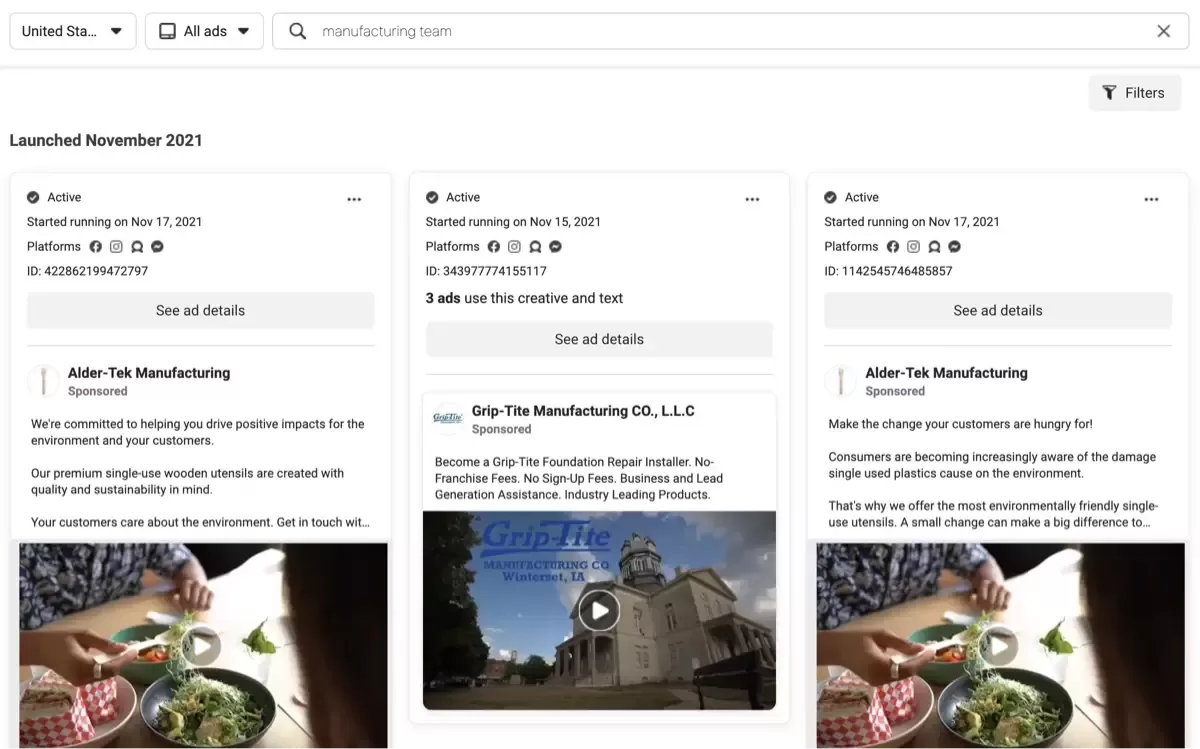 Google Trends is a customer insights tool showing audience interest based on search patterns and volume. Users can filter by real time and non-real time search data. Daily search trends show real time spikes in search volume within the last 24 hours. Non-real time is a record of search data ranging from 36 hours prior to the inquiry all the way back to 2004. For non-real time data, Google normalizes the sample to account for an increase in the number of Google searches over the last 17 years, allowing for meaningful historical search comparisons.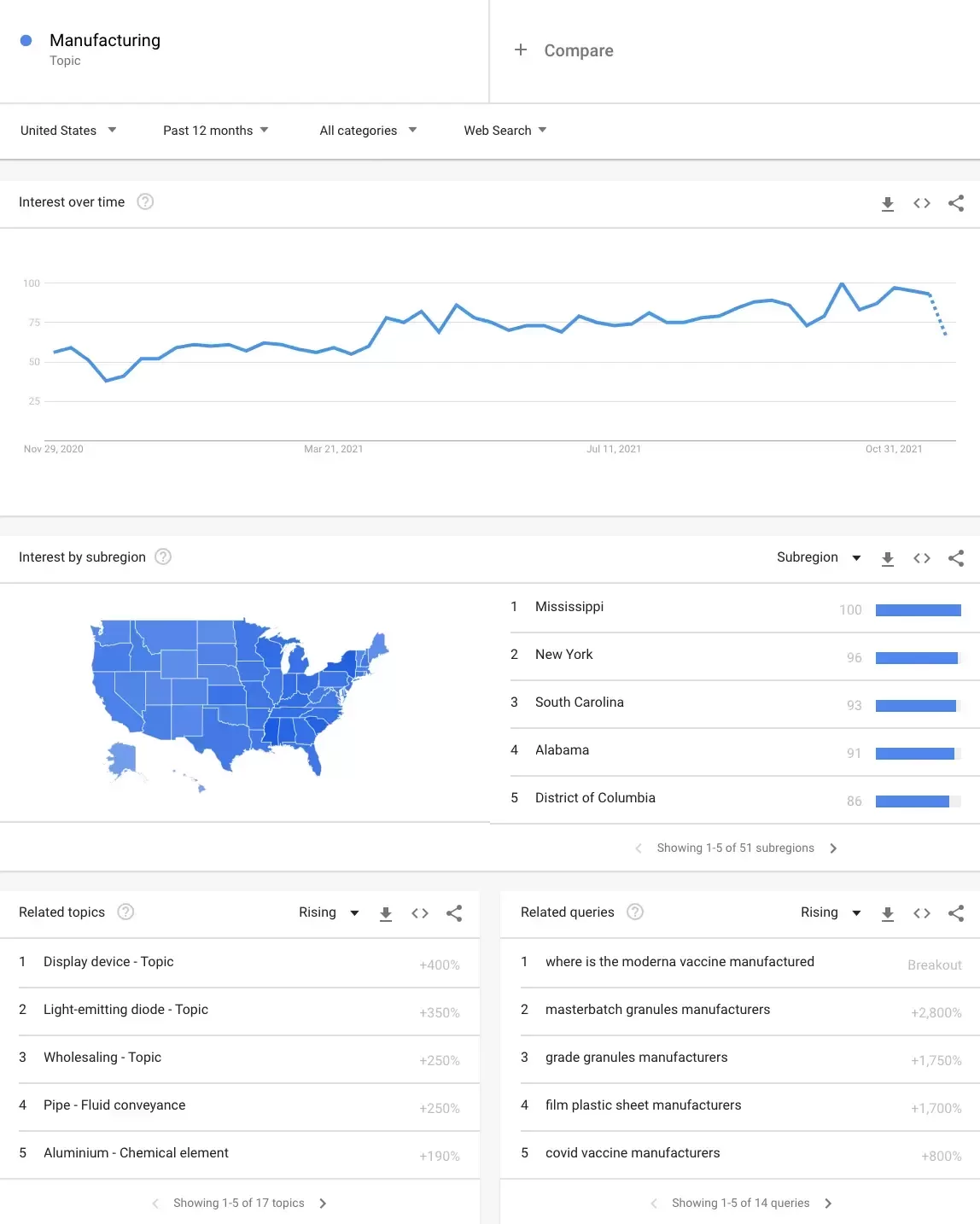 Both tools foster industry wide perspectives, as well as the opportunity to narrow down into specific competitors' ad activity and consumer interests.

Diversify ad platforms to strengthen paid strategies
Don't put all your eggs in one basket. We've re-worked the common phrase with well-rounded PPC strategies in mind:
Don't depend on one platform's ad performance to deliver on all of your PPC goals.
We encourage our clients to advertise on multiple platforms as a proactive measure to diversify their paid strategies. Our research concludes that brands with a more diverse digital footprint are in a better position to attract more customers online.
Ad platforms are constantly changing with new features, spend requirements to maintain competitiveness, and restrictions. Being present across multiple platforms ensures that if a client experiences a decrease in ad performance tied to a specific platform, a platform suffers from a technical outage or is impacted by federal regulations, ads on other platforms are still supporting the broader customer acquisition strategy.
Another consideration is the forthcoming restrictions on consumer privacy data. Perhaps now more than ever, it's important for businesses to dive into current ad performance as an indicator of what's working and what can be improved. If one platform's performance is lagging behind another, what can be changed to boost visibility, clicks, or lead generation? Asking these questions now allows for measurable, data backed solutions to better "future proof" our digital strategies.

Communication is in the details
Successful paid media strategies are supported by proactive, clear, and consistent communication.
During annual planning conversations, we ask our clients to think about their business as a whole and share any and all challenges they anticipate in the upcoming year. From supply chain issues to capacity or staffing shortages, these are the details that may not come to mind as relevant to marketing, but do impact the success of PPC efforts. If a challenge arises during the year, we ask our clients to let us know and we can work with them to adjust their digital marketing strategies.
For example, if a manufacturing company focuses their paid ads on a product that is taking longer than normal to produce, it's important that ad copy doesn't reflect an unrealistic delivery or installation timeline.
When clients offer a holistic view of company operations, paid campaigns can support current business capabilities rather than stressing already taxed areas.

Wrap Up
In times of uncertainty, planning paid media strategies poses a challenge for all businesses. Zooming out to look at the bigger picture, keeping an eye on competitor wins and losses, and diversifying platform presence are recommendations we make to help our clients adapt to these changes, and implement effective paid strategies. We've found that supporting our recommendations through frequent, clear communication helps us produce results that support our clients' business needs and goals.
Are you a marketer interested in elevating your paid media strategy? Check out our PPC Services for more information.