Last week, I attended BrightonSEO, a conference on the beach in Brighton, United Kingdom. I know you're expecting my reason for loving the conference to include sitting on the beach and hearing an occasional nice talk from someone with a British accent—but there you're wrong. It was around 50° Fahrenheit during our trip and the beach is made of stone.

What made this conference so great? Actionable insights from top SEOs across the globe in some of Workshop Digital's favorite industries. During our trip, we picked up new strategies to make boost our clients' performance—especially those in ecommerce and local SEO.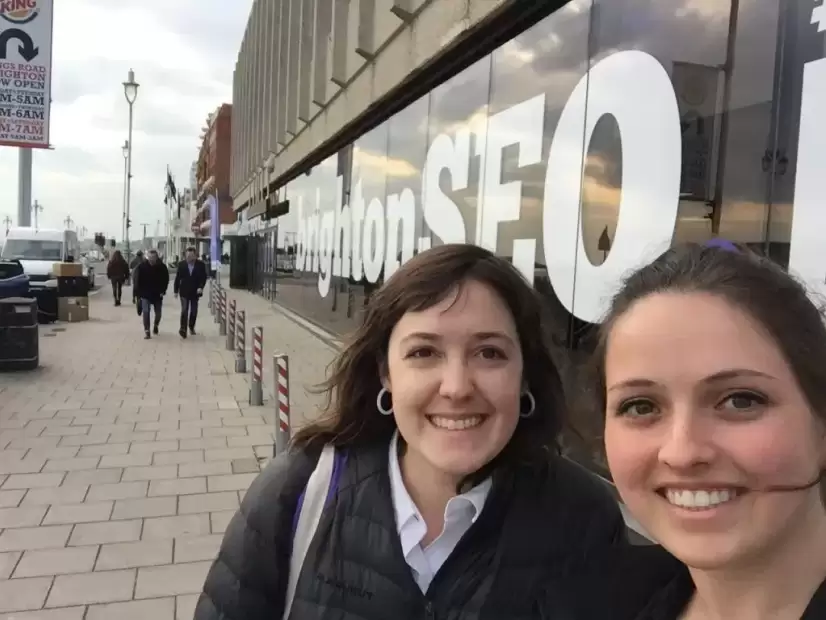 Today, I'll take a look at ecommerce. Most of these learnings at BrightonSEO came from an all-day training on ecommerce SEO taught by Maria Camañes Fores. Additional insights came from Matthew Brown's talk on "The Circle of Trust: SEO Data" and Dana DiTomaso's talk titled "Your New Google Analytics BFF."

Below are my top five takeaways for ecommerce clients.
1. How Keyword Research for Ecommerce is Different
Keyword research for ecommerce starts with intent, just like non-ecommerce websites, but the tactics for findings and prioritizing pages is very different. While lead generation websites may prioritize which pages to optimize based on leads, ecommerce websites should start with the pages that generate the highest revenue.

Once you've prioritized pages, you can begin finding head keywords and long tail keywords. The most valuable insight from the keyword research training was using Amazon to find which latent semantic indexing keywords may help your business rank. By doing a search on Amazon for a product that you sell, you'll typically find similar keywords to use on your website. You can do this using Amazon auto-suggest and by looking at actual product pages. Once you have that list, you can use a keyword volume tool to analyze which will work best for your website.
2. Using Link Building Strategies for Ecommerce Sites
Link builders know that you want to build links to pages with a measurable financial impact. The problem for ecommerce websites is that those pages are typically category and product pages, which are harder than usual to get backlinks. Some of Maria's tips are to:

Transform your products into newsworthy content to get links from journalists
Find broken links to competitors sites and reach out to see if that website will link to your site instead
Use Ahref's link intersect tool to see which sites have linked to your competitors, as they are more likely to link to your website as well
Find unlinked brand mentions and ask for them to link to relevant deep content within your website
3. How to Retire Old Products
There are plenty of cases on ecommerce websites where products or categories are removed. Some cases include seasonal products, temporarily out of stock products, and discontinued products. The main takeaway for me is that ecommerce seasonal hub pages should be recycled each year.

Let's use an example of Black Friday. Maria's advice is to create a hub page (category page) that does not include the year in the URL, so that you don't have to start from scratch for ranking the next year. If you haven't had a Black Friday page in the past, make sure you create it well in advance, so it has time to gain visibility in the SERPs. At the end of the season, redirect discontinued product pages with backlinks to other relevant products, the main Black Friday page, or the homepage. Only apply a 410 status to products with no backlinks.
4. Finding and Fixing Duplicate Content Issues
Because ecommerce websites are so large and multifaceted, they typically struggle with low quality and duplicate content issues. Matthew Brown's presentation on improving website performance by maximizing crawl budget went hand in hand with Maria's training. By requesting server log files from developers, running these through the Screaming Frog server log file analyzer, and making adjustments through noindex and robots.txt to restrict Googlebot's access to portions of the website, Matthew has given websites nearly a 40% bump in sessions!
5. Finding and Eliminating Duplicate Transactions Data
Dana DiTomaso's talk focused on using the customTask field (implemented for Google Analytics through Google Tag Manager) for clients to get more helpful insights that Google Analytics doesn't usually provide. Top uses include clientID (for tracing leads/transactions back to their original marketing channel) and keeping duplicate transactions from recording in Google Analytics because of tab hoarders.

Essentially, many ecommerce websites are recording more transactions because people leave the tab open on the "order confirmation" page. Each time a new session starts on this page, a transaction may be recorded. I'm so excited to get my hands on this deck so I can immediately begin using customTask for my clients (update: here it is!).
Any questions on these ecommerce tactics? Feel free to ask by leaving a comment. And stay tuned for my summary on local SEO.