As you may know, Google continuously updates or adds new features and products to improve their Google Ads platform. This quarter, there were several updates worth sharing.
Below, are the top six updates for quarter three of 2019.
Google Ads Updates: September 2019
1) Google Will Sunset Accelerated Ad Delivery on October 14th, 2019
According to Google, "starting October 14, 2019, accelerated budget delivery will no longer be available for use with Search campaigns, Shopping campaigns, or shared budgets. Campaigns using accelerated delivery with those campaign and budget types will be automatically migrated over to standard delivery, starting October 7, 2019."
This change will not affect the way Google manages an advertiser's spend.
Google recommends switching to standard delivery as soon as possible. To do this go to Settings -> Budget-> Delivery Method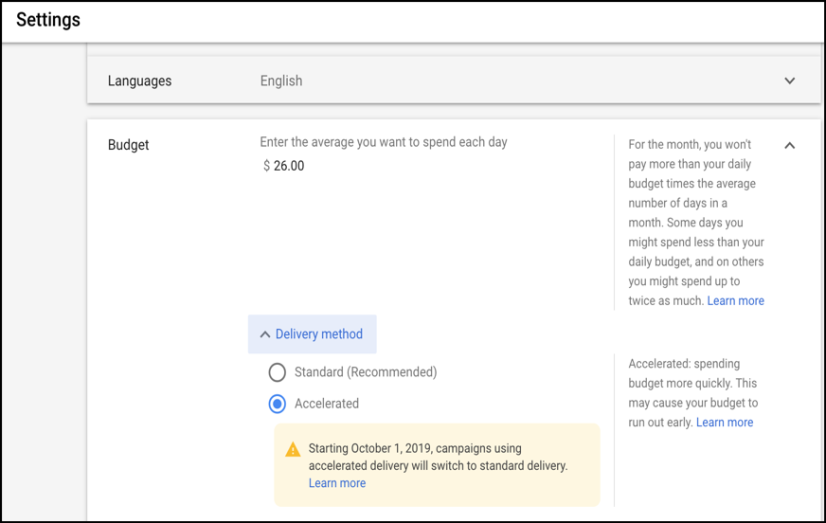 2) Google Prohibits Advertising for Speculative and Experimental Medical Treatments
As of September 6, 2019, Google announced they will prohibit advertising for unproven or experimental medical techniques, such as most stem cell therapy, cellular (non-stem) therapy, and gene therapy. According to Google, "This new policy will prohibit ads selling treatments that have no established biomedical or scientific basis."
Google has seen a rise in bad actors attempting to take advantage of individuals by offering untested, deceptive treatments said, Adrienne Biddings, Google's Policy Adviser.
"Oftentimes, these treatments can lead to dangerous health outcome, and we feel they have no place on our platforms," stated Google.
GoogleAds Updates: August 2019
3) Seasonality Adjustments For Smart Bidding
If you are an advertiser taking advantage of smart bidding and you have several short sale events, the seasonality adjustments tool is great for you.
The seasonality adjustments is an advanced tool that can be used to inform Smart Bidding of expected changes in conversion rates for future events like promotions or sales, says Google.
The seasonality adjustment tool is great to use for short sales that range between one and seven days. The tool may not work well for sales or promotions for longer than 14 days.
According to Google, when you create a seasonality adjustment, you're scheduling a conversion rate adjustment (an increase or a decrease)—which accounts for estimated changes due to an upcoming event.
To find the seasonality adjustments tools, go to Tools & Settings -> Shared Library-> Bid Strategies-> Advanced Control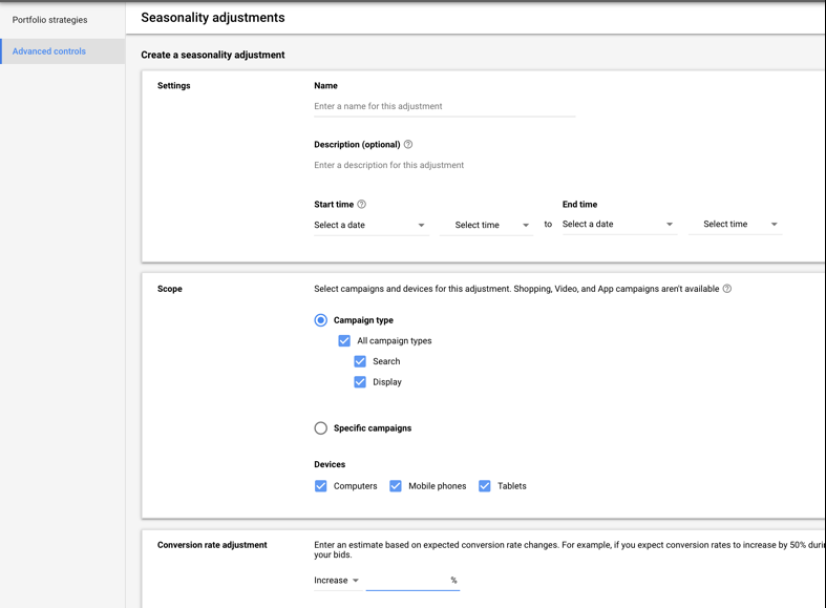 4) New Bidding Strategy: Maximize For Conversion Value
Maximize for conversion value is an automated bidding strategy that helps you maximize the total conversion value of your campaign within a set budget. This is a goldmine for eCommerce advertisers.


5) Google Says Goodbye To Average Position
Starting the week of September 30, 2019, Google will be removing the average position metric from all Google Ads account. Google recommends using the columns Search top impression rates and Search absolute top impression rate because they reflect the actual placement of your ad on the page.
Google will be disabling the following the week:
Rules using average position
Custom columns using average position
Saved reports that filter on average position
Saved filters with an average position
Google Ads Updates: July 2019
6) Google Will Allow Broad Match Modifier and Phrase Match Keywords
To help reach more consumers that are searching in new ways every day, Google is allowing broad match modifier and phrase match keywords to match words within the search query that share the same meaning as the keyword.
Google states, "On average, we expect advertisers using broad match modifier and phrase match keywords to see 3-4% more clicks and conversions on these keywords. And of those new clicks, 85% are expected to be net-new—meaning they're not covered by advertisers existing keywords".
Here are two examples of how Google will match your keywords to searchers for broad match modifier:




So, what does this mean for you?
Google updates generally indicate a shift in direction to improve digital marketing strategy. These recent updates are no exception. You don't need me to tell you that the digital marketing industry moves at a rapid pace. Things change quickly—so we want to ensure we're staying up-to-date and testing new features for our clients.
These updates encourage our team of PPC analysts to achieve client business goals faster and more efficiently.
Do you have any questions? Which update are you most curious about? Drop us a line.