Google Ads is a powerful tool to boost brand awareness, leads, and sales generation for all types of businesses. Local businesses, like dentists, restaurants, HVAC service providers, and lawyers can benefit from Google Ads just as much as online retailers.
Let's take a look at several different tools and metrics that local businesses should be using today, beyond the basics of Google Search and Display campaign setup.

Local-focused Conversions
The first step to improving your paid digital marketing results is to track all the relevant actions users can take online. That way, all of your initiatives will be measurable and comparable as you test what works best for your needs. For large businesses, this means tracking ecommerce sales or sign-ups for trials or consultations. But for local businesses, what often matters most are phone calls and people physically walking through your door.
Tracking can and should still be set up on your website's contact forms. We do that by creating a goal in Google Analytics that counts form completions, which then import to Google Ads to attribute those leads to campaigns. But calls and foot traffic usually outnumber website forms by quite a bit, which makes tracking especially important.
Phone Call Conversions
Phone calls are counted in Google Ads as a conversion and attributed to the appropriate campaigns, ads, etc. when the calls come directly from your ads (more on that in the next section) and you have call reporting enabled in the platform. To count and attribute calls made from the website after an ad click, you will need to use either Google's dynamic number insertion, or an integrated third party tool. At Workshop Digital, we typically recommend a third party tool like CallRail because it has added functionality of recording the calls so you can listen back later for quality control and lead qualification.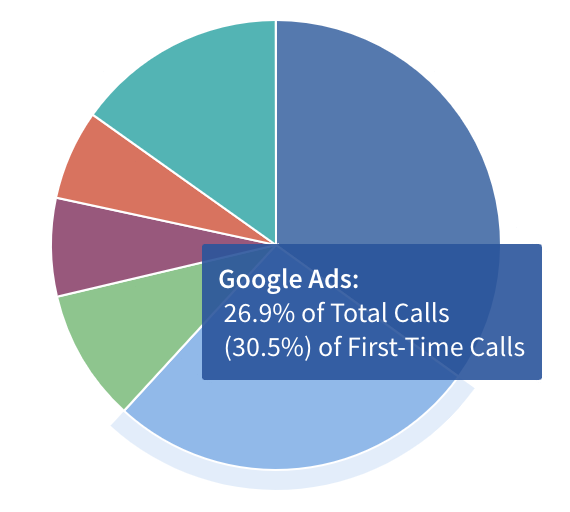 Local Action Conversions
Local action conversions are conversions that are automatically created in Google Ads accounts that are linked with Google My Business and do not fall into one of the following categories: healthcare, religion, sexual content, or children. The local actions are: directions, website visits, menu views, orders, and "other engagements".
These are all counted when specific types of clicks take place on any Google location-based ad or service after an ad interaction. Directions are clicks on the "get directions" button, website visits are clicks on the website link, and other engagements are clicks on other tracked user actions like share location, save, etc. Menu views and orders are specific to food service businesses, and are clicks on the menu link or "order" button.
It is interesting and helpful to review these results broken out in the per store report and distance report available in Google Ads. You can reach these by navigating to [All Campaigns >Locations > Per Store Report] or [Predefined reports > Locations > Distance].
| | |
| --- | --- |
| Conversion | Description |
| Clicks to call | Clicks on the "Call" button on any Google location-based ad or service after an ad interaction. |
| Local actions - Directions | Clicks on the "Get directions" button on any Google location-based ad after an ad interaction. |
| Local actions - Website visits | Clicks on the website link on any Google location-based ad or service after an ad interaction. |
| Local actions - Other engagements | Clicks on other tracked user actions (for example: shared location, save, etc.) on any Google location-based ad or service after an ad interaction. |
| Local actions - Orders | (Vertical specific) Click on the "Order" button on any Google location-based ad or service after an interaction. |
| Local actions- Menu views | (Vertical specific) Clicks on the menu link on any Google location-based ad or service after an ad interaction. |
Store Visit Conversions
If foot traffic to your physical locations are important, then store visit conversions will greatly improve the measurement of your campaigns' success. Many consumers do not take actions like calling or filling out a form after seeing or clicking on an ad. They may prefer to simply visit the store in person. With store visit conversions you can make the connection between how many people saw your ad and how many actually came to the store, with attribution down to the campaign, ad, keyword, audience, and device.
It works when a user is signed into Google and has location history enabled in their account settings when they see and interact with your Google ad. Then they visit your business's physical location and Google connects the visit to the online ad engagement using anonymous, aggregated statistics. It is not an exact measurement, but it is privacy-safe. Similar to the local action conversions, the metrics for these can be viewed in the per store and distance reports, as well as aggregated at the campaign and account level.


Geo-Targeting
Geographic targeting is important to make sure you aren't reaching people who are too far from you, and there is one crucial setting in the setup options that is easy to miss when you define these geo-targets.
If you have a service area of just a particular group of counties, or a distance radius in which you deliver, you can select those particular counties, or create a radius bubble centered around your business location. If you have a storefront, you may have an idea of how far people would realistically be willing to travel to come to you, so you can set that radius as well. In both cases, you may have past customer data that you can aggregate to identify which cities or zip codes most of your best customers live in. You can specifically target those areas and/or apply bid adjustments to indicate to Google that you are willing to pay more for users in those areas. Similarly, you can exclude certain areas within your defined targets that you do not want to reach.
Once you have set your geo-targets, the setting you don't want to miss lives in the "location options" dropdown button within the campaign location settings. This is where you define who should be included in your geo-targets. The options are "presence or interest", "presence", or "search interest". "Presence or interest" is defined as people in, regularly in, or who've shown interest in your targeted locations. That is the default option and is probably a good idea for hotels or restaurants, as you'll reach people in your area and those who have shown search intent for your area(like if they're planning a trip to visit). But if you have a defined service radius, you want to select "presence" instead because that only includes people physically in your targeted area. And "search interest" is perhaps the most niche choice because it only targets people who are including the name of your area in their searches, regardless of where they live.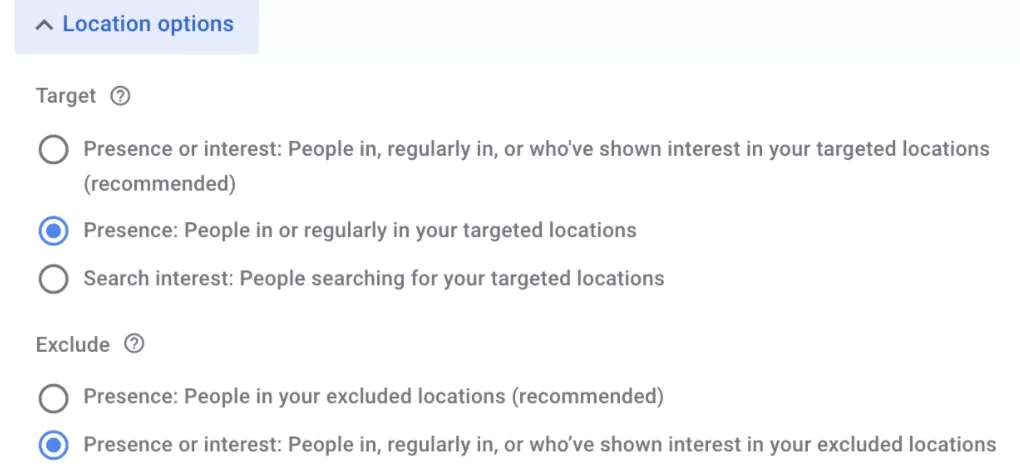 Ad Extensions
Ad extensions are additional links or lines of text that are shown with your Google search ads. They make your ad stand out by taking up more space on the search results page, giving users more options for interaction, and improving your ad quality from Google's point of view. There are two in particular that are most important for local businesses: call extensions and location extensions.
Call Extensions and Call Ads
Call extensions display your business's phone number alongside the search ad. On mobile, call extensions create a tappable phone icon to open up the phone app and call directly from the ad. With these, users can choose to click through to the website, or if they know they want to call, do so from the ad without the extra step.

A separate Google ad format is called call ads. They basically make the call extension the entire ad. call ads only serve on mobile, and display the whole ad in the phone number, your company name, and a brief description. Clicking anywhere on call ads opens the phone app to call your business, as opposed to regular search ads where the main click action drives users to the website. These work well when calls are your primary lead type.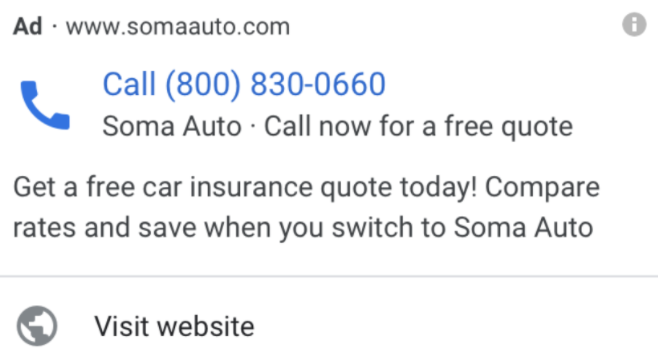 For both call extensions and call ads, calls are automatically counted and attributed to campaigns since the calls are being made directly from the ad unit rather than the website. As previously mentioned, Google call forwarding or a third party tool needs to be enabled to track and attribute calls from the website.
Location Extensions
Location extensions display your business's address with your search ad. This is a clickable link that opens Google Maps and plots a course from the user's location to your storefront, which is especially useful for mobile searches. Local extensions also allow your business location and other information to appear as an ad when users use the search bar within Google Maps itself.
To set up location extensions, you need to link your Google Ads account with your Google My Business (GMB) account. GMB is where you maintain the information that appears in Google Maps and, occasionally, in the card on the right side of search results with your business name, photos, address, phone number, store hours, reviews, etc.



Local Campaigns
Local Campaigns are a type of Google Ad campaign like Search, Display, or Video. They are optimized specifically toward driving local actions such as store visits, calls, and driving directions. - You can set values for each of those to help the system prioritize. They are simple to set up and cover multiple placements all at once. To create local campaigns , you'll need images, a video, and text headlines. You also need your account to be linked with GMB, which is how Google determines appropriate geo-targeting.
The ads can appear across Google Maps, Google Search, YouTube, Gmail, GMB business profile, and the Google Display Network. Based on the user and the channel, Google will format your ad using a combination of the text, image, and video assets, constantly testing different variations. You can review the asset report to see which are performing well and which should be replaced.
From personal experience, these are quite efficient, generating leads below the average cost-per-lead for the account. They do just focus on local actions, rather than form completions on your website but that may be adequate for your local business's needs. The other downside is the lack of control Google gives the advertiser over targeting. Google determines the geo-targets and does not allow for additional audience targeting. Still, local campaigns are definitely worth testing.


Local Services Ads
Google Local Services Ads (LSAs) are a unique type of ad unit that appears at the very top of Google Search results when users search for the services you offer in your area. Depending on your settings, users can call, send a message, or schedule a booking directly through the ad. They feature a photo, a link to your Google My Business reviews, and a Google Certified or Google Screened badge/checkmark if you go through Google's vetting process. Calls and messages are recorded in the platform, and you can mark them as qualified or unqualified, closed or lost.
LSAs are not built or managed within Google Ads. The platform is separate but connected for billing purposes. If you are cost-conscious, be aware that there is a minimum weekly budget. This is different based on industry and location, so you will have to begin building the ad to see your minimum cost. Also, note that not all service categories are eligible to run LSAs yet, though Google continues to slowly add more. As of now, they are primarily for contracting services, including plumbers, roofers, landscapers, and HVAC, as well as providers like lawyers, locksmiths, and real estate agents. Be sure to check to see if your business is eligible.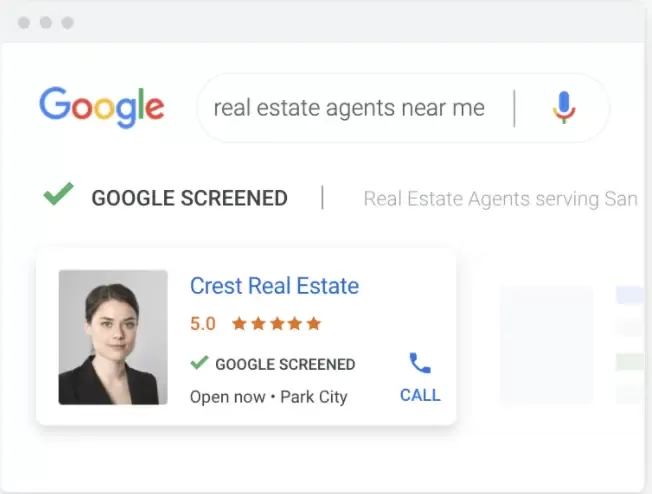 To create the ads, you need photo assets, a link to a GMB profile for reviews, information about your business hours, specific services provided, and a link to a Google Ads account for billing. A map is provided for you to establish which areas you'd like to target, down to zip codes. You will also be prompted to provide information from your official business documents to prove you are a quality, legitimate business so you can receive the Google Guaranteed/Screened icon which helps promote visibility and establish consumer trust. For example, lawyers need to input bar numbers and allow Google to perform a background check on the firm's owner.
LSAs are a great way to add incremental impressions, clicks, and leads to help stay ahead of the competition. Our analysts have seen success after implementing them for Workshop Digital clients.

Wrap Up
Google's ad offerings are powerful tools for marketing all types of businesses, especially now that there are so many more good options for local businesses. If you offer services to homes and businesses or people in your area,LSAs are probably for you. If you run a local chain of retail stores or restaurants, you should be tracking store visit conversions. For any type of local business, call extensions, call ads, local action conversions, and local campaigns are all worth testing. And for everyone, the right geo-targeting options are important.
If you need help, our Workshop Digital analysts have experience managing all sorts of digital marketing campaigns for local businesses, wherever you are!