These Virginia companies are winning more customers online
Companies that are using SEO, PPC, social media, and user experience for "measurable, sustainable customer acquisition" are winning more customers with a diversified digital acquisition strategy.
We celebrate the companies in Virginia that are succeeding—and help those struggling understand the best, most relevant aspects of successful digital marketing strategies.
Who tops the list of companies using digital acquisition to fuel growth?
We analyzed over 11,000 companies in Virginia to understand what separates the growth leaders from the rest of the pack. The top-ranked companies understand that sustained growth requires a diversified approach to digital marketing in order to attract and retain new customers.
To pull this off, we gathered data about each company's approach to search engine optimization (SEO), pay per click (PPC) advertising, social media engagement, brand awareness, and website user experience. The dozens of qualitative and quantitative data points were distilled into 10 metrics and each website was ranked on a 0-10 scale. This allows for apples-to-apples comparisons across industries and company sizes. Our full methodology provides more detail on each of the 10 metrics and data sources.
Key Takeaways & Insights
The top-ranking companies above represent a cross-section of industries, total revenue, geography, and history. True insight comes from comparing multiple dimensions and answering the critical "so what?" question.
Industries with the highest & lowest scores
Our data set includes nearly 500 companies across dozens of industries. The highest-ranking sites, on average, belong to companies in the manufacturing, health care, privacy and security, consumer goods, and administrative services industries. These companies are aggressively seeking new customers online with a diverse mix of acquisition channels and strategies.
Industry-leading marketers scored higher by running more search ads and generating more likes, shares, and retweets per follower on Twitter and LinkedIn. This multi-pronged approach improves their chances of reaching potential customers at each stage of their journey to an eventual purchase.
The content & publishing industry ranks at the bottom of our survey. The 64 media sites we measured average a meager 3.6 Acquisition Index score and thus are not positioned well to attract new customers and audiences.

These lower-ranked sites are held back by lower average organic search rankings, lower ad budgets in search and social channels, and less engagement with social media followers. While some publishers may have significant reach in print and broadcast media, traditional regional media outlets including the Richmond Times Dispatch (3.5 / 10), Style Weekly (1.8 / 10), and WRIC-TV8 (3.5 / 10) posted lower scores compared to newer, internet-era publishers such as The Motley Fool (7.4 / 10) and Politico (7.0 / 10).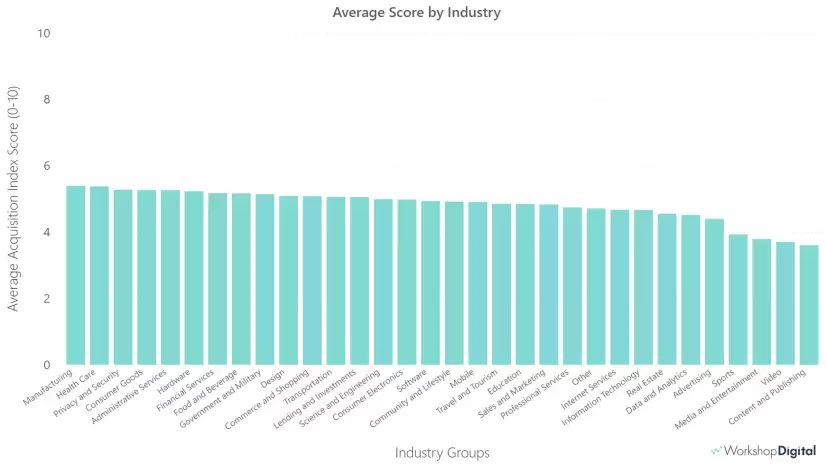 Higher revenue correlates to acquisition success
Or is it the other way around? A company's revenue isn't a predictor of digital marketing success. It's an outcome.
Generally speaking, the larger the company, the higher the Acquisition Index scores. Companies with $1B - $10B and $10B+ in revenue have the highest average scores while smaller companies (<$1M and $1M - $10M in revenue) score the lowest.

Big brands didn't become big purely by luck. Our survey data confirms that they fueled their growth with bigger digital ad budgets, a more engaged social audience across more channels, and a higher realized potential, or the number of pages ranking on the first page of Google's search results. Additionally, their content is working harder and earns better rankings for higher value keywords, translating to a higher organic efficiency metric in our result set.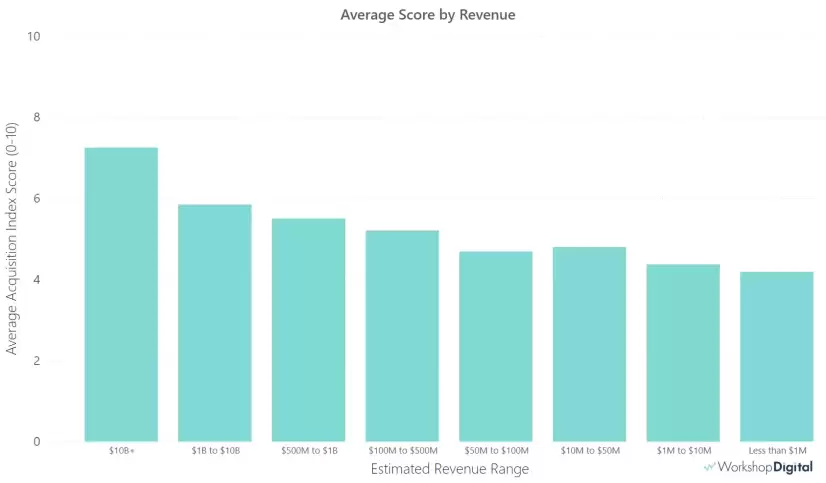 Smaller companies have distinct advantages over larger rivals
It's true that smaller companies face more headwinds than their larger peers with deeper pockets and bigger brands. Many small companies face budget, staffing, and time constraints. However, it's not all bad news.
Companies with less revenue have the strongest traffic fragility scores, indicating they get organic traffic from a more diverse set of pages on their sites. They aren't as dependent on a few "money pages". Think of a house with multiple side doors, not just one large front door. It's easier for visitors to get what they need when they can walk directly into the right room.
Smaller companies, on average, also have faster websites that provide a better page experience for visitors. Customers prefer sites that load faster and companies with less revenue deliver a better, faster experience.
For brands with more modest budgets and resources, our data suggests that focusing on creating great content and providing an excellent, fast visitor experience on your website can help you compete more effectively for new customers.
Company age does not impact a website's ability to attract new customers online
Virginia's long history gives us an interesting view of older companies' ability to adapt to current digital channels.

One might assume that younger companies born in the internet era have an inherent advantage in attracting new customers online. Our data suggests that companies launched in the 1890's and 1900's score just as well as companies launched a century later. Of course there's some survivor bias at play -- only the best-run companies last a century or more -- but it turns out old dogs can learn new tricks. And in many cases, can perform them better than their younger competitors.

The highest-scoring companies from the top-scoring 1911-1920 decade include Hilton Hotels (7.7 / 10), Mars (6.6 / 10), and Baker Roofing (5.9 / 10). Each of these companies has shown they can survive a tumultuous century and evolve their marketing and sales strategies to stay ahead of the competition.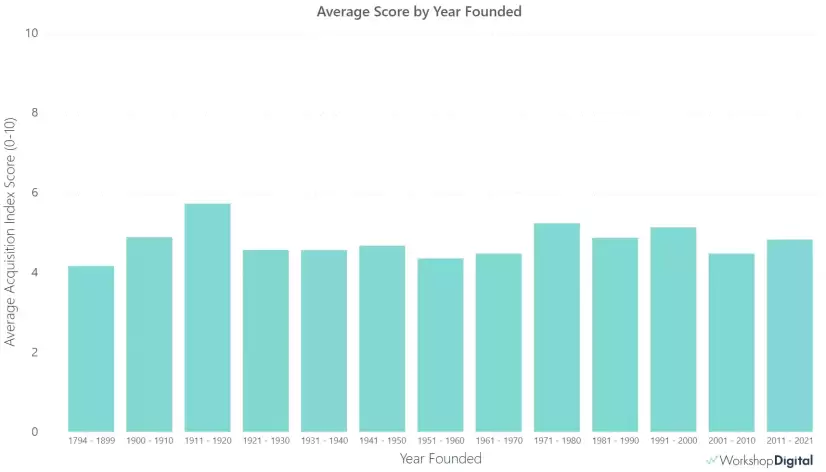 Rankings Methodology
Our analysis covers a broad list of digital acquisition channels, including search engine optimization (SEO), pay per click advertising (PPC), social media engagement, and website user experience. We narrowed the hundreds of potential data points down to the 10 most correlated to marketing success.
Much of our data collection was done manually and time constraints limited the number of sites that we could review by hand. We started with a list of over 11,000 Virginia-based companies from Crunchbase. We narrowed the list to just under 3,000 by isolating only active, for-profit companies with at least 1,000 monthly website visits according to SEMRush.
Next, we narrowed the list from 3,000 sites to 483 by focusing on domains with a proven record of success, and thus, more lessons to be shared. To make this cut, sites had to have >250 referring domains, >3,000 keywords ranking in the top 10 Google search results, >2,000 monthly organic visits, and >$2,000 in organic traffic value. These filters likely excluded some smaller sites that deserve to be analyzed for their effective strategies but the 483 sites in our study represent companies of all sizes and industries.
As much as possible, we used relative measures or divide results into percentiles to keep a handful of outliers from "gaming" the results. Relative measurements allow companies of various sizes to compete on the same plane and make the strategic and tactical lessons relevant to companies of all sizes.
Our analysis included the following 10 calculated metrics based on dozens of data points. Each metric tells a story, but when viewed in aggregate they signal a company's dedication to a diversified digital acquisition strategy.
Search Engine Optimization (SEO)
Organic search metrics such as rankings and traffic don't tell the whole story. We compiled these three SEO calculated metrics to assess an SEO strategy's effectiveness, not just its scale.
Realized potential: The percentage of times a site is on Page 1 for a targeted keyword. High scoring sites appear on the first page of Google's search results more often. Lower scoring sites are not ranking well enough to attract a significant number of clicks.

Organic efficiency: The estimated traffic value for each indexed page based on how expensive it would be to buy clicks in Google Ads for the same keywords. High scoring sites are creating content that rank well for expensive, valuable keywords. Low scoring sites are producing tons of content but not getting much value from it.
Traffic fragility: How much a site relies on relatively few pages to drive traffic. High scorers attract traffic to a wide variety of different pages on their site. Low scorers may attract a lot of traffic but it is consolidated on just a few pages, indicating a greater liability in organic channels.
Pay Per Click Advertising (PPC)
Running some ads suggests a diversification of strategies and maturity. Without insight into the ads account themselves, the number of ads run is the best (if imperfect) indicator of the scope of the program and likelihood of attracting new customers.
Facebook Ads: The number of Facebook Ads run as reported in the Facebook Ad Library.
Google Ads: The number of Google Search Ads run as recorded in Ahrefs reports.
LinkedIn Ads: The number of LinkedIn Ads run as reported on a brand's LinkedIn page.
Social Media
Social media metrics are often vanity metrics. Follower counts and posting frequency can be manipulated and do not directly correlate to successful acquisition strategies. The best in class brands focus on engagement and follower quality.
Twitter engagement: Retweets and likes per follower gauge the relative engagement with a brand's Twitter account compared to similar companies. Higher scoring brands have a high ratio and generate strong engagement given the size of their follower base.
LinkedIn engagement: Likes and comments per follower from the most recent 20 posts gauge a brand's relative engagement with their LinkedIn audience compared to similar companies. Higher scoring brands have a high ratio and generate strong engagement given the size of their follower base.
Brand Interest
Brand search volume: A combined search volume for close variations of a brand name. More searches for a particular brand name indicate a higher level of awareness and interest, a necessary ingredient for digital acquisition success.
User Experience (UX)
Core Web Vitals: A quantifiable measure of a website homepage's user experience. Google's Pagespeed Insights data levels the playing field and provides a useful comparison between similar sites.

How can you improve your digital acquisition strategies?
Our analysis shows that companies grow when they diversify their digital acquisition strategies across search engines, paid advertising channels, social media, and a strong website user experience. If your digital marketing strategies are not consistently generating new customers with measurable results, you may need to take a step back and look at your approach with fresh eyes. The data in this report and future updates can help you prioritize your efforts and plot a new path forward.
We know a thing or two about digital marketing and we're happy to provide a second opinion. If you're serious about improving your ability to attract new customers online, contact us to schedule a free consultation or complete the form below and we'll analyze your digital acquisition footprint for free to get you started.

Ready to take the next step? Let us score your digital footprint for free!
Request your free Digital Acquisition Scorecard by completing the form above. We'll analyze your digital footprint and share our findings within 3 business days.
Or, get in touch to learn more about our digital marketing services.