Staying ahead of your competition means creating a holistic search strategy, not looking at Paid and SEO strategies in silos
In order to attract your ideal customers, you need to be answering their questions and providing them with a solution that answers their needs. In looking at insights across both Paid Search and SEO, you can develop custom strategies that address the needs of your target audience at every stage of the funnel. By ensuring you have a streamlined approach across both your SEO and Paid Search strategies, you'll be able to:
Reduce wasted spend on your Paid Search campaigns
Enhance currently ranking content on your website
Spark new ideas for future SEO-driven content
Our data-driven approach is backed by custom-built AI tools, and a proven process that gives you:
Fast, accurate analysis of large data sets
Segment of keywords based on phase in the funnel and intent to purchase
Analysis of SERP to identify what questions people are asking
SEO-optimized content strategy rollout plan
Reduce wasted spend in your Paid Search strategies
Keywords and phrases with high search volume and lower competition, so you get the most bang for your buck right away
The insights from your personalized Search Opportunity Analysis can be used to build content that outranks competitors and attracts traffic that becomes new business. The sooner you start, the sooner you'll see results!
Keywords backed by data and data experts
The insights we'll share in your Search Opportunity Analysis are based on your current marketing strategy and the information we uncover using our suite of programs and in-house tools developed through AI. You'll have confidence knowing your keywords are supported by expert analysis and real-word data.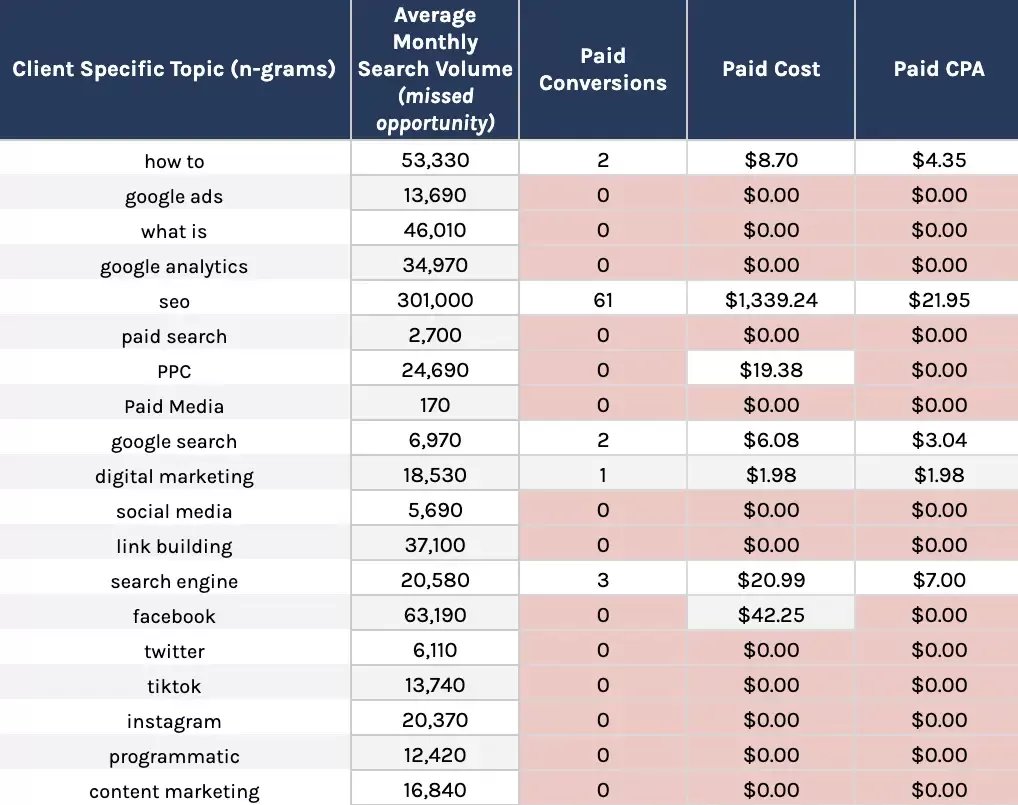 Opportunities that align with your goals
Your Search Opportunity Analysis is based on your business goals, so terms are intuitive and natural for audiences to associate with your brand. Keeping your message true to your company helps ensure you have a better chance to see results sooner.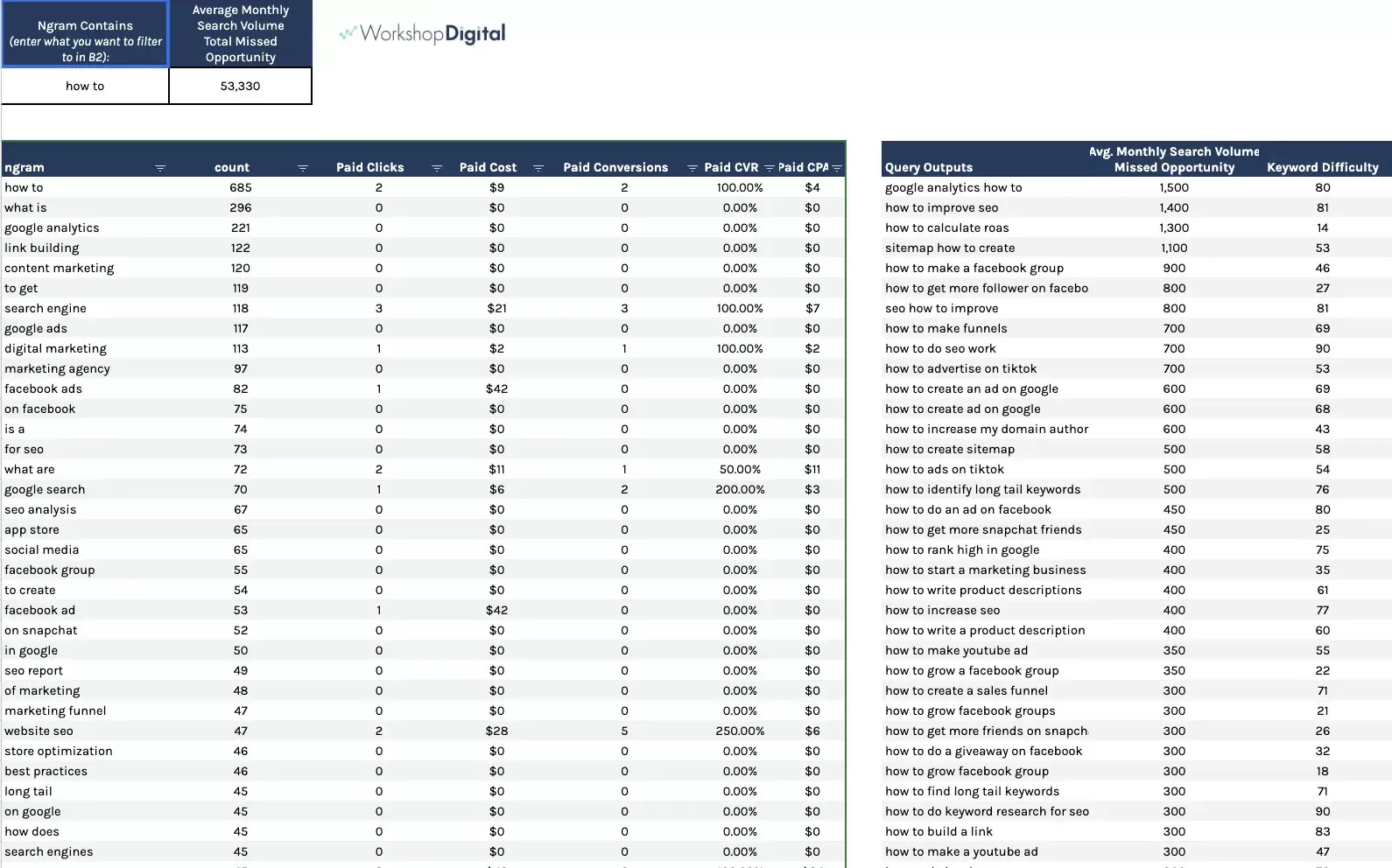 Build a better, SEO-optimized content strategy
Our strategists will show you how we can take your Search Opportunity Analysis and create an SEO-optimized strategy that will help your content steal some market share from competitors and connect your brand with customers looking for your products and services.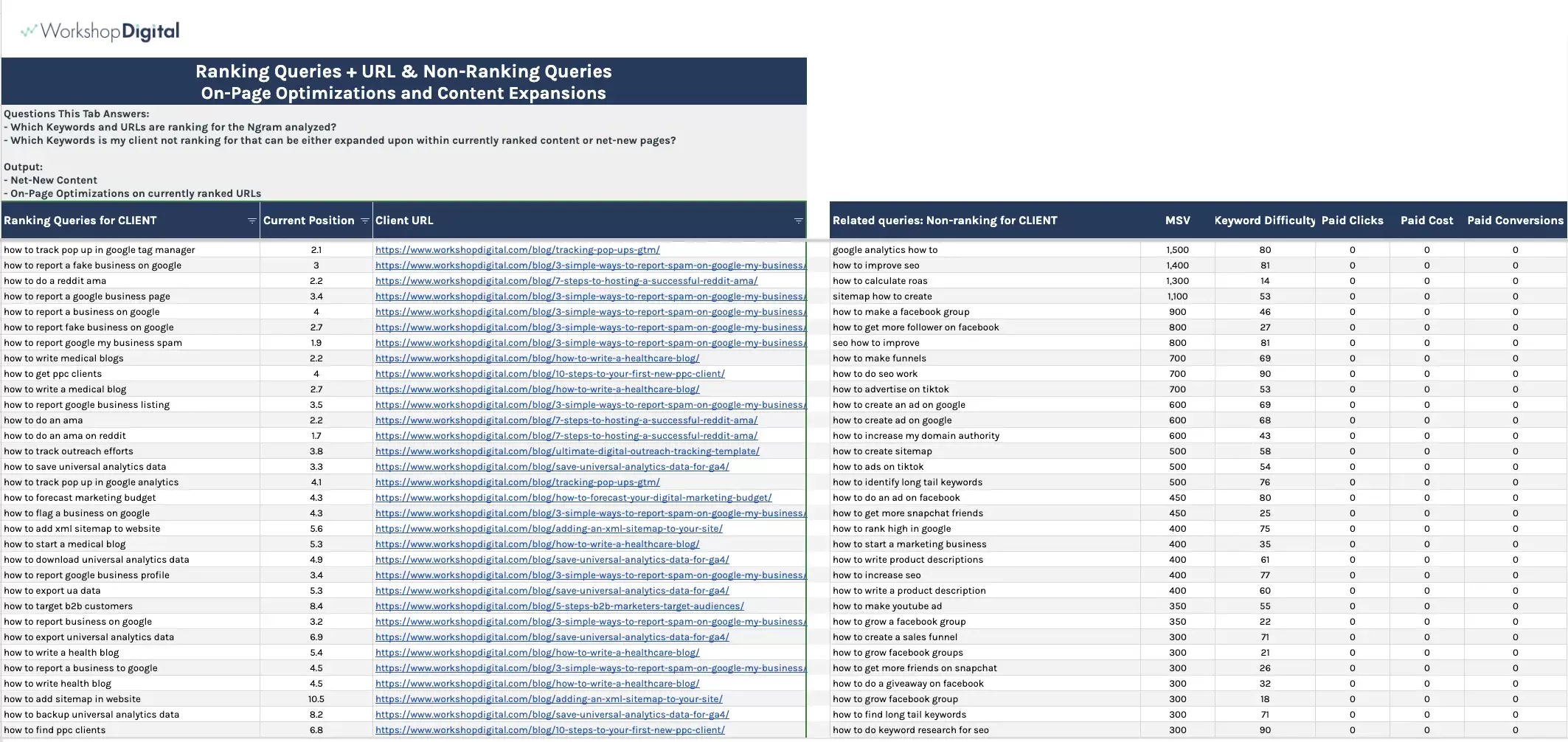 Start identifying the keywords you're missing
Tell us a bit more about your website and your competitors to get started.
Or, get in touch to learn more about how our SEO, Paid Media, and Analytics analysts are using AI to improve results for our clients.
"With the Workshop Digital team, I am able to overachieve a lot of marketing goals, including driving people to our website and generating high-quality leads. I really love working with them and I consider them part of my marketing team."

Dora Kuo, Marketing Director
Helping top brands reach more audiences since 2007