Thoughtful content marketing establishes your business as an industry expert among consumers and competitors. Blog posts, resource articles, guides, and videos that answer common questions, provide solutions to pain points, and present forward thinking ideas contribute to an informed, trusted digital persona.
Large corporations have dedicated content marketers to propose topics, organize publishing schedules, and allocate production.
Small businesses with smaller, multifaceted marketing teams require a more strategic time and resource-sensitive approach.

Align Your Content Strategy With Business Goals
For small businesses, it's important to take stock of existing content, and ask, "Will this help me reach my goals?"
Let's say you own a flower shop. Your quarterly goal is to sell 100 packages of iris bulbs, but your most recent blog posts offer tips for planting roses. Your content strategy is not aligned with your business goals, and would benefit from a well-developed blog about irises.
SEO Team Lead Rachel Nooe suggests focusing content production on pieces that meet users' needs while leading them to the products and services that will help you reach your goals.

Create content that is truly useful for your target audience, and see publishing content as opening doors for people to find you in search results pages.

- Rachel Nooe, SEO Team Lead
Create Content For Your Audience
A common misconception is that a successful content strategy constantly churns out new pieces. In fact, this pedal to the metal mentality can actually be counterproductive - not to mention exhausting.
If a new idea closely aligns with previous blogs or other resources, consider how they can be updated, rather than wasting time and energy on an entirely new project.
Not only is a refresh a time saver, it may help the content perform better. Like-kind content competes with itself in search engine results pages (SERPs), emphasizing the importance of quality over quantity.
Your flower shop publishing multiple resources about tips for growing irises, rather than sticking to one solid blog post, can confuse search engines and users, ultimately hurting performance and rankings.

What's the intent?
To improve existing content, work on aligning it with users' search intent.
To start, put yourself in your consumers' shoes and consider, "If I were looking for this product or service, how would I search for it?"
Choose a query that you think you want to rank for, such as "how to grow irises." Then, use tools like Google Search Console (GSC), Ahrefs, and Moz's "Keyword Suggestion" to refine your query choice.
In GSC, set the date range to one year. Use the "query" filter to plug in your target term and see what content is getting clicks and/or impressions. You can also filter by "average position" and look for SERP positions greater than five. This is a great way to identify content performing well for your desired query and can give you ideas for how to refresh existing content to improve its ranking.
Many Workshop Digital analysts use Ahrefs for keyword research and assessing the search landscape. The toolbar is a quick way to see all the keywords your competitors are ranking for. Ahrefs' "Questions" feature produces a list of search query ideas phrased as a question - a common search format.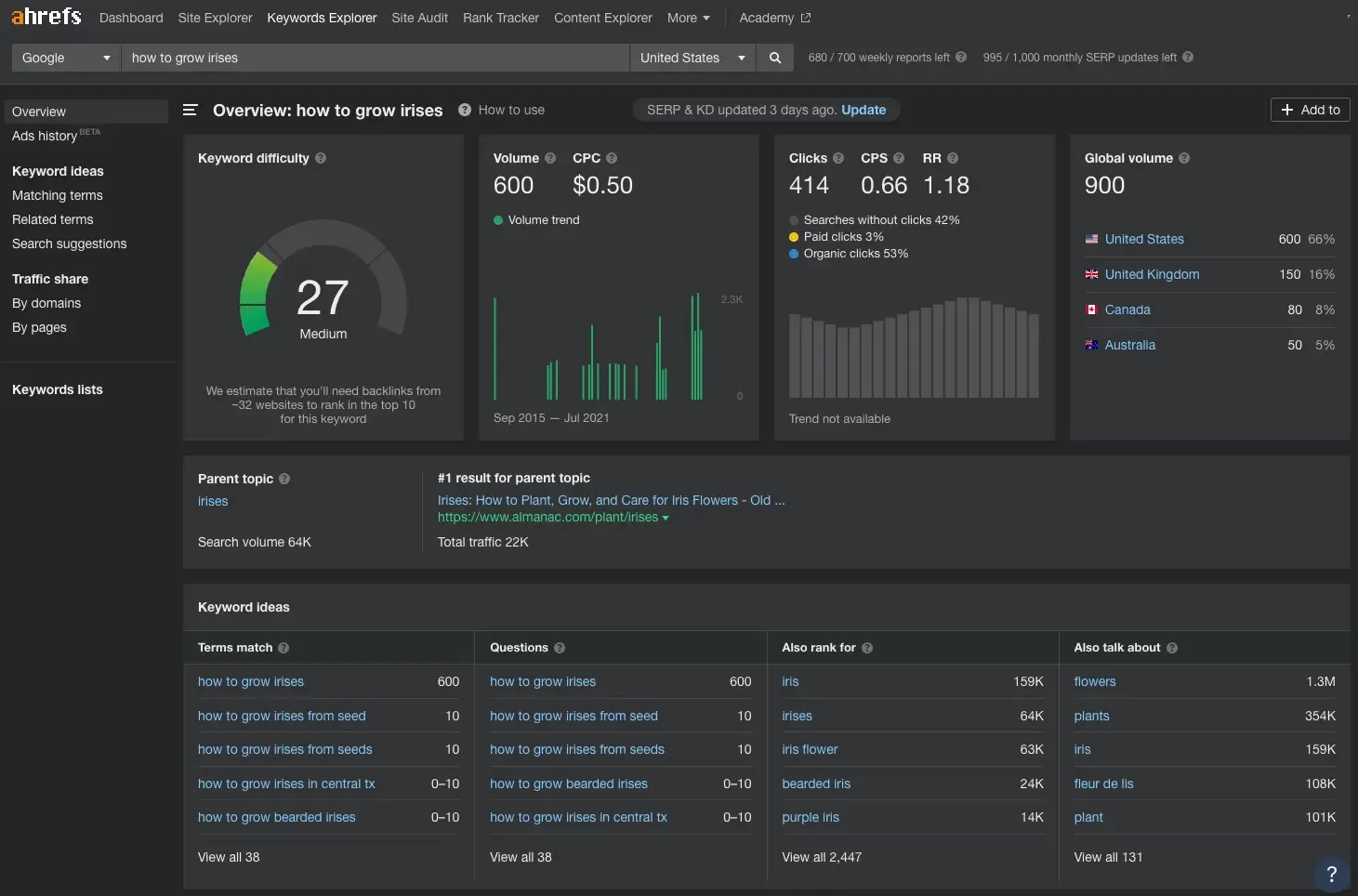 SEO Manager Leah Shapiro recently started using Moz's "Keyword Suggestion" for keyword topic ideas.
"Keyword Suggestions lets you input a seed keyword, like "how to grow irises," then generates suggestions and monthly search volume for similar queries."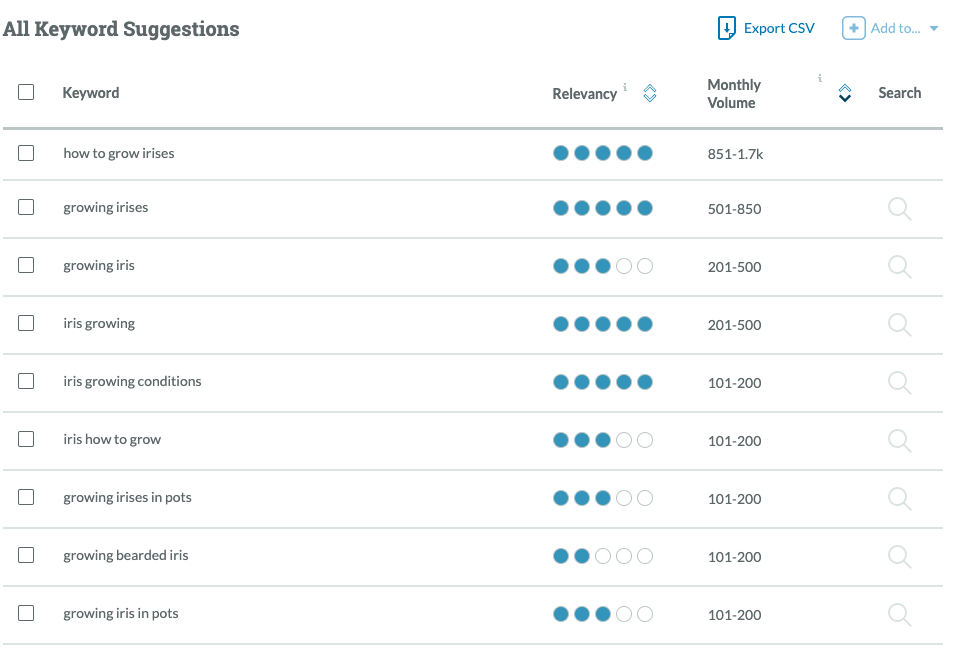 For our example, the suggestion "how to grow irises in pots" is a comparable query users may be searching for more than the original "how to grow irises." With the more popular query in mind, you may decide to include instructions for growing irises in pots in an existing or future piece of content.
After narrowing down high ranking competitor content and queries, you can update your content to target keywords and users who are likely to take an interest in your website and convert.

Outranking the competition
If your business operates in a crowded field, content marketing is a winning differentiation tactic.
One Workshop Digital SEO analyst says, "We can learn a lot about audience search intent, but we ultimately need to find ways to produce content that provides more unique value to our audience than that of our competitors."
Look at competitors and ask yourself:
What sort of content are they publishing?

Is there a content gap?

Does their site have a lot of directive language with callouts, or are conversion points unclear?
From there, use your expertise paired with keyword research to build niche content that addresses previously unanswered users' questions.
Perhaps your flower shop also operates a small landscaping business. Ahrefs' "Questions" feature reports users are searching for, "What flowers pair well with irises?" GSC tells you that your competitors' content isn't answering this common query. By incorporating iris landscaping suggestions into your content, you're meeting a user need while promoting the shop's products and services.

Avoid "hitting the wall"
Frequent competitor research and prioritizing quality over quantity helps topic generation, yet it can be easy to hit a wall or get stuck in a funnel with one specific query.
Whether you want to see the overarching content plan or bring yourself back to the topic at hand, SEO Analyst Charlotte Rule uses digital tool AnswerThePublic for content ideation.
"AnswerThePublic displays topical suggestions based on a keyword, which can help write the content calendar quite easily."
AnswerThePublic recommends plugging in one or two keywords for the best results. A general search for "iris" generates topics like "Will iris grow in clay soil?" and "Will iris grow in water?" - both signs that ideal planting environments would be a useful addition to your iris-centric content.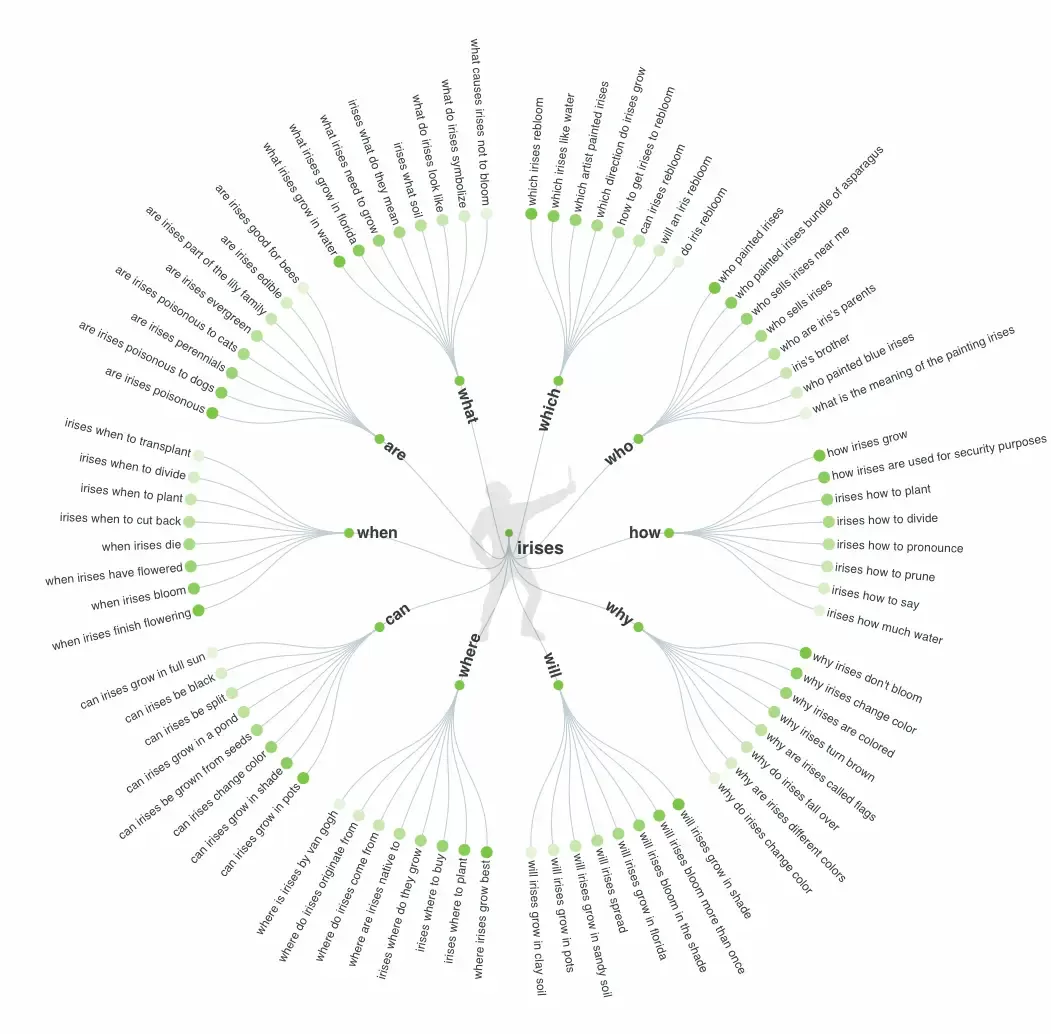 Digital tools can be useful to brainstorm topics, but they're not your only resource.
Drum up new content ideas with a quick browse through niche forums and online threads. You may opt to join a forum like Reddit's Gardening Community to keep up with amateur and professional cultivation enthusiasts. This is a good way to diversify content without relying on the same SEO research tools as your competitors.
Last but not least, go to your customer service team to hear common customer frustrations, and think about how your content can address them. If customers frequently call to ask "Why do my irises have leaves, but are not blooming?" you can speak to a solution in a blog post.
Adding a chat widget to your website ties in with customer service marketing support. Regularly reviewing chat widget responses can help uncover common questions to funnel into FAQ pages, or provide insight into how to improve product or service pages.

Wrap Up
Intentional content marketing strategies serve both time-starved marketers in small businesses and their customers when they focus on meaningful content that ranks on search engine results pages, drives target users to a site, and boosts conversions.
Stay ahead of the competition with digital tools, forums, and loop in your customer service team to direct content planning efforts. Remember, the best content offers expert answers to users' questions, all while promoting products and services to meet business goals.