Digital marketing (and marketing in general) is about segmentation. We identify target markets and tailor communications to appeal to different consumer groups.
But, what if traditional market segmentation is divisive? What if our attempts to speak to smaller groups are actually excluding them from the bigger message?

Multicultural marketing as a new norm.
Multicultural marketing was once considered marketing to "minority" or historically underrepresented groups.
In 2021, classifying underrepresented groups as "minorities" is uncharacteristic of the United States' evolving ethnic landscape. Forbes cites 44% of Millennials (25-40 years old) and 50% of Gen-Zers (6-24 years old) are from a multicultural background. Together, these two groups make up almost 42% of the US population.
If brands intend to survive and grow, embracing and successfully executing campaigns directed at multicultural populations is imperative. To do so, marketers must let go of old tactics and appreciate the diversity within each target market.
Who are you marketing to?
Perhaps the most taboo marketing mistake is assuming that a "one size fits all" approach will appeal to multicultural target markets.
For example, identifying a target market as "Hispanics" is too broad. Instead, focus locally. Think about Mexican Americans in Texas, Cuban Americans in Florida, and Puerto Rican Americans in New York. By focusing on the core beliefs, bilingualism, and culture of each group, marketing campaigns will be more successful in their reach and influence.

Senior Paid Media Analyst Jessica Brock recognizes that, "It's important for brands to personalize, rather than generalize. Yes, I'm an American-born Millennial, but I'm also a second generation Mexican-American with very traditional Latino values."
Take action!
A socially neutral brand is a failing brand.
According to the Advertising Research Foundation, 65% of Millennials expect brands to support social causes, including taking a stand for multicultural groups. In that same score, Millennials are more likely to financially support brands that put social causes at the forefront of their marketing efforts.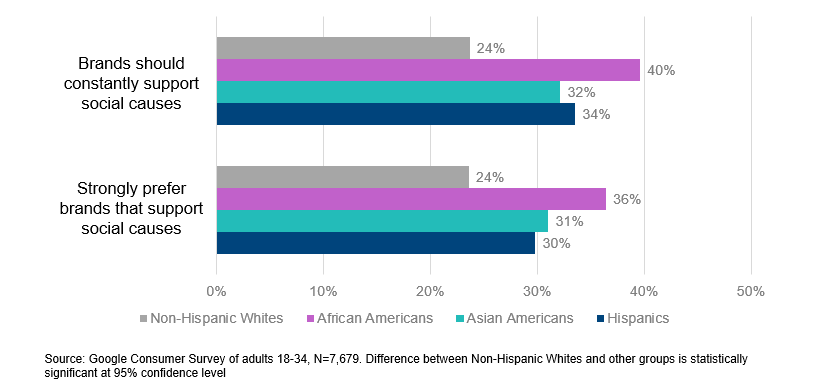 The "actions speak louder than words" concept is especially applicable.
Director of SEO Larissa Williams emphasizes that, "Socially conscious campaigns need authenticity, but also longevity. It's not enough to just have campaigns for Black History Month or Pride and then revert to culturally exclusive advertising the rest of the year."
Marketers should strive to create consistent messaging that addresses social causes, elevates their corporate social responsibility, and supports multicultural groups. When brands check these boxes, they appear authentic, relevant, and relatable.

Own your mistakes. And try again.
Forbes reports that the #1 reason for a consumer to stop interacting with a brand is if they are racially or ethnically disrespectful to their culture or someone else's.
Audiences care more about a brand's response to an offensive message than the message itself. It's up to the brand to own the mistake, figure out how to fix it, and make sure it never happens again.
Should a brand mishandle or, worse, ignore a negative campaign response, Forbes recorded 35% of Millennials are likely to call out the brand on social media, and 45% will boycott the brand entirely.

As digital marketers, what can we do?
At Workshop Digital, it's up to us to make multicultural marketing a priority for our own company. So, what does that look like?
We need to find better ways to reach Hispanic and Black entrepreneurs who are interested in partnering with a digital marketing firm, as well as expanding and improving recruiting methods to diversify our employee base. This means creating multicultural marketing strategies and keeping ourselves accountable with key performance indicators to track progress and recognize the impact on our business.
We also have the awesome opportunity to help our clients customize thoughtful multicultural marketing strategies to engage with a more nuanced set of target audiences. It's a chance to show off products and services in new, exciting ways that celebrate and empower all people.