Organic search is one way to get ahead, but it's not the only way.
The Inc. 500, the 500 fastest growing U.S. companies, are proof. This isn't a surprise. You don't grow at 48,340% because your ad creative or blog posts are just that much better.
"Secular tailwinds"—the big market forces that accelerate growth—are real. In 2020, for example, the Inc. 500 is filled with manufacturers of medical supplies and companies that went from irrelevant to essential in the remote-first world.
That doesn't mean, of course, that marketing doesn't matter. Tailwinds can become headwinds. The companies that invest in an organic presence before that happens have the best chance to sustain growth.
Still, there's a temptation to look at the Inc. 500 and ask, "What are they doing that we're not? What have they solved?" When it comes to SEO, here's what we found.
Most of the Inc. 500 doesn't care.
Based on Ahrefs data, the median site gets 11 organic visitors a day. Eleven.
Only about one quarter (26%) get at least 100 visitors a day. The rest form a nearly invisible tail: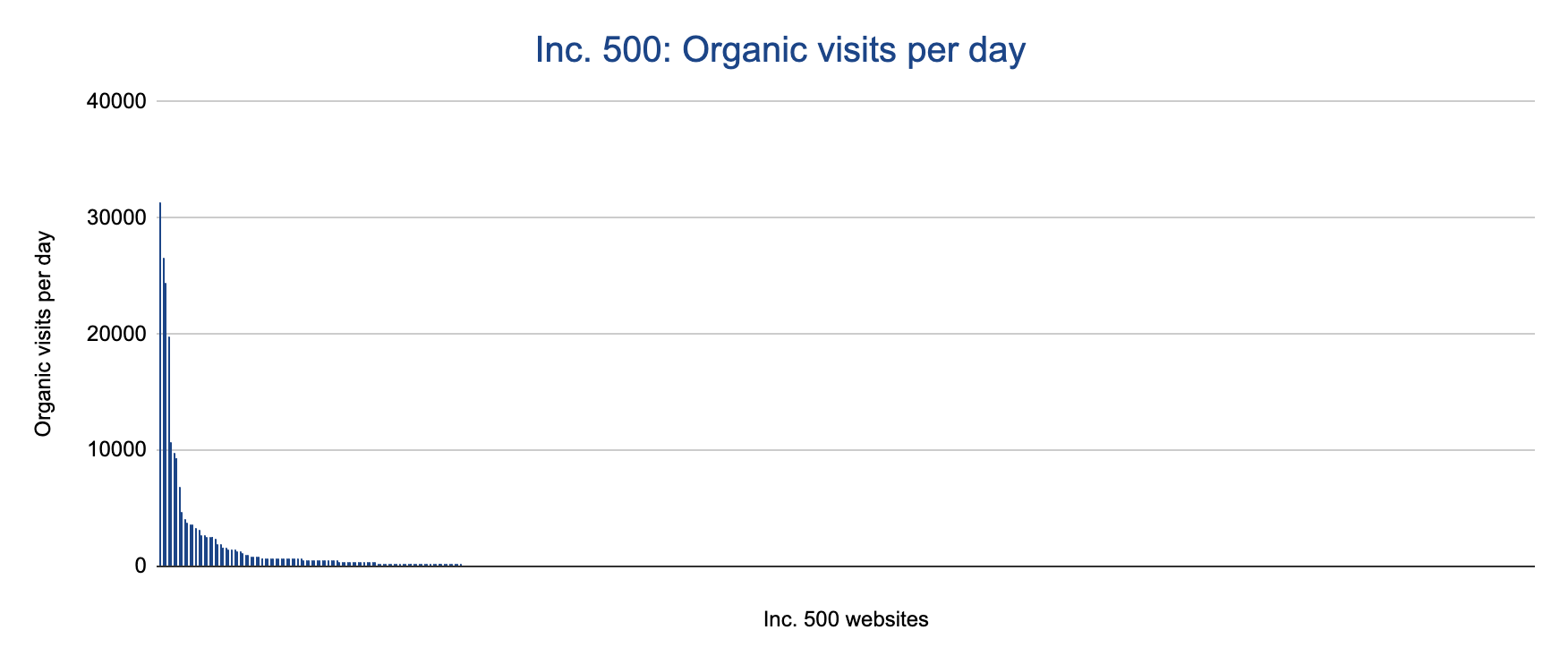 The companies that form the invisible tail aren't just neglecting on-page optimizations or content marketing. They're neglecting their brand. If they were building tremendous brand recognition, that recognition would show up in search—traffic from brand searches is still organic traffic.
A company like Ripple is caught somewhere in between. They're fourth among the Inc. 500 for organic traffic, about 20,000 visitors per day. But almost all that traffic is branded, either for Ripple itself or XRP, the cryptocurrency it developed.
Superficially, the results are good. But who will find them if they don't already know who they are?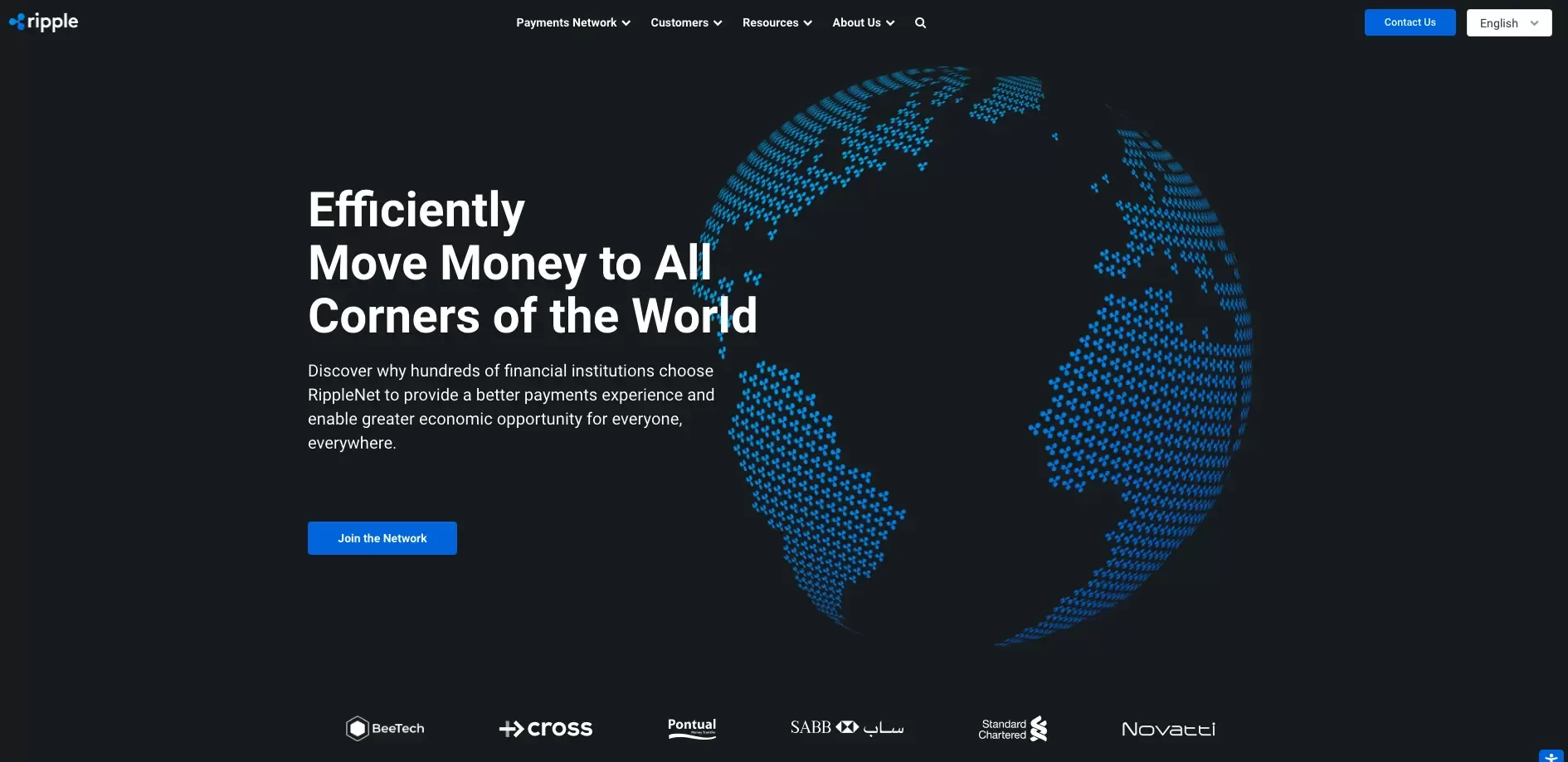 Certainly, in some markets, organic search will never be vital. Plenty in the Inc. 500 sell to the government and live or die by RFPs. (No one is searching for "best fighter jet company").
Industry matters for other reasons, too. A niche B2B SaaS company has a smaller total addressable market (TAM) than a B2C fitness app. The TAM for your product often correlates with the TAM for your organic audience.
For example, it's easy to imagine all the content you could create if you're a DTC brand like Shady Rays, which sells sunglasses (No. 54 on Inc. 500). It's trickier if you're Attribytes, which sells software to help foodservice providers comply with food safety regulations (No. 210). The latter still got acquired—but their organic presence had little to do with it.
Ordered by industry, the results are unsurprising: IT systems, engineering, and telecommunications are at the bottom when it comes to the average value of organic traffic (search volume multiplied by the Cost per Click for the same queries):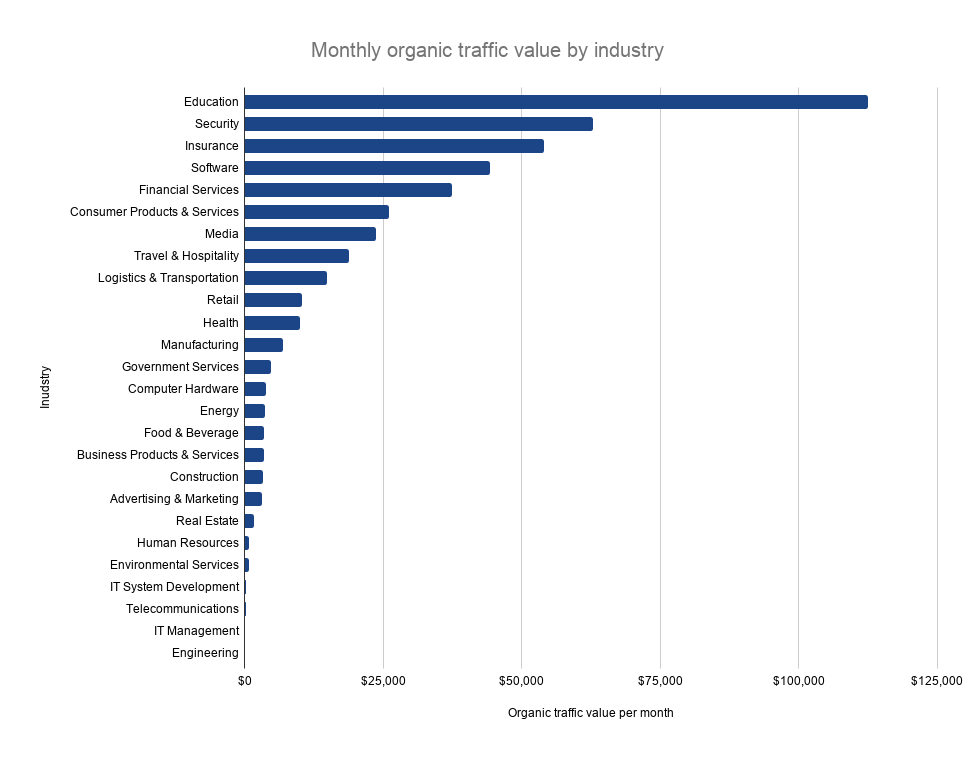 For the companies that are fueling growth with organic search, how are they making it happen?
Who's using organic traffic to grow?
Three Inc. 500 members, all among the top 15 for organic traffic, use different strategies to rake in hundreds of thousands of monthly organic visits.
Outschool (No. 58 on the Inc. 500, No. 6 by traffic)
Outschool is a platform for live online classes and clubs for kids. It started by serving the homeschool community but, last year, began serving everyone.
A parallel might be AirBnB Experiences—it connects end users with teachers, but it doesn't create the courses itself.
There are three reasons organic works so well for Outschool:

It's mostly UGC. Teachers create their course pages, so scaling content production (Google has indexed 340,000 pages) is free, save for the server space.

Near-infinite topics and keyword targets. In addition to the umbrella topics (e.g., "online classes for kids"), there are thousands of niche courses on everything from cake decorating to fantasy football (for kids) to poetry. Even a query like "United States map" leads to a course page. If no one takes the course, Outschool still benefits from the traffic—which helps earn more links and lift all pages' performance.

A tight link between high-volume keywords and bottom-of-funnel keywords. Often, a site's big traffic generators are top-of-funnel keywords. What drives traffic doesn't drive (immediate) sales. For Outschool, however, plenty of high-volume queries lead straight to course pages. The ROI is clear.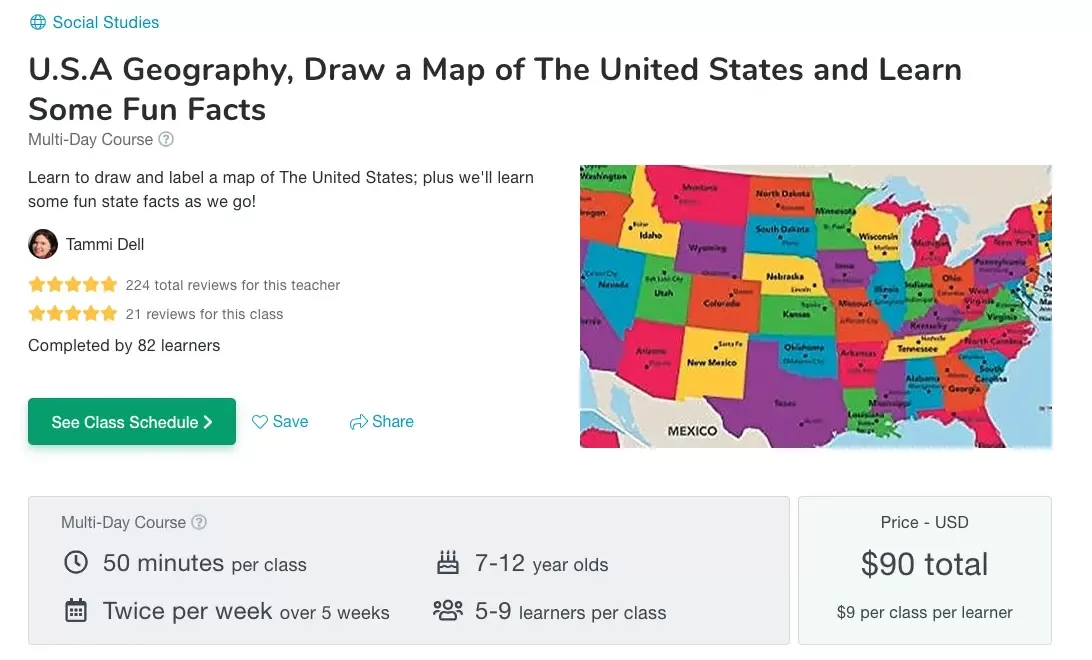 Not everyone, of course, can rely on UGC to build an organic empire.
Booksy (No. 299 on the Inc. 500, No. 2 by traffic)
Booksy helps consumers find and book appointments with hairdressers, make-up artists, masseuses, and the like. Angie's List is a good parallel.
The SEO strategy may seem similar to Outschool's dependence on UGC. "Wellness professionals" create individual listings. But the site drives most traffic through templated pages that combine the service and location: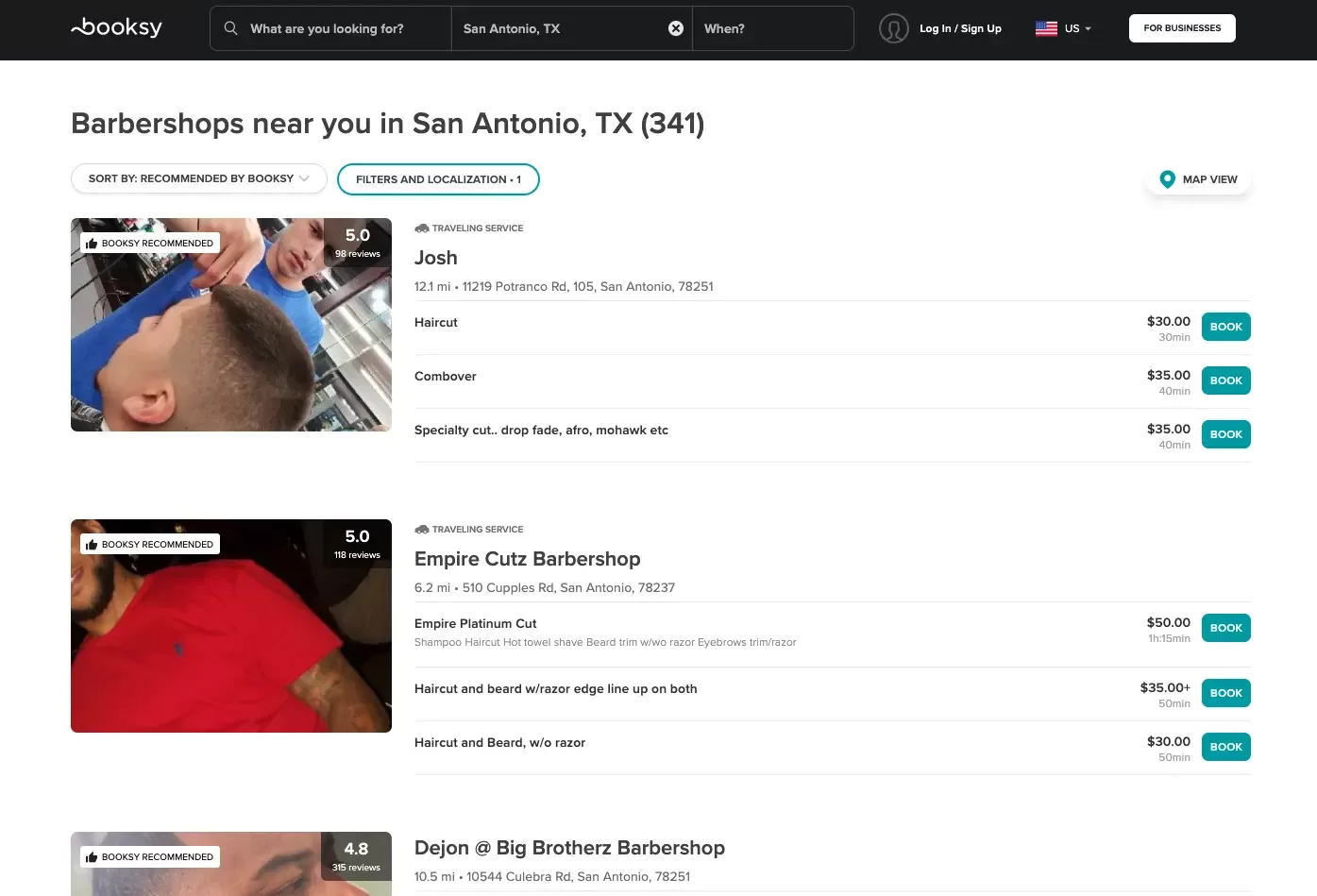 With dozens of services across hundreds of cities, the organic opportunities—almost all for lucrative, bottom-of-funnel terms—multiple quickly: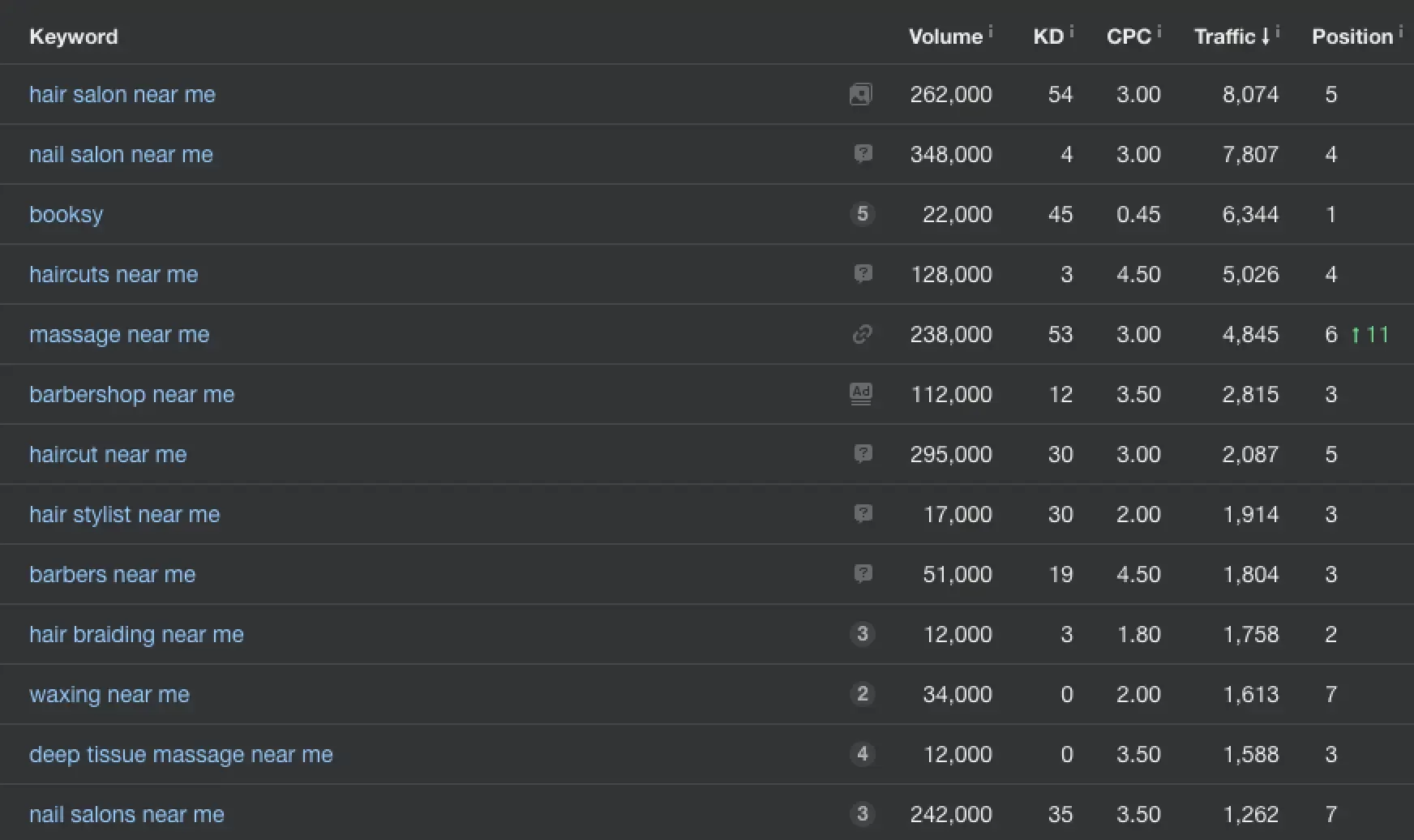 The site ranks well, in part, because Google understands the scope of the site and feels confident that the page it ranks for barbers in San Antonio fills a similar need as the page for barbers in Green Bay.
Site architecture still matters, and Booksy's pages have a consistent URL structure:

Domain > Language and location > Service > City

Booksy.com > en-us > /s/barber-shop > 134789_san-antonio
Search engines crawl sites by going from link to link, and a hierarchical structure creates a tidy sequence of links for crawlers to follow.
Plenty of multi-location businesses can—and should—execute a similar strategy, even if they're handling a smaller number of locations and services. Location-specific pages give search engines something hyper-relevant to return to users. Instead of catch-all content that works for any location, you deliver tailored content for each place.
Neither Outschool nor Booksy deploys a "typical" organic strategy that relies on keyword-targeted blog posts to grow organic traffic. Shipbob does.
Shipbob (No. 441 on the Inc. 500, No. 13 by traffic)
Here's the strategy you're probably thinking of—blog-driven organic growth for a company with a huge TAM. Shipbob handles logistics for D2C ecommerce brands, so it's easy to imagine all the topics for which they're relevant:

Shipping costs;

Shipping times;

How to package stuff;

Backorders;

Returns;

And so on.
Someone looking for advice on reducing returns is probably a potential customer. But, in other cases, Shipbob may answer a question for someone shipping a fragile birthday gift to their niece. Such is the risk with top-of-funnel queries, which contain "fractured intent." The query doesn't have enough information to narrow the result set.
As a result, they win some out-of-market traffic—though that traffic still generates awareness and earn backlinks. (Such "waste" is a bit easier to deal with when you've just raised $68 million from your venture-capital backers, part of a nearly $130 million haul in the last five years.)
Shipbob publishes a new post every three days, totaling 372 posts so far. For them, content production is a volume game—more posts mean more chances to get a big winner. The top 10 posts, or 2.69% of everything they've published, account for 38% of the organic traffic.
Most posts generate fewer than 10 visits per month—for now, anyway. As the site matures, posts that target highly competitive keywords may inch up the rankings and eventually drive thousands of additional visitors.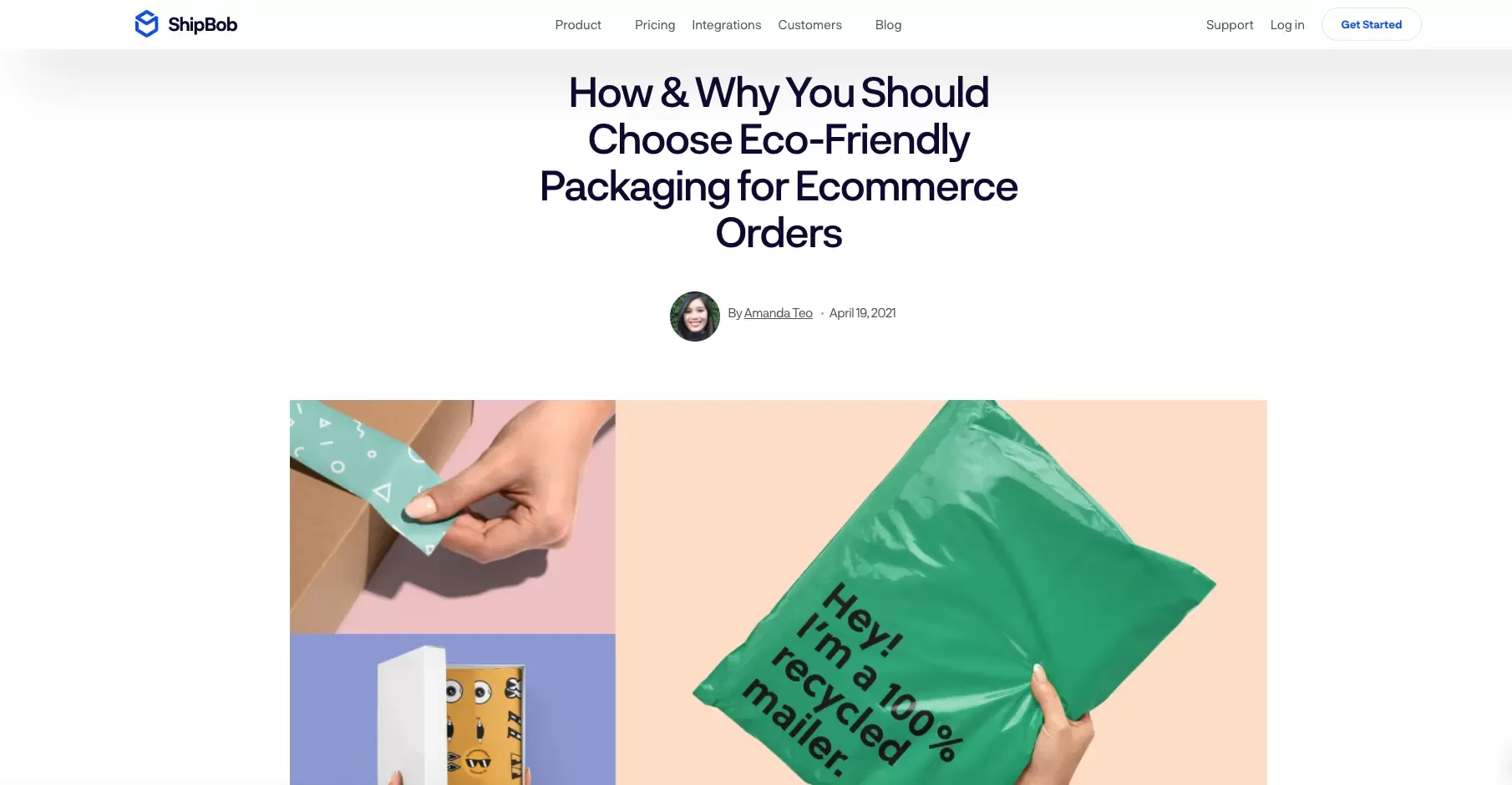 This is a pattern we see often with VC-funded companies looking to dominate a big market. It's expensive—a good blog post will cost around $1 per word, so three posts per week of around a 1,000 words each is at least $150,000 a year, just to cover the writers.
The strategy isn't one to mimic on a bare-bones budget. Say you don't have their resources, and you scale back to publishing similar content twice a month. They're going to publish 150 posts in the time it takes you to publish 24. If roughly 3% of all posts are "big winners," you might get one a year; they'll get four or five.
The solution is usually to go deep where these companies go wide. They're covering the 101 version of lots of topics with authors who are writing about something they've googled—not those who've actually done the work. Higher quality content with a stronger topical center of gravity can, and has, won against huge sites with tons of links.
Not everyone can monetize top-of-funnel content. If you've got a long sales cycle and need tons of materials to nurture leads, or if you're going to win over clients only with highly differentiated, thought-leadership content, a derivative, keyword-targeted blog isn't going to get you there.
A closer look at Virginia businesses on the Inc. 500
Twenty-nine Virginia-based companies made the Inc. 500 in 2020. Only two generate more than 100 organic visits per day: BairesDev and Urgently. (A number of "Government Services" companies just south of the Beltway help explain the neglect of organic traffic.)
The two outliers offer their own lessons.
BairesDev (No. 428 on the Inc. 500, No. 29 by traffic)
BairesDev, which outsources IT to Latin America, does quite well for some bottom-of-funnel terms (e.g., "it outsourcing services," "java development company"). But those are relatively low-volume queries (900 and 300 per month, respectively).
They expand their organic opportunities with pages within subdirectories like /expertise/, /industries/, and /technologies/. They dedicate a URL to a specific service need, rather than dumping bits of that content onto a single service page, where something like "Big Data & Analytics" might be a subhead or bullet, not its own URL: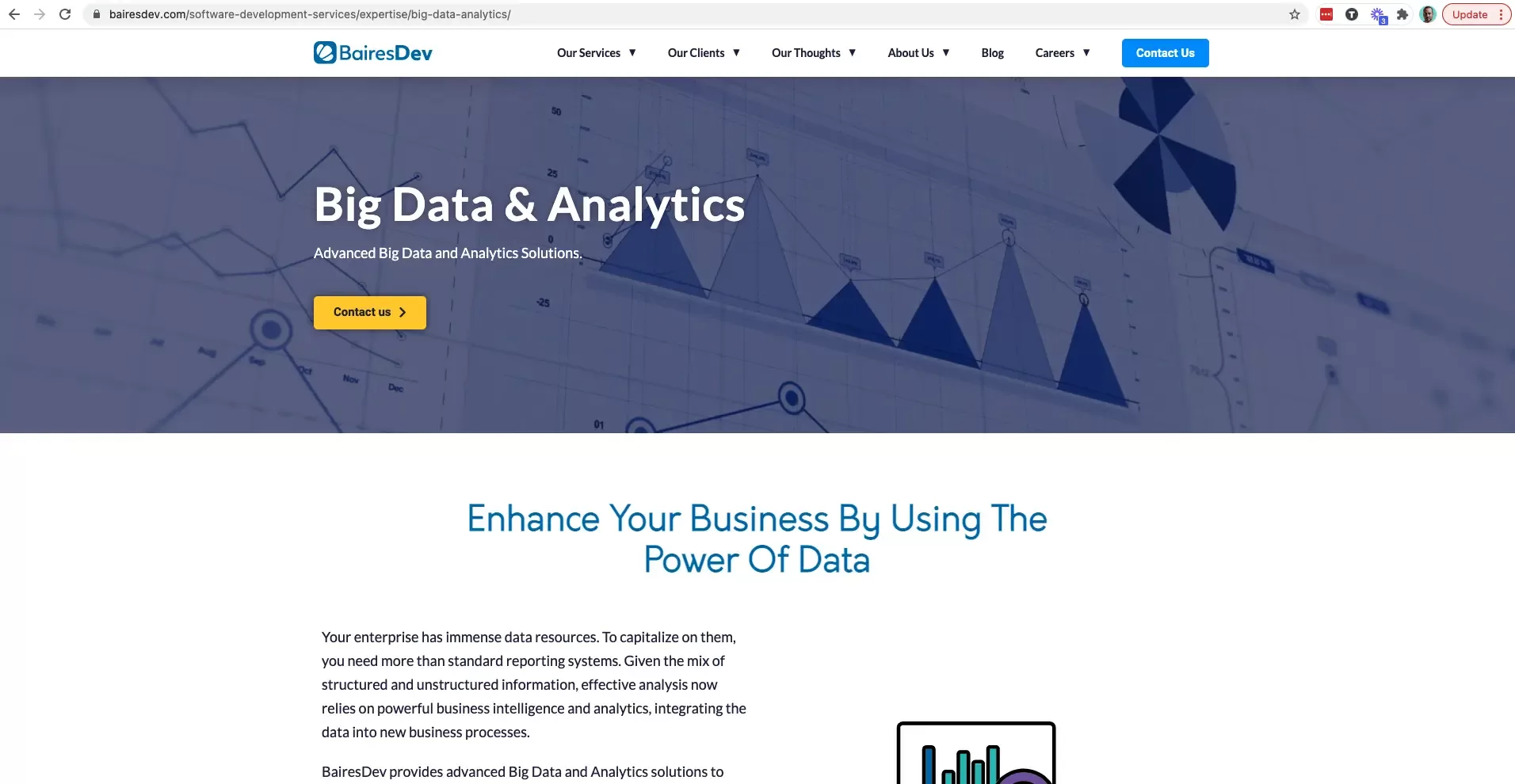 The decision to create these pages is an intentional, almost over-engineered SEO play. But search engines like them, in part because they supplement boilerplate sales content with lots of informational content. (Of all the SEO bets you can make, lots of text is usually the safest.)
Even for their blog posts, BairesDev treats mid-funnel queries as informational queries. For example, they rank first for "web application development," which standard keyword research suggests is a good target term for a service page.
But they go the informational route instead, offering a blog post on the process. Most site visitors, even those in the market, may not be quite ready to buy, so an informational page still serves the intent—while beating out competitors who slap it on a page title for a salesy, content-lite URL.
Urgently (No. 221 on the Inc. 500, No. 45 by traffic)
Urgently sells access to roadside assistance services. On the surface, they're doing quite well with their organic traffic. They rank among the top 10% of Inc. 500 members.
But if you dig a little deeper, you see that a single post, "How to Jump Start a Car," accounts for 84% of their organic traffic. It has a supporting video. It has a clear information hierarchy—bolded sections, numbered lists, etc.
But you wouldn't guess that it ranks first and pulls in featured snippets for dozens of related queries: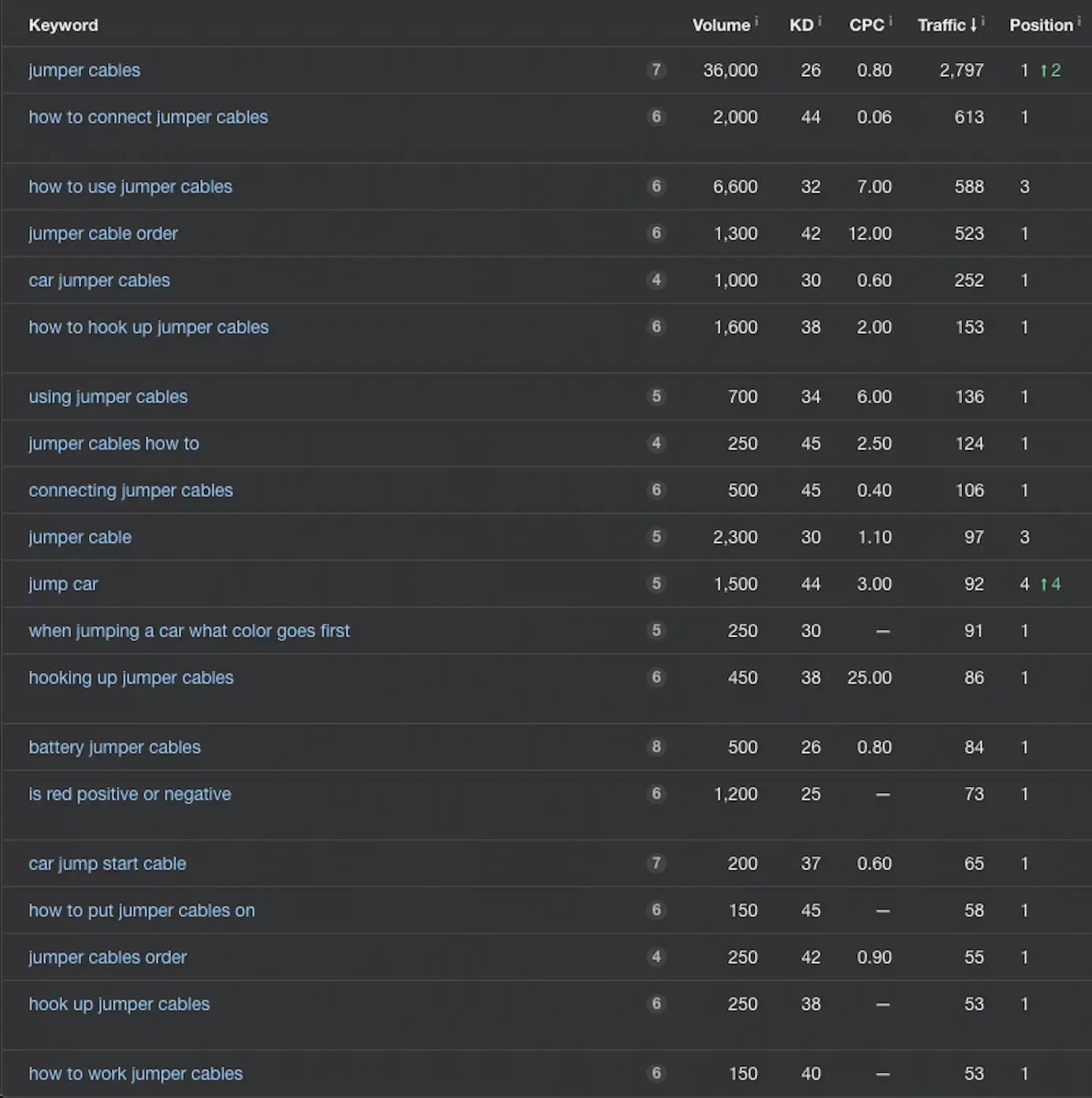 It's a good example of inertia in search results. There are probably better pages out there, but Google has gotten enough feedback on this article to trust the page. It likely wins lots of long clicks from users, something Google likes. Google almost certainly tests other URLs in this spot, but with caution—in a risk-reward analysis, change is mostly risk.
By sitting at the top of search results for high-volume queries, the article gets cited (i.e. linked to) by other sites. It's a positive feedback loop: Ranking well will earn links; links will preserve rankings.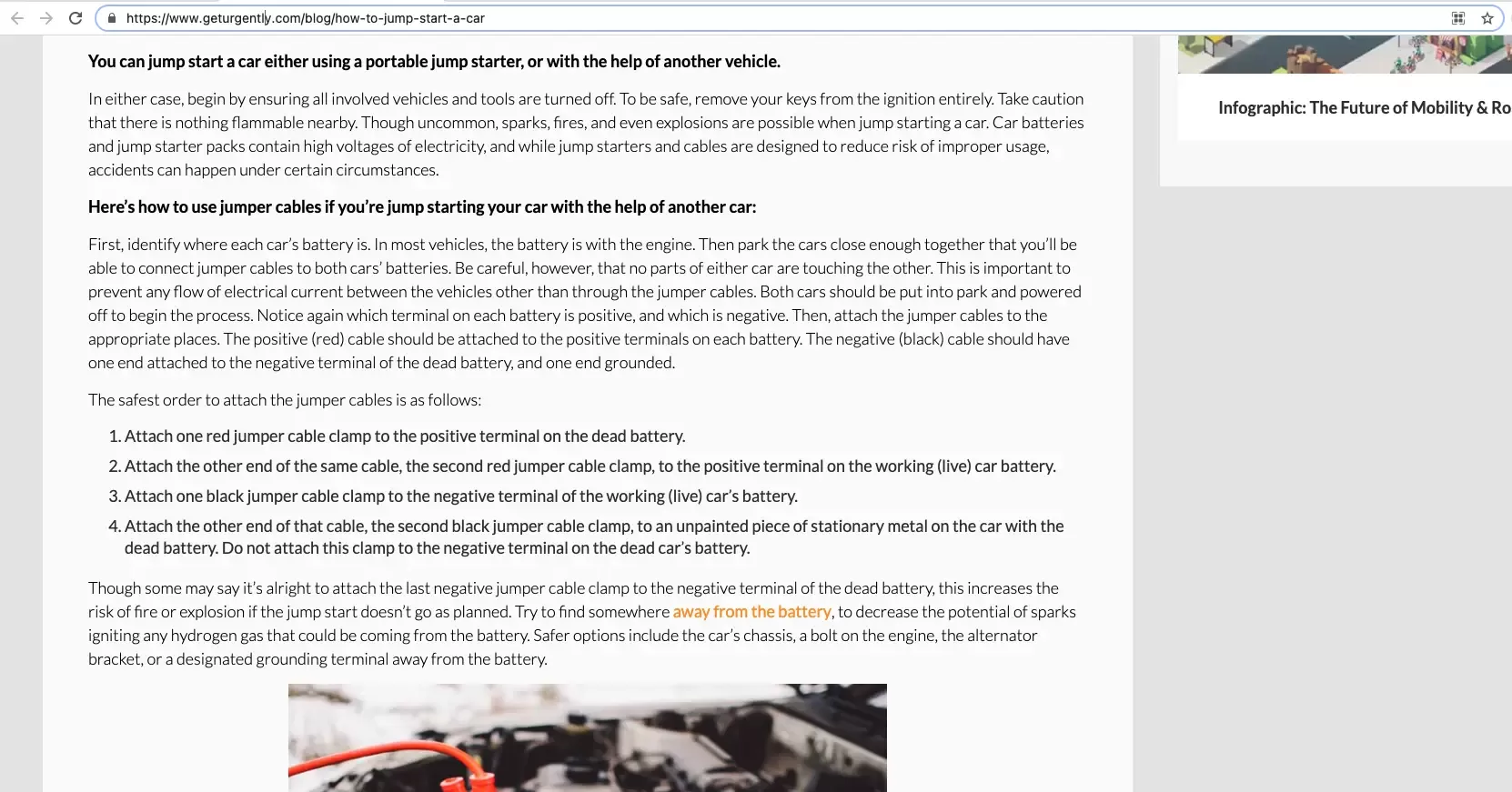 For Urgently, however, the margins are fine. If the post dropped two or three spots for the keyword set, they could easily lose half their organic traffic. And it's not hard to imagine a more relevant site (say, a car battery manufacturer), eventually stealing the top spot.
But, for now, it works. The missed opportunity is building on that success with adjacent content. The Urgently blog is relatively small (about 120 posts), and the topics are scattershot—everything from "Best Flag Day Parades in the U.S." to "Road Trip Meta: Songs About Cars & Driving."
From an organic search perspective, it's far easier to expand to tangential topics from a core competency than to hope that a search engine pieces together your deepest knowledge from hundreds of disparate posts.
For Urgently, it may be a problem for another day. They grew at 1,970% during 2017–20. For most of us, however, understanding the organic audience for a site, leaning into our natural organic advantages, and paying close attention to what search engines already reward is a primary focus—even if it doesn't ensure a spot on the Inc. 500.