The Story
An award-winning, Virginia-based dental practice, partnered with Workshop Digital for paid search marketing. Founded as family-branded dentistry, the practice rebranded, which included a new website, growth in staff, and physical location expansion.

The Challenge
Following the rebrand, the client's primary goal was to utilize their newly available appointment capacity. However, they needed to generate an increased number of local new patient appointment requests—all while preventing brand confusion. To do so, Workshop Digital identified the following objectives:

Generate an increased number of local new patient appointment requests
Maintain return on ad spend after increased investment
Prevent any brand confusion and retain existing patients
The Approach
Increase Local New Patient Numbers

To increase local new patient leads, Workshop Digital needed a call tracking platform to differentiate new and existing patients in appointment requests—so we implemented CallRail. The tool's user-friendly interface enabled our client to listen to phone calls, determine lead type and quality, and 'tag' them accordingly. This helped determine which areas of the account were driving new patient phone call leads and allowed us to optimize accordingly.
We also launched a campaign targeting new, local patients in need of a dentist who were without dental insurance. The practice has a savings plan that is a viable option for people without coverage, so we bid on relevant keywords and served ads and landing pages that described the plan. Budget was increased by 50% to fund this campaign. From Q1-Q2 2017 this campaign accounted for 20% of new patient appointment requests.
Maintain Account Efficiency After Increased Investment
To fill the newly available capacity, we suggested the client increase their investment to capture more of the available impression share. They increased budget by an additional 33%, leading to a total increase of 63%. We implemented these increases while maintaining a stable cost per lead.
Expanded call tracking data gave us the ability to make smarter bidding and budgeting decisions. By integrating CallRail with Google Ads, we saw which keywords, ad copy, ad groups, and campaigns drove phone call leads and optimized the account accordingly. We also analyzed targeted local zip codes to determine which localities were best at bringing in new patient leads within our cost per lead target. And we pushed bids on top performing zip codes.
Retain Existing Patients by Preventing Brand Confusion
Immediately after the rebrand, we launched an ad group to bid on the new name. To prevent confusion, we launched ads that mentioned the former brand name and continued to bid on the previous practice name to prevent a loss of customers who may have been unaware of the rebrand. We updated the copy in this ad group to further communicate the practice's new name.
Part of our customer retention plan was to capitalize on the previous brand's positive brand equity. Because the practice had won multiple local awards, we turned these awards into review extensions to show below our ads. And we continued to use them post-rebrand to show that this was the same practice the community trusted.

The Results
The implementation of these tactics allowed us to achieve a 67% increase in appointment requests with a 2.3% decrease in cost per lead and an 11% increase in conversion rate. From Q1-Q2 2017, the uninsured campaign accounted for 20% of new patient appointment requests. Similarly, our return on advertising spend (ROAS) improved slightly from 534% to 546% YoY.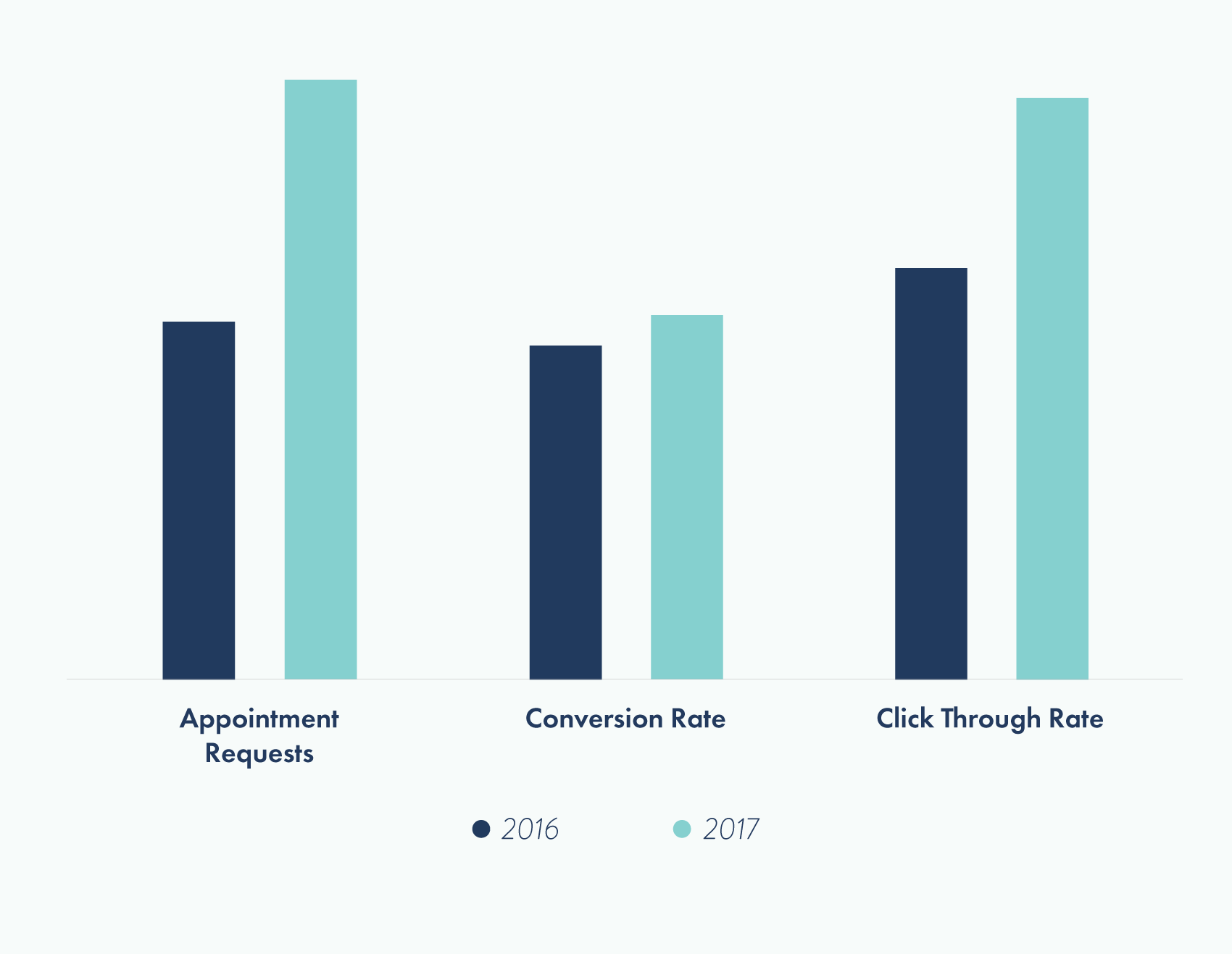 Ultimately, we helped increase clicks to the site by 51% and click through rate by 43%. This was driven by ad copy testing and a 19% increase in average position with only a $0.26 increase in cost per click.