The Story
In early 2018, Workshop Digital was contacted by a national chain of urgent care centers to help facilitate a seamless website redesign. With more than 70 centers in the mid-Atlantic region, a successful redesign would improve the patient experience for all our client's locations.
Because multi-location facilities rely heavily on local search, an optimized website and third-party listings would help increase visibility to prospects. And it would ensure that patients were delivered relevant information in times of need.
So, how does a multi-location healthcare organization prepare for a website relaunch? By leveraging effective search engine optimization (SEO) efforts.
The Challenge
One of the biggest challenges was updating all website redirect pages. Because our client hadn't had a significant site update in years, Workshop Digital helped modernize the technical setup of their website by implementing updated SEO best practices.

While our client was in the process of the website relaunch, their efforts were handled in-house with a custom content management system (CMS). While custom systems aren't inherently problematic, organizations often struggle with managing antiquated or proprietary solutions. The CMS was a setback, as elements like website redirects weren't properly implemented.
Regulatory concerns felt by healthcare organizations brought inherent challenges. Plus, our client had difficulty tracking performance to illustrate the profitability of individual channels, which made it difficult for stakeholders to see the value of digital marketing.

The Plan
Workshop Digital's overarching plan included updating site structure with an improved technical layout. This meant eliminating duplicate URLs and organizing them around a hierarchical structure. Workshop Digital also facilitated name changes to meet search engine best practices and wrote and implemented optimized titles and meta description for each page.

While our client had claimed most Google My Business (GMB) listings, Workshop Digital helped optimize these pages. Many healthcare facilities encounter spam and fake listings—so we identified areas for improvement. This meant answering patient questions, updating business categories, adding URL tracking for better Google Analytics data, and ensuring each listing had relevant photography. It meant creating and optimizing physician profiles. And it meant creating profiles for administrative centers, so patients would not confuse them with facilities.
Another focus was on organizing and enhancing Google Analytics. This entailed cleaning up data so our client could trust its input and begin tracking their efforts. Because organic data was not being properly tracked—and traffic was not being effectively logged—Workshop Digital established tracking on direction and call buttons to track conversion rates. This helped assign value to different channels, so stakeholders knew where to focus their efforts.
The Results
Following their website relaunch, our client saw immediate results. In September 2018—one month after the relaunch—there was a 16 percent increase in organic traffic, year-over-year. Their optimized Google My Business pages saw a 34 percent increase in total map pack impressions year-over-year, which led to increases in the performance of phone click to call and direction click buttons across all GMB listings.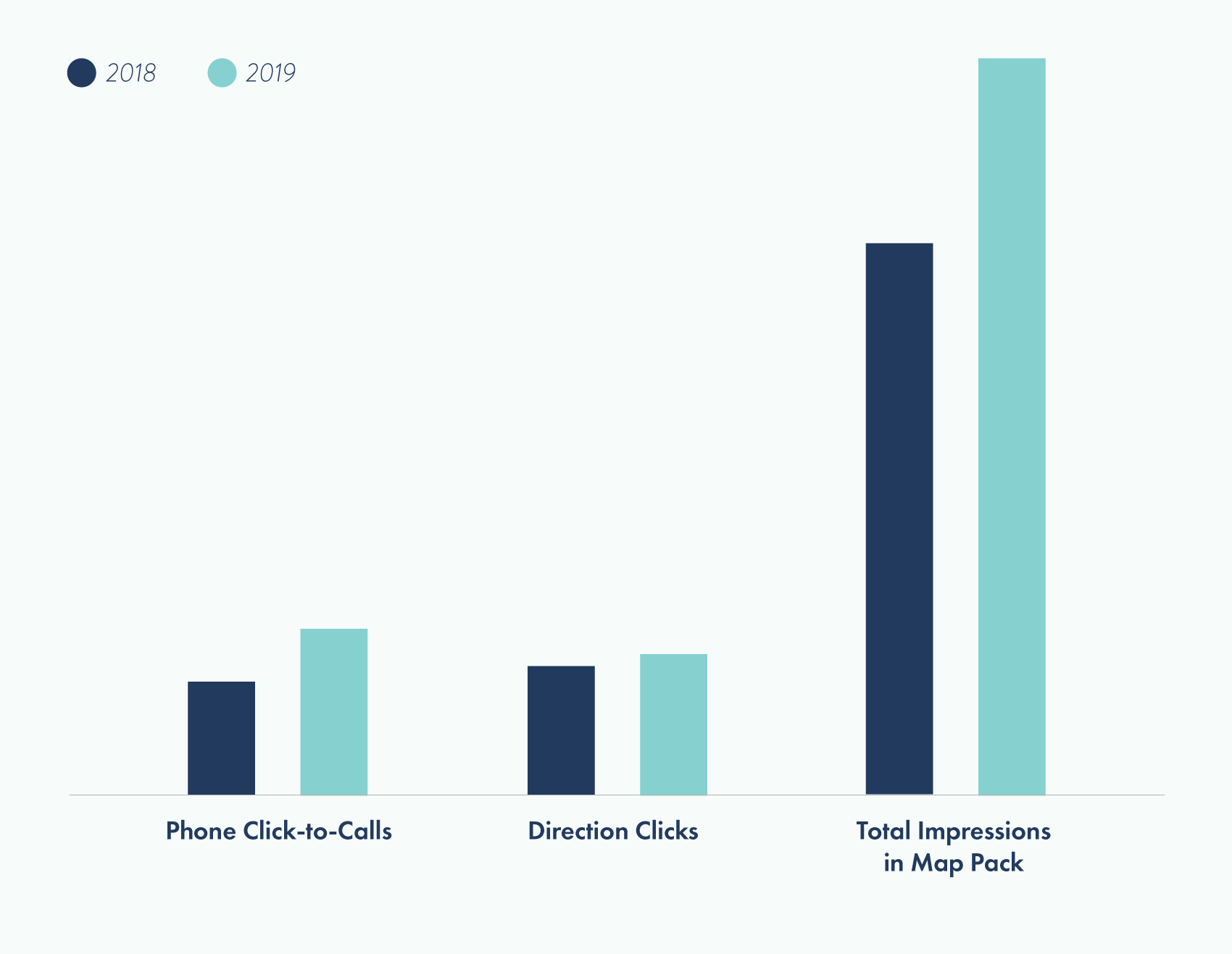 Workshop Digital also created a custom dashboard to simplify data analysis for all stakeholders. For example, by providing share of voice, our client can assess goal tracking efforts for all their locations at a glance. Centralizing all data collection efforts empowers all necessary stakeholders to garner important information from Workshop Digital's reporting—so they understand the impact of digital marketing.