Performance Max is a new goal-based Google Ads campaign type. It allows you to house all of your Google ads assets in one campaign, which means that these ads will show on basically all of the available Google placements, including YouTube, Display, Search, Discover, Gmail, and Maps. So, if you have a variety of assets available, not just ad copy but also creative and video, this is a great option to increase your reach within one campaign on the majority of the inventory that's out there for your ads.
One thing that makes Performance Max campaigns unique is that instead of ad groups, it uses asset groups. This is where your audience targeting is set up and it houses the assets for each ad. Google recommends splitting asset groups out by theme, topic, or a specific audience that requires unique copy or creative.
Performance Max does give you asset level reporting through the Insights in the Asset Groups tab. However, it's not as helpful unless you have enough interactions, impressions, and clicks on your ad so that Google can give you more accurate reporting on each of your assets. From what we've seen so far, when you have limited clicks and impressions on your campaign, you may only get actionable reporting from a few assets.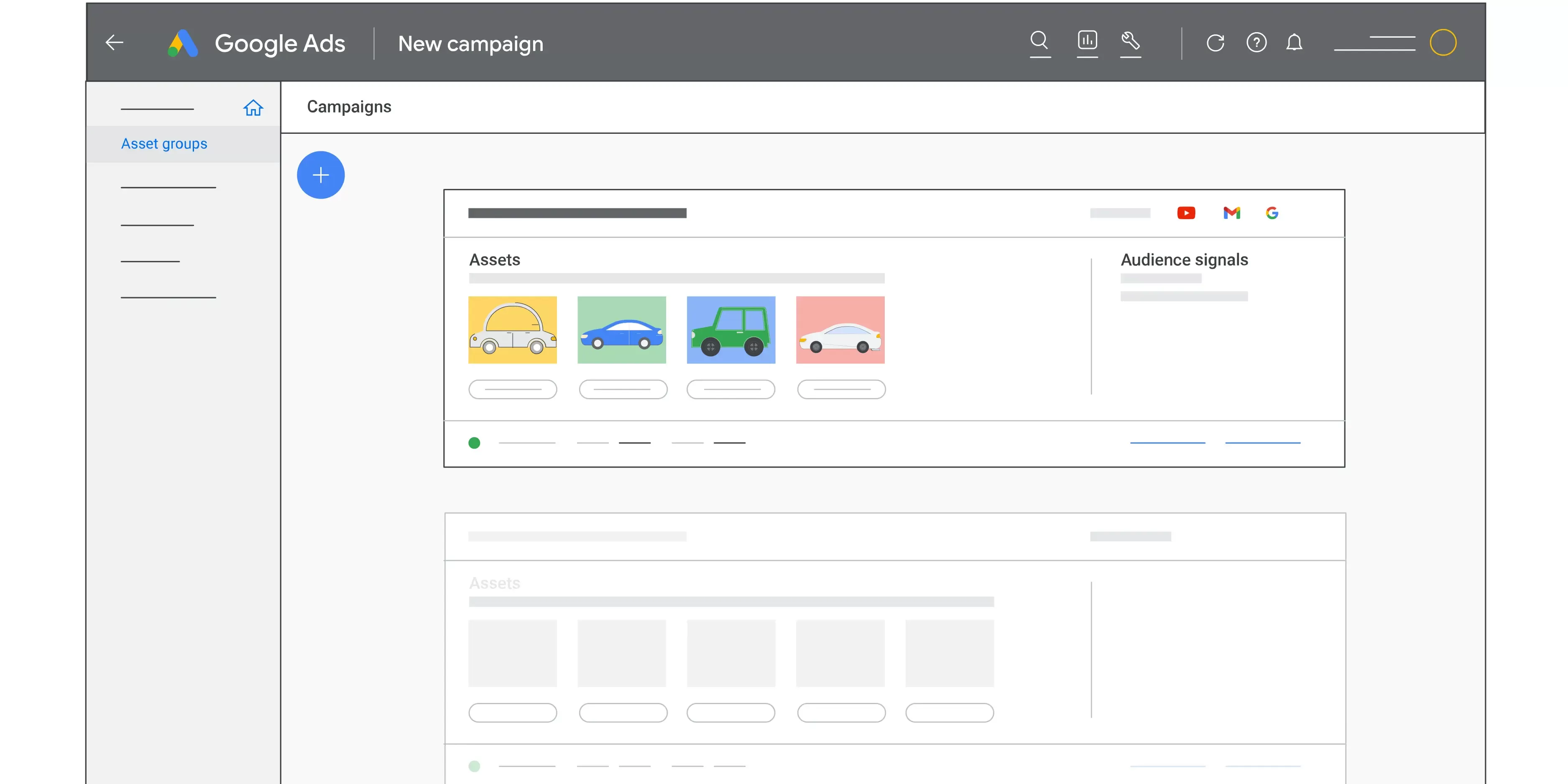 Another unique feature of Performance Max compared to traditional campaign types is the Search Term insights, which is the Performance Max version of the Search Terms Report found in Search campaigns. The Search Terms Report for Search campaigns allow you to see each search term that your ad is showing for, has a lot of data on different metrics, and you can easily exclude them at an individual level.
With Performance Max, this data is grouped into categories under the Insights tab. This has been a little less helpful since they display fewer metrics than the Search Terms Report from a Search campaign, and you cannot exclude search terms directly from the report. The Performance Max version also only goes back for either seven days or 28 days – which is not as useful as the Search Terms Report from a Search campaign, but is still good to have.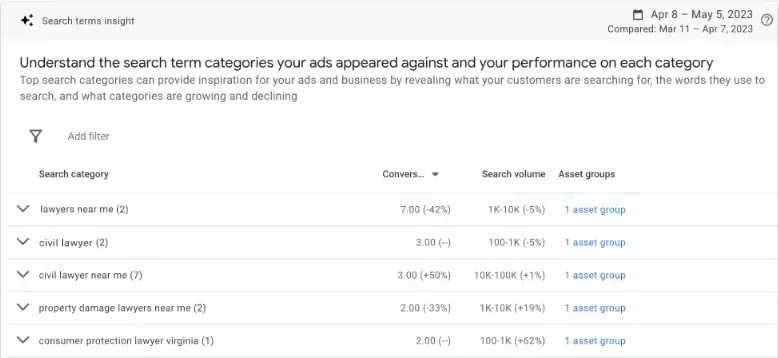 One thing that you definitely want to keep a close eye on is that you don't have as much control over the search terms your ads are showing for with Performance Max campaigns as you do with a traditional Search campaign. So, after launch, make sure to closely monitor your categories and what's coming in as there will likely be some irrelevant ones.
Another item to consider is that the only way to add a negative keyword to a Performance Max campaign is to add it in the account-level negatives, which lives in the account settings. This will apply that negative keyword across all campaigns in your account, so just make sure you're not negating your branded keyword from all of your campaigns, because that could be a big mistake.

Find out how you can make your ads more effective
When businesses come to us to help them improve the results they are seeing from their ads, we start with a paid media audit. We always find opportunities to make improvements, so we've put together a guide to help you assess your campaigns to uncover ways to get a higher ROI from your ad spend, too.
Benefits of Performance Max
Boost conversions.
Performance Max is a great way for you to generate conversions on additional placements outside of traditional Search and Display campaigns. In our experience, we have seen an influx in conversions. We're still evaluating the quality of those leads, so it's yet to be determined if these leads are truly more valuable than those generated by more traditional campaigns.

Drive more value.
Due to the way that machine learning works, Performance Max can make more accurate predictions and create better combinations of your assets across the Web for your ads.

Gain rich insights.
Find out which pieces of creative are working the best, which audience types they're working the best for, and conduct valuable testing to see how you can drive more and better quality conversions.
When is Performance Max best for you?
You want to maximize the performance of your campaigns.
As long as you aren't concerned with which channels your ads appear on, taking advantage of additional channels will usually yield better results. You will want to make sure that you have the required creative assets available because a Performance Max campaign is not going to work as well if you don't.
You want access to more of Google's inventory in a single campaign
Performance Max gives you the ability to tap into more campaign types using the same ad creative all under one budget. If you want to go this route, you can serve ads across the entirety of Google Ads' available placements (which is really cool).
You want additional reach
These ads will offer additional placements and can boost your conversion value. Keep in mind that when you're running Performance Max campaigns, you'll want to make sure that you are okay testing a new feature from Google and have time to monitor the performance carefully, especially immediately after launch. This will help you make sure that nothing wacky happens! Double check all of your audience targeting and ensure your Account negatives are in place right after launch to ensure that Google is going to serve your assets where you want them to.

You need to keep your budget in mind.
We don't recommend pulling budget from other campaigns for this (yet), as Performance Max seems to do the best when it has a significant budget of its own to spend what it needs to generate conversions. Make sure that you have the additional budget to run this kind of campaign before allowing it to become a significant part of your digital marketing strategy.
We are also currently testing Performance Max campaigns for non-retail clients. One example includes a Local campaign that was converted to Performance Max, which allowed us to create ads across Google Maps, YouTube, Discovery, Gmail and traditional Search and Display.
This campaign had a Google Business Profile listing (including several locations) tied to them. Performance Max campaigns will work if you have a single GBP, multiple GBPs, or if you don't have one at all since you can also apply location targeting to your campaign.

Tips and tricks to make the most of Performance Max
Include as many assets as possible
This helps make sure that the algorithm has enough data to provide actionable information back to you. Google will combine a number of different images or videos with different pieces of copy, so you want to make sure that you have enough copy and creative in each asset group to populate those different ad combinations.

Use Google Ads conversion tracking
Google recommends this over Google Analytics conversion tracking because it's better for tracking the various ad types, like video views and cross-device conversions. This also helps identify offline conversions and imported or enhanced conversions. Having insights into which conversions are actually driving real value for you helps you ensure that the campaign continues to generate high quality conversions.

Make sure that your images look great
Art is always important, and that's especially the case for Performance Max ads. Google Ads' best practices for Display ads includes avoiding images that are blurry, outlined with a border, or contain overlaid text and logos since your Performance Max ad will add those in for you from the ad copy and logos that you upload.

Use customer match and first party audience data
If you're able to do so, using customer match and first party audience data will help you serve your ads to more relevant users and will improve your click through rates.

Use the account-level negative keyword list.
This has been especially helpful for us, especially when first launching Performance Max campaigns. We've seen a lot of irrelevant searches coming through the Search Terms insights immediately after launch, and when we add those irrelevant keywords to the account-level negative list, we usually see improved performance. Do keep in mind that the account-level negative keywords list will apply to your Search and Shopping campaigns as well.

Results of our tests with Performance Max (so far)
Looking at one client's period over period comparison of a Performance Max campaign and the previous Local campaign that was running, we saw big percentage gains in results.
+2080% in click through rate (CTR)
+250% in conversions
+957% in conversion rate
-63% cost per conversion
+23% average cost per click (CPC)
Over the course of about 8 months, the only metric that saw any negative impact was cost per lead, which increased by about 23%. This could be due to having additional placements or potential increased levels of spending from competition during this time period that drove up costs. Overall, we are still pleased with the performance of our Performance Max campaign, and plan to continue testing them in the future.
Want to know how Performance Max campaigns might help your business? Reach out to us to find out. We can start with a free paid media assessment to help you determine if these ads can help you hit your targets.