If you want to see how well you are performing on Google, wouldn't the best way to check be by Googling your brand? Not necessarily.
Googling your business or your relevant non-branded keywords can actually harm your website's reputation on Google. If you search those terms and see your website but don't click on it, Google sees that result as irrelevant for you and in turn, other users. If you click on it, you will most likely leave soon after and not convert, again showing Google that your site is not relevant to the search.

Why are you not seeing your company appear organically on every search results page?
No two search engine results pages are the same. Google takes many things into consideration when presenting a search engine results page to you, such as location and your past searches. Again, if in the past you did not click on your website, Google will most likely not present it to you again.
Google knows a lot more about you than you think! If you are curious to see what they think they know about you, check out the Privacy Center on your Gmail account to see the information they use.

How are changes to search engine results pages (SERPs) affecting what you see?
Continuous scroll: Google recently released an update on desktop and mobile where users can continuously scroll through multiple pages, rather than click to page 2 of the results. Users can now see more helpful search results with fewer clicks.
SERP features: Search features include any content on results pages that fall outside of the basic URL link list. Google continues to introduce new search features, and although you cannot control which links are included in them, you can use them for content ideation to see how people are searching.
Get The Most From Your Google Ads
This breakdown of our Google Ads Account Audit will show you all of the important factors we examine when we're bringing on a new paid media client. Find out how our pros would assess your website with this free guide.
Why are you not seeing your Paid ads when searching for relevant keywords?
If you are searching for your branded or non-branded keywords on a regular basis to gauge the performance of your ads but not clicking on or completing your targeted conversions, Google may stop serving your ads to you.
This quote from a Google Ads Help Page explains why this happens:
"If you repeatedly search for your own ad on Google Search but never click on it, you may stop seeing it. That's because Google's system recognizes your computer and stops showing you ads that it thinks you aren't interested in. Remember to use the Ad Preview and Diagnosis tool to view your ad as it appears in Google search results instead of performing a regular search. It prevents you from racking up impressions while you try to locate your ad."
Additionally, repeatedly searching for Paid ads and not clicking on them will damage your Click Through Rate.
Every impression of your ad is measured, so searching your keywords without clicking on your ads will drive your click through rate down.

This will eventually give your ads a lower quality score for that keyword. This will prevent your ads from being shown as often, as well as pushing them further down in the search results.

Your Google searches are already influenced by the information that Google has collected on you as an individual. If that information does not match the profile of a user that Google feels would most benefit from your ad, you may not see your ad when searching. This means that Google is doing its job and spending your budget the way it should.
In summary, it's not recommended to search your relevant branded or non-branded keywords on Google trying to find an ad, since it can harm your CTR, CVR, and it is not a reliable method of gauging the performance of your ads due to the decision-making process of Google's algorithms.

How can you see your Paid ads?
The best way to view your Google Ads is through Google's Ad Preview And Diagnosis tool, found in Tools & Settings > Planning > Ad Preview and Diagnosis in the top gray bar. It lets you see which of your ads are showing up for any given keyword. If the diagnosis tool detects that your ads aren't showing up, it will give you a list of possible reasons for this, and you can adjust your ads accordingly.
Additionally, you can sign in to your Google Ads account and click "Ads & extensions" in the left page menu. From the Ads page, you can see statistics about your ads, such as clicks, impressions, clickthrough rates, and much more.
To check if your keywords are triggering ads, you can also follow these instructions from Google:
Sign in to your Google Ads account.

In the left page menu, click "Ad groups," then click on the ad group with keywords you'd like to check.

Click "Keywords" in the left page menu.

Depending on the keyword you want to check, click "Search Keywords" or "Display/Video Keywords."

To check if a keyword is triggering your ad to show, find the "Status" column, then place your cursor over the keyword status. The status information that appears gives possible reasons why your ads don't show in the search results.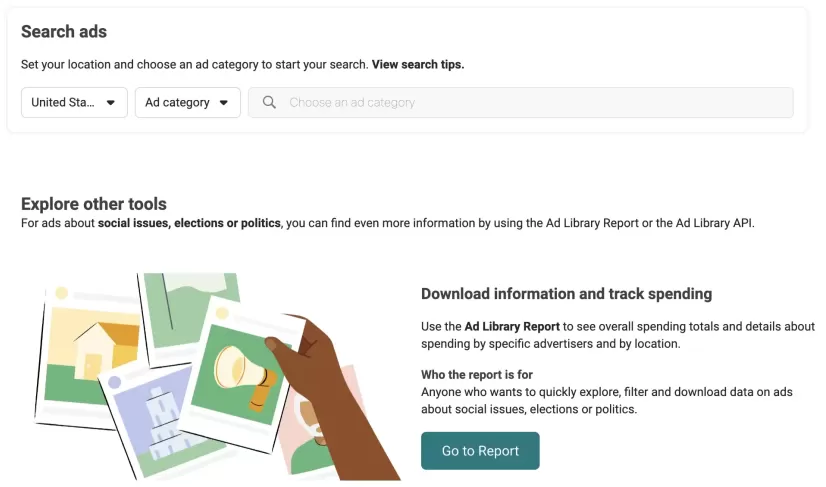 When running ads on Meta (Facebook) Ads, you can use the Meta Ad Library to see your ads within the platform. Another way to see this information is to go to a company's Meta page and scroll to the "Page Transparency" section, click "See All" → "Go To Ad Library." This Meta help article explains how to use this tool.
A similar tool exists in LinkedIn where you can view a company's ads on the platform by going to their LinkedIn page and clicking "Posts" → "Ads".

How do you know if your Paid ads are actually serving?
One metric to help you gauge the performance of your Paid ads is the Impression Share for your campaigns.
Impression Share is defined by Google Ads as the "percentage of impressions that your ads receive compared to the total number of impressions that your ads could get."
Additionally, here are a few things to keep in mind when evaluating Impression Share:
Your success will be based on the size of your audience in relation to your goals.

Having a smaller percentage of a large number of searches per day can still allow you to generate enough leads or sales to meet your business goals. The reverse is also true: having a large share of a small market with insufficient numbers may not give you the volume you need to reach your targets.
This information from the Google Help article about the Ad Preview and Diagnosis tool explains some additional factors that determine when and where your ad appears:
Ad position: If your ad rank isn't high enough, your ad might not appear on the first page of Google search results. Your ad rank is determined by the quality of your ad (your "Quality Score") and the maximum cost-per-click bid you've set. Google doesn't show the same ads on each page, so your ad may appear on the second, third, or later pages. Learn more about how ad position is determined.
Targeting: Your ad will typically show only to people you've targeted, or people searching for your keywords in the language and location you've selected. If you're trying to find your ad, you may not see it if your settings are not the same as your targets. For example, if you are searching for your ad while in New York, but your ad is targeting Los Angeles, your ad won't appear in your search. This is the type of information you can find using the Ad Preview Diagnosis tool.
So how can you check your rankings?
At Workshop Digital, we utilize ranking tools like STAT, which is helpful for analyzing rank position. We track numerous keywords based on what you are looking to rank for.
You can also use Google Search Console to see how many impressions and clicks you receive for certain keywords.
However, this is what we are here for! Work with us to boost your organic and paid presence to bring in relevant traffic to your site, while also keeping track of your performance without harming it.