The Story
A Central Virginia personal injury law firm with over 30 attorneys challenged our Paid Media team to help them stay ahead of the competition and drive qualified leads with new Google Ads campaign types.
"We're using all the best tools that are available to us, and applying them in a way that makes sense for the client. We are leveraging various Google Ads campaigns with the specific goal of beating their competition by showing up higher in search results and breaking into new markets."
The Approach
Our team set to work building, launching, and testing Google Ads campaigns including Local Services Ads (LSAs), local campaigns, and Dynamic Search Ads (DSAs).
Local Services Ads
LSAs are industry-specific and only recently started offering attorney ads. They have quickly become a PPC standard for businesses that operate in a defined geographic area, driving our decision to build them for our client.
In addition to displaying a business's phone number, LSAs are:
Located at the top of Search Engine Results Pages (SERPs), increasing visibility and incremental impressions

Driven by geo-targeting, making them an effective method to reach local customers

Credible with a Google Guaranteed badge that tells customers Google has verified your business and backs your services
Within the LSA platform, our client can listen to recorded calls initiated from their ads to track ad profitability when a call turns into a case.

Local Campaigns
Local campaigns are also geo-targeted, appearing across Google Search, Display, YouTube, and Gmail to provide customers with nearby businesses' hours of operation, contact information, and Google Maps capabilities for brick and mortar locations.
Similarly to LSAs, the objective of our Local campaigns is to drive calls from prospective customers looking for legal representation.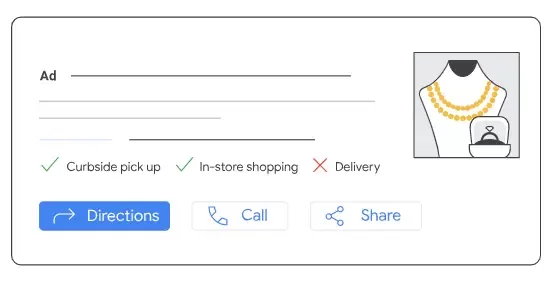 Dynamic Search Ads
DSAs are ads optimized to help businesses find customers searching for the products or services they offer by using website content to target ads and fill in the gaps of keyword based campaigns. DSA headlines and landing pages are also generated using content from a business's website to keep ads relevant.
When our client expressed an interest in expanding their legal services to less saturated markets, we started testing DSAs. Though our new target market has low competition, it also has low search volume. DSAs are a useful tool to help us figure out the right combination of keywords to reach our client's target audience.

The Results
Since launching new Google Ads campaigns in October 2020, our client's leads (conversions) have tripled and cost per lead (conversion) is down 50%. Even better, our client is reporting an increase in qualified leads that are more likely to convert to matters (legal clients). By examining their call reports, the client's internal marketing team can definitively show that cases initiated from phone calls made from LSAs have a significant, positive ROI.



For our client's 2022 PPC strategy, we are experimenting with new growth opportunities including Google Display and Responsive Display ads, Remarketing Lists for Search Ads (RLSAs), and testing ads on other search engines beyond Google to increase reach. To further understand the impact of PPC campaigns on caseload, we are tracking closed loop lead qualification to report "click-to-lead-to-case" conversions.
As digital marketers, we can't predict what Google is going to do next; but, we do offer our clients ad testing and honest evaluations of campaign types and channels.
Google Premier Partner Benefits
Workshop Digital is a Google Premier Partner, ranking among the top 3% of partners nationwide. As a Google Premier Partner our PPC team gains access to Google Ads tools, resources, and support. We weigh our clients' goals with the capabilities of new ad options to develop and deploy solutions to stay ahead of the competition.