Of the 483 companies we evaluated in our 2021 Digital Acquisition Rankings list, Bonfire ranked #9 overall for their diversified digital acquisition strategy that positions their brand in front of potential customers and creators. Their strength in search engine optimization (SEO) empowers their teams to find new ways to create opportunities for growth.

Founded in 2012 as a custom apparel marketplace and crowdfunding platform, Bonfire has grown to nearly 200 employees and hundreds of thousands of customers around the world. Few companies have achieved more growth in such a short time period.
We spoke with SEO Manager Joe Kelly to learn how Bonfire built an integrated digital customer acquisition strategy that landed them a top ten ranking.

About Bonfire

Bonfire is an e-commerce platform that enables creators to design, print, and sell custom apparel online. Their online fundraising tools allow organizations and individuals to raise money with t-shirt and apparel sales while offloading the printing, shipping, and payments to the experts at Bonfire. Proceeds are then distributed directly to the supported cause.
The business boomed in the early days of the COVID-19 pandemic because their digital footprint positioned them to attract new customers seeking to raise money for local nonprofits and struggling businesses such as bakeries and bookstores.

"So many people needed to raise money during that time and we were in a position already to help people raise money online without a physical presence."
- Joe Kelly, Bonfire SEO Manager
A focus on customer acquisition metrics
Bonfire's strong digital acquisition ranking is due to their strength in search engine optimization (SEO), pay per click (PPC) advertising, social media engagement, and brand interest. The success comes from a company-wide focus on digital metrics that matter to their business.
"We do try to base everything on data, whether it's email, blog posts, or social. We're always looking at where are we driving sales from, where are we driving signups from, what types of users are interacting with what content, and then what are the best metrics to look at."
- Joe Kelly, Bonfire SEO Manager
Our Digital Acquisition Rankings are based on quantitative metrics that allow us to compare companies' use of search engine optimization (SEO), pay per click advertising (PPC), social media engagement, brand interest, and user experience (UX) metrics. High scores indicate a mature digital strategy that attracts and converts more customers.
Let's dive into how Bonfire's data-driven approach to customer acquisition earned them a spot in our Top 25.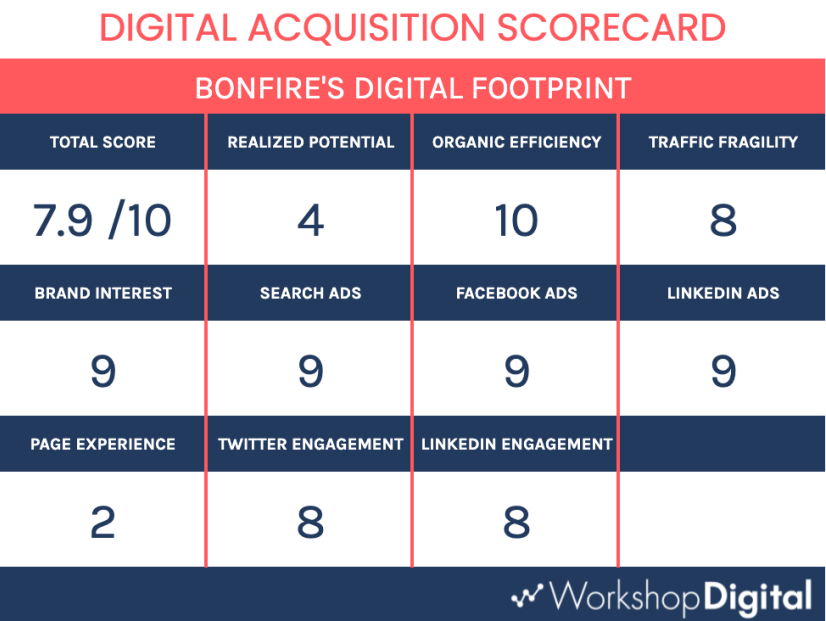 SEO - Scaling Content Without a Team of Writers
Traffic Fragility measures how much a website relies on just a few key pages to drive traffic. There is an inherent risk in putting too many SEO eggs in too few baskets. Our highest-scoring companies attract organic search traffic to a wide variety of webpages. Lower scoring companies may be overly dependent on traffic to a small number of key pages.
Bonfire scored an 8/10 in Traffic Fragility because they host hundreds of thousands of user-generated campaign pages -- each with an opportunity to rank in Google for cause-related keywords. Even though Bonfire has secured high rankings for popular keywords like "fundraising with t-shirts", the organic visibility of their campaign pages and categories creates additional traffic streams to maximize traffic across their entire site.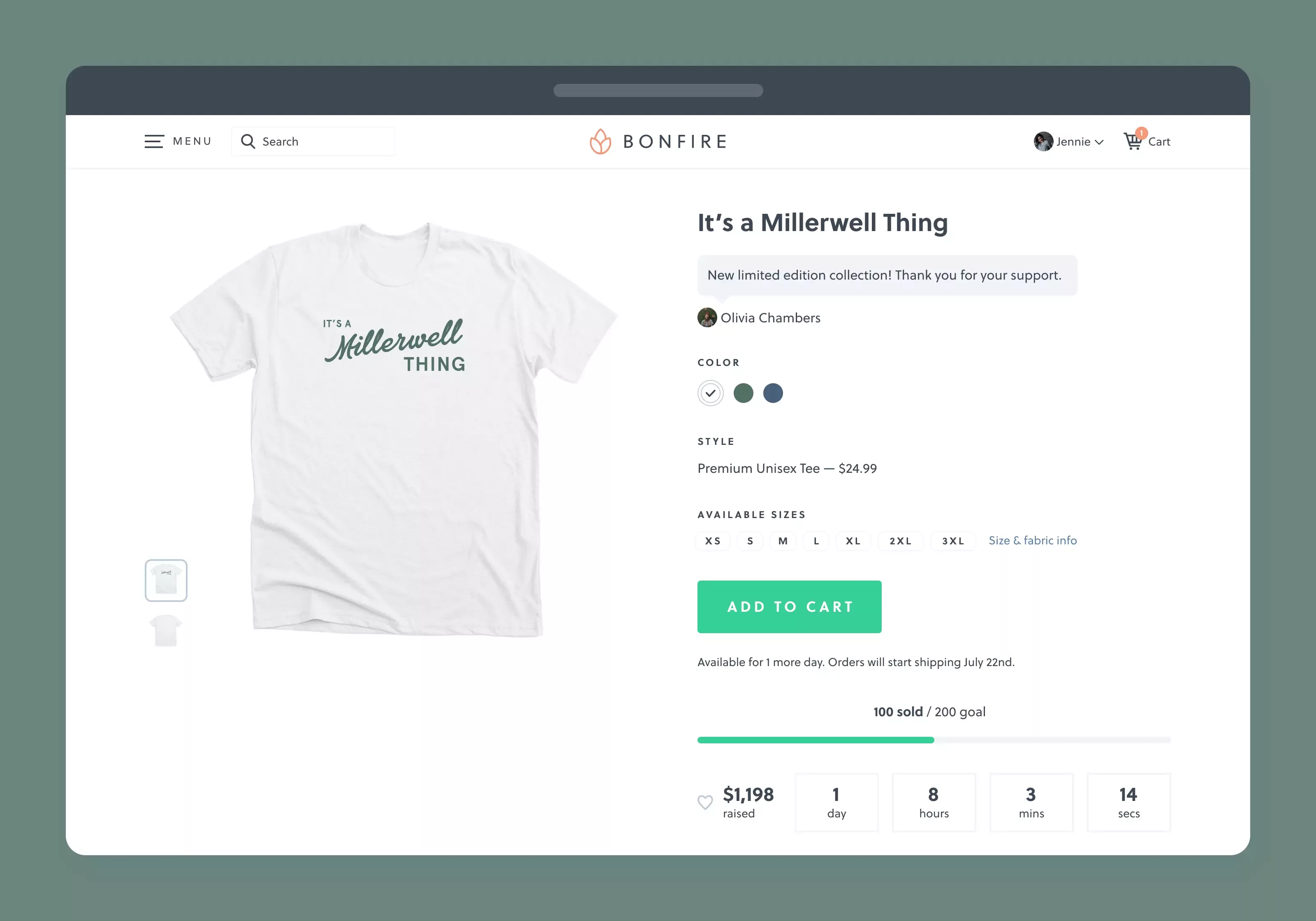 "It levels the playing field a little bit if you're looking at a site with millions of pages versus a site with twenty pages. But if you're looking at the value of the twenty pages versus the millions of pages, it helps you get an idea of how intentional they are with their organic strategy and not just publishing for publishing's sake."
- Joe Kelly, Bonfire SEO Manager
PPC - Testing Reveals Winning Facebook Ads
Facebook's broad reach and rich targeting capabilities allow companies like Bonfire to reach consumers that may be open to exploring a new product or service. The number of Facebook ads a company runs, in comparison to the surveyed average number from other sites, equates to a higher or lower score.
Bonfire earned a 9/10 in our Facebook Ads metric by creating and testing at least 28 new Facebook Ads in an effort to attract more visitors to their site and grow their follower count. Each ad includes multiple versions to identify the best-performing combinations of images and text.
Here's an example of a recent Bonfire Facebook Ad promoting their fundraising options to socially-conscious consumers. The imagery strikes a nice balance between the product (shirts) and the customer (a creator supporting a cause). Highlighting the Bonfire platform benefits ("raising more money than I could have donated on my own") empowers customers to focus on their mission rather than worry about how to print, ship, and collect payments. Finally, the "Learn More" call to action button invites potential customers to "Start a free t-shirt fundraiser with no risk". It doesn't get any easier than that.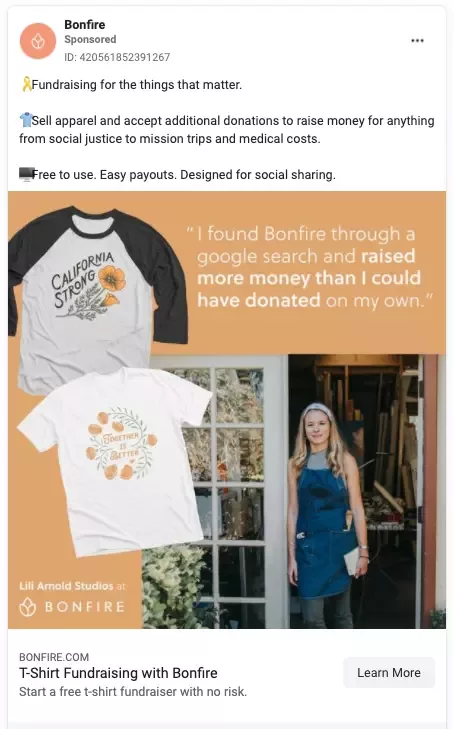 PPC - Combining Paid and Organic Keyword Data to Find Opportunities
Companies running more Google Ads are more likely to reach consumers at the moment they are seeking information. Bonfire's extensive use of over 370 different Google Ads with 1,200+ keywords suggests a sophisticated approach to customer acquisition and earned them a 9/10 in our scoring model.
There's more to Google Ads success than just the number of keywords or ads in an account. Ads have to be relevant to the searcher's query and include a strong call to action. Bonfire.com appears in Google Ads for industry keywords such as "fundraising with t-shirts" as well as cause-specific keywords like "cancer fundraising ideas." Their ad copy highlights their platform's benefits and helps them attract creators with a risk-free way to bring their ideas to life.


The pairing of Google Ads and a strong SEO strategy is a significant contributor to Bonfire's overall success and their high rankings in our study. Their chances of acquiring new customers from a Google search results page improves dramatically when their site appears multiple times.
Social - Sharing Their Values on LinkedIn
LinkedIn enables companies to share who they are and what they believe in, all while engaging with consumers and job seekers. We analyzed the average number of a brand's LinkedIn post likes and comments per follower to determine which brands are creating compelling conversations. We look at engagement as a ratio to level the playing field between brands with smaller footprints and those with massive followings.
Bonfire scored an impressive 8/10 by consistently sharing their values and featuring their creators in their LinkedIn posts. The relatively high ratio of likes and comments from followers helps Bonfire gain visibility and reach even more potential creators in a B2B environment. From a messaging standpoint, the Bonfire team understands the importance of customizing their social strategies for each channel rather than simply copying and pasting content across platforms.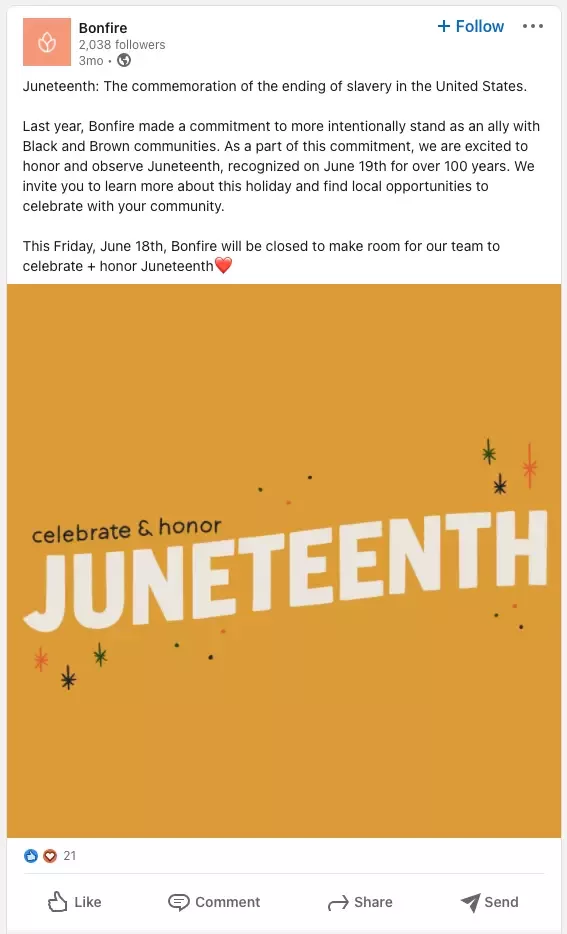 Our research focused on customer acquisition channels but LinkedIn is a necessary channel for companies seeking to build a hiring brand that attracts new employees to the cause. By sharing their values and celebrating their team, Bonfire is positioning themselves as not only a great place to create shirts, but also a great place to work.
Tying it all together
At #9 on our list of 483 companies, it's clear that Bonfire's data-centric approach to digital acquisition has fueled their growth. Combining SEO, PPC, social media, and UX has proven to be an effective recipe for attracting new customers and creators to their platform.
We celebrate the Bonfire team as they continue to grow their digital footprint and expect to see them ranking near the top of our list for years go come.
Want to see where your site ranks? Complete the form at the bottom of this page to request a free assessment of your company's digital footprint.