A year ago, our team relied heavily on one keyword tool: Google Keyword Planner. Although some analysts supplemented their research with Moz's Keyword difficulty tool to make final keyword decisions, the bulk of our research took place in Google Keyword Planner.
When Keyword Planner began grouping keywords and search volume in all but high-spend Adwords accounts, our keyword process changed completely.
In the midst of the Keyword Planner drama, most of our team hopped over to Moz Keyword Explorer. With loads of great keyword suggestions, search volume, and difficulty scores, this tool seemed like a natural successor to Keyword Planner.
Later, team members began experimenting with Ahrefs Keywords Explorer. I wrote a review comparing Ahrefs vs. Moz, which included my initial thoughts about the data that both tools provided and our team's opinions on which tool was better.
We've each had more time to use these tools and create a new keyword research process. So, how's our team doing keyword research these days?
It depends who you ask. I didn't realize how differently each of us was using these tools until I surveyed our team on the use of what I consider the "big 3" keyword tools. After analyzing the results, I can confidently tell you that everyone on our team uses at least two of these tools for keyword research, and several people use all three.
Google Keyword Planner
Top Uses:
Finding new keywords
Finding seasonal search volume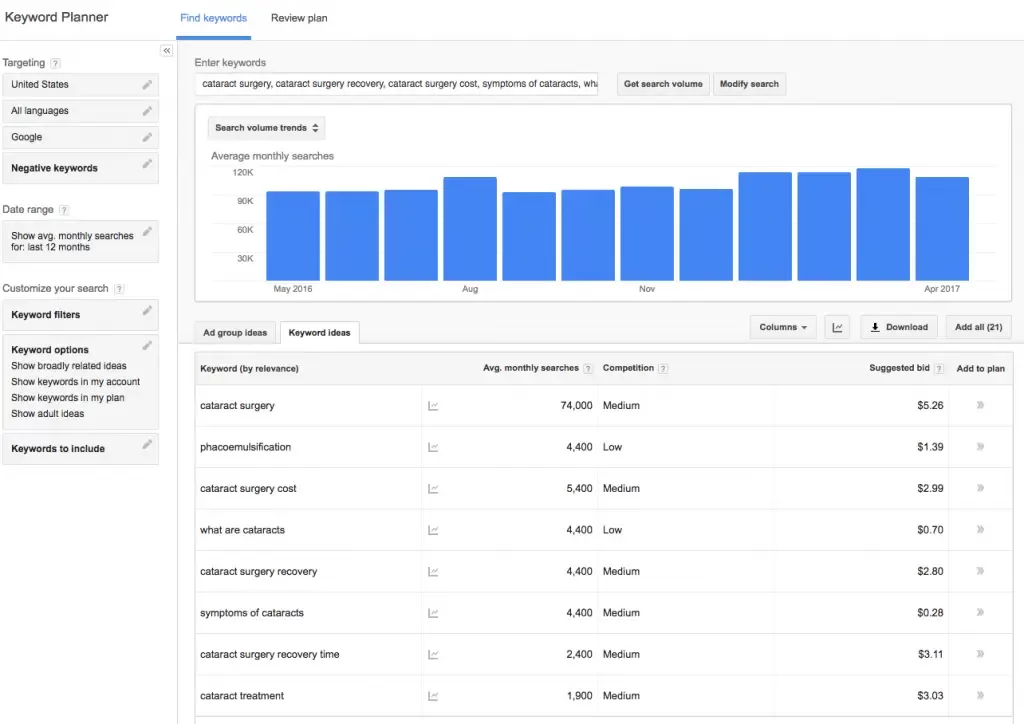 Several of our analysts begin their keyword research here. Since the information comes straight from Google, and we have some high-spending accounts, our team is still able to access granular search volume with full keyword lists.
Our team finds this tool most useful for finding new keywords and search volume—especially if we are attempting to discover seasonal trends. Since the data comes straight from Google, our confidence in the search volume is fairly high. It's a great place to begin keyword research if you have a high-spending Adwords account.
Free SEO Scorecard
Get professional analysts' insights into your Technical SEO, Content, Competitor Activity, UX, Web Analytic Configuration, and more. Get started with your free website SEO audit today.
Moz Keyword Explorer
Top Uses:
Finding new keywords
Creating keyword lists for specific topics
Determining monthly search volume
Moz is another starting place for keyword research for several of our analysts. The most common way our team uses Moz Keyword Explorer is to find new keywords.
What makes Keyword Explorer unique is its ability to find keywords that are topically similar, but don't contain the explicit word or words you started with. For example, I can take the word "phacoemulsification", which is a method of cataract surgery, and find keyword suggestions based on closely related topics as seen below: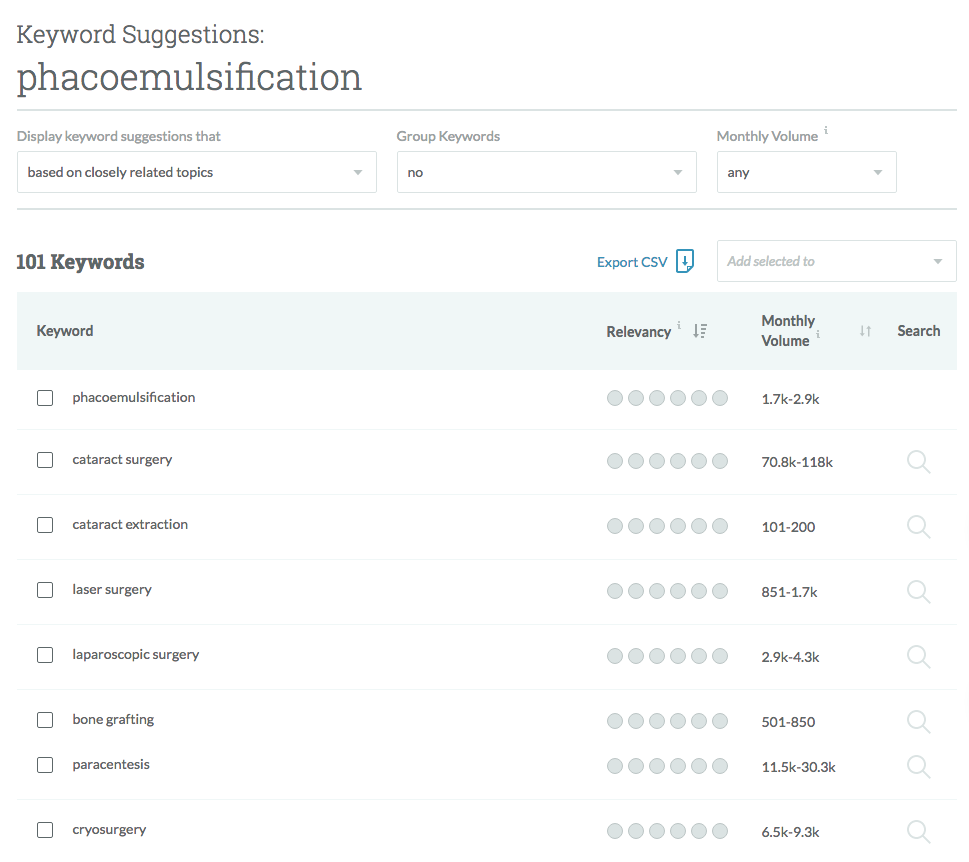 None of these contain my original search term, but all of these are closely related to my topic. This is my favorite way to find alternate keywords that may have much more potential.
Once you've found keywords that you're interested in pursuing, you can easily add them to a keyword list to compare search volume, ranking difficulty, and other helpful metrics—the other main use our team has for Moz Keyword Explorer. Since these search volume and difficulty results come from a third-party tool and not Google, our team is most skeptical about this data. Also, there are plenty of keywords that Moz has no search volume data for, but Keyword Planner does, which can be frustrating.
Ahrefs Keywords Explorer
Top Uses:
Finding SERP features for keywords
Exploring parent topics
Determining monthly search volume
Estimating paid/organic clicks for keywords
Our analysts use Ahrefs Keywords Explorer for a little bit of everything. Most of us use it to find keywords with SERP features like featured snippets and related questions, and to find parent topics.
The parent topic feature takes the keyword that you search, finds the page that ranks #1 for this keyword, then determines the keyword that this page ranks best for. This is a useful way to quickly determine user intent. In the example above, I can tell that "cataract treatment" is a subtopic of "cataract surgery." If I validate this insight by doing a Google search for "cataract treatment", I get a mix of "cataract surgery" and "cataract treatment" results. This feature is most useful when researching low volume topics or industries you are unfamiliar with.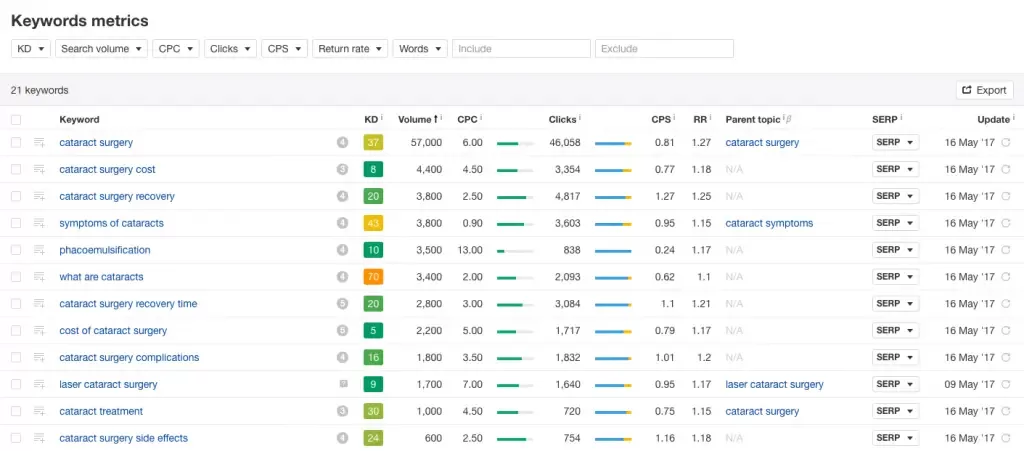 Some of our team members also use it for finding new keywords, search volume, ranking difficulty, and organic versus paid clicks.
I personally start my keyword research in Keyword Planner or Moz to create a list of possible keywords and then move this list into Ahrefs for extra search volume data, organic versus paid clicks, and parent topics. Since Ahrefs is also a third-party tool, our team remains skeptical of the search volume and difficulty data.
How We Do Keyword Research
Though our team uses all three tools for search volume, we've debated internally how accurate the data is for each one. Comparing the same data set across tools shows huge inconsistencies in monthly search volume estimates.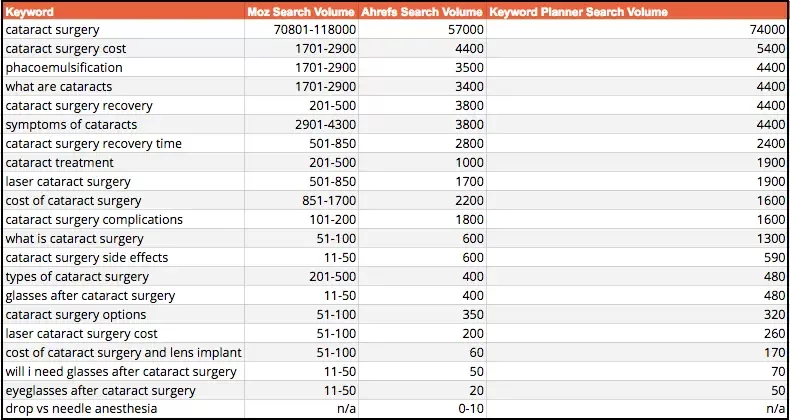 With a few exceptions, Moz's reported search volume is much lower than the other tools. For four keywords, Keyword Planner reports 4,400 searches—and only one of these four has reported search volume from Moz that is within 1,000 searches of the GKP data. In fact, Moz is well under Keyword Planner's estimated search volume for all but two of these 21 keywords.
Ahrefs only estimated higher than Keyword Planner for four keywords (two of these four report the same as Moz) and is much closer to Keyword Planner search volume on most searches.
Only four keywords from Moz give search volume within 20% (higher or lower) of Keyword Planner's estimate. Ahrefs has nine keywords within this 20% accuracy range. If we expand that accuracy range to 30%, Moz still only has four keywords, while 15 of the 20 keywords with search volume on Ahrefs fall in that range. While this is a small sample size, these results are typical of what we see daily.
In addition, Moz Keyword Explorer and Ahrefs Keywords Explorer calculate difficulty in completely different ways: Moz uses their proprietary authority metric and projected click-through rate to determine ranking difficulty, and Ahrefs is based on their repository of backlink data for sites that rank in the top 10 for each keyword.
Conclusions
Each tool has different strengths and weaknesses, so our team frequently uses all three. Sometimes, we use tools like Answer the Public, and SEMRush in addition to Keyword Planner, Moz, and Ahrefs. Answer the Public is a great resource to begin gathering ideas for content marketing. To find keywords that your competitors are ranking for, SEMRush is an excellent place to start.
I think the best strategy is using a combination of the three tools to help choose target keywords after getting a comprehensive view of search volume, difficulty, SERP features, and related keywords that could return similar SERPs. Then after, spend a chunk of time manually searching keywords to confirm user search intent for each keyword in your narrowed list.
Though these steps are more time consuming than using Keyword Planner alone, you'll end up with more accurate results and helpful insights during your next keyword research session.
Which keyword tools do you prefer? Leave a comment or Tweet to @workshopmktg and let us know!