Handcrafted SEO scorecards for competitive brands
Is your SEO strategy getting the results you expect? Let our experts review your website and highlight opportunities to improve.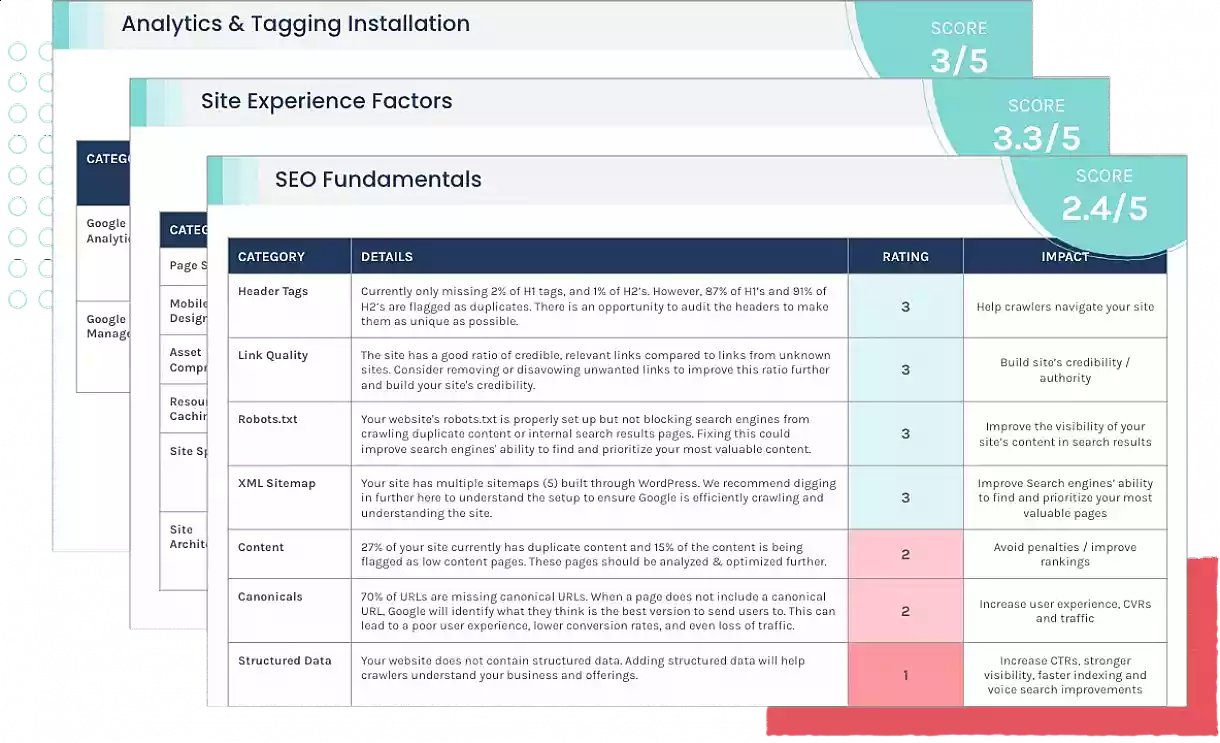 Solving complex SEO challenges starts with an honest assessment of your website
First, we'll set up a brief call to learn more about you. Then, Workshop Digital experts will create your custom report to show:
How to improve your search visibility to drive more qualified leads.
What your competitors are doing and how to capture more market share.
Prioritized opportunities for greater impact and how to maximize your budget.
Your custom SEO Scorecard will give you an expert's take on your current efforts and help you get the most from your SEO budget with improved visibility, traffic, and conversions.
No canned reports here! Our scorecards are customized to your website and your business objectives.
Technical and Content SEO Inputs
There are plenty of automated tools that can scrape a website's technical elements, but it takes a human's experience to create insights about what is working and what isn't.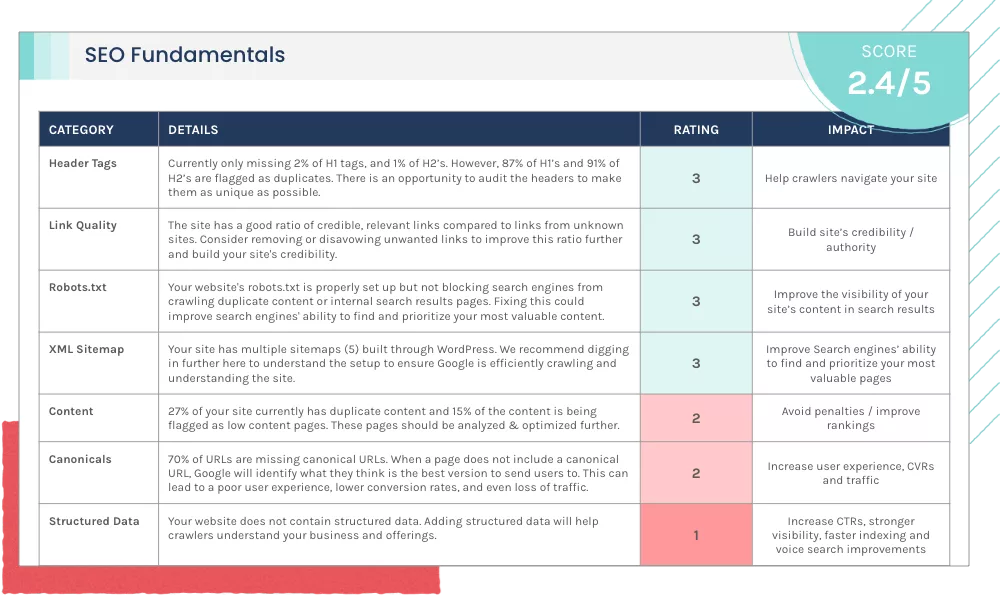 Website and User Experience Factors
A manual review of your site experience reveals opportunities to appeal to users and search engines. Your SEO Scorecard will include a prioritized list of opportunities and focus areas for further exploration.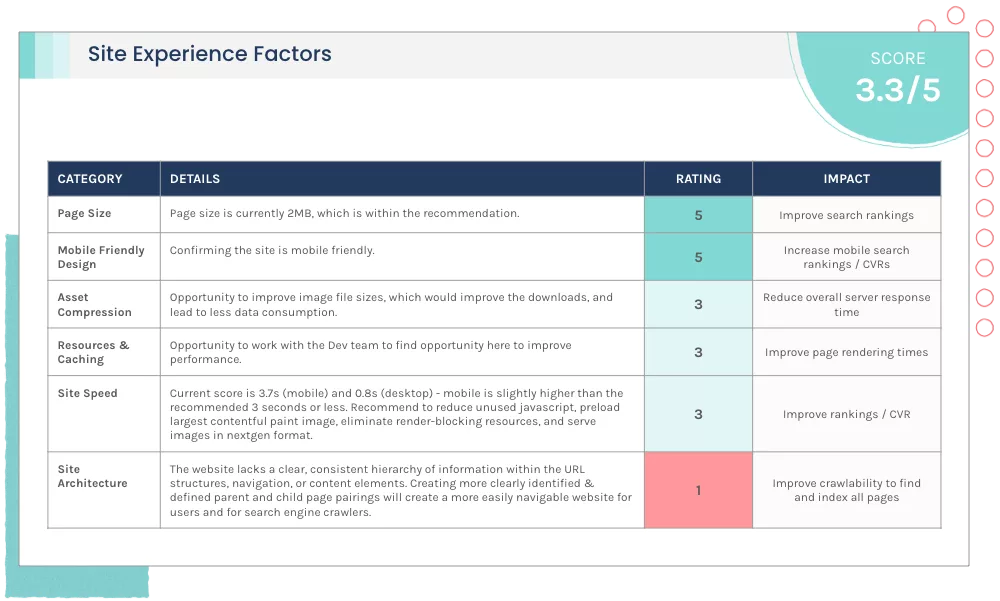 Web Analytics Configuration
Is your site tracking the most important interactions? Your SEO Scorecard includes an evaluation of your analytics installation so you can measure the metrics that matter and prepare you for Google Analytics 4.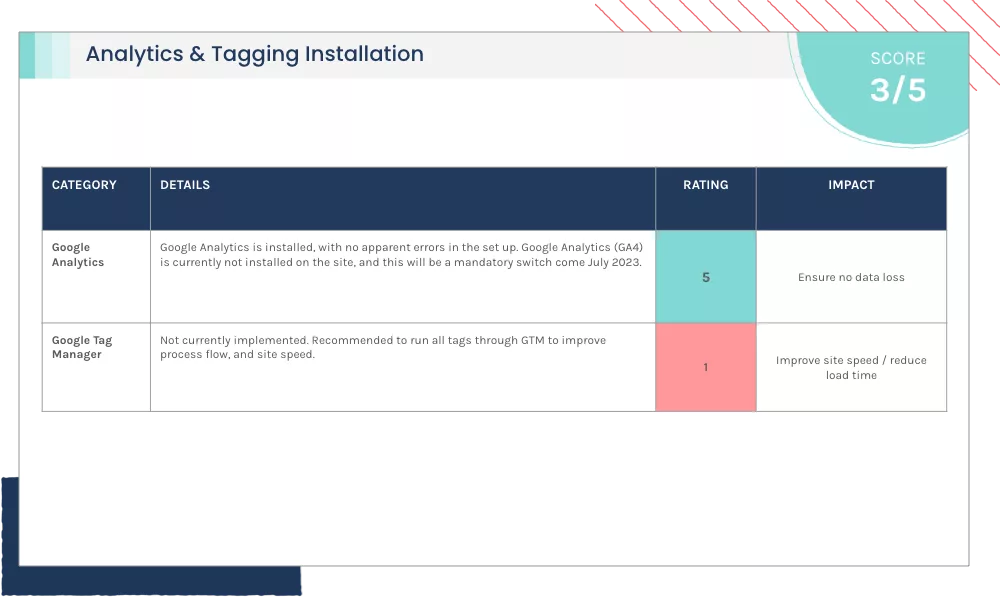 Request Your Free SEO Scorecard Today
Tell us a bit more about yourself and your website to get started. We will reach out for a brief conversation to get the additional details we need to customize your report.
Or, get in touch to learn more about our SEO services.
"With the Workshop Digital team, I am able to overachieve a lot of marketing goals, including driving people to our website and generating high-quality leads. I really love working with them and I consider them part of my marketing team."

Dora Kuo, Marketing Director
Trusted by savvy marketers since 2007