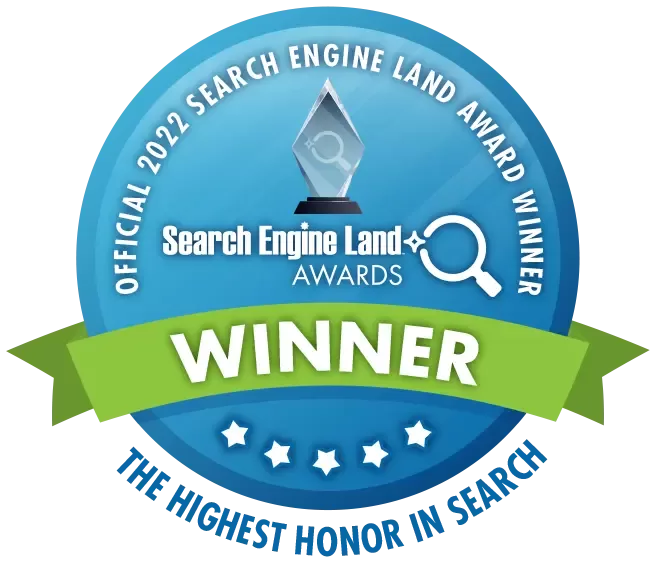 Every year, Search Engine Land celebrates the best of search marketing, showcasing the individuals, agencies, and in-house teams that deliver exceptional SEO and PPC results. This year, the Workshop Digital paid media team won first place in the Best B2B Search Marketing Initiative - PPC category for our work with an industrial manufacturer of highly specialized equipment that resulted in a 2,400% Return On Ad Spend (ROAS).
Complex PPC problems require unique solutions
Our client sells large, expensive cooling equipment to nuclear facilities, data warehouses, and factories. These multi-million dollar purchases often take months to close and are notoriously hard to track back to the original marketing channel.
In other words, the long sales cycle and multiple touch points create an attribution challenge.
To solve it, our paid media team built a CRM integration between Google Ads and the client's Salesforce platform to track when leads are generated from campaigns, when they move into an opportunity/closed deal, and the associated value for each lead.

Behind the scenes, we helped the client set up field mapping at each step in the integration so that unique Google click IDs persist with each contact all the way through the sales pipeline.
When a deal closes, we feed this data into Google's algorithms to optimize for conversion value bidding, where Google will prioritize driving leads of higher value.
Want more details? Check out the full case study.
Exceeding Expectations and Creating Happy Clients

The results far exceeded expectations, with this campaign already doubling last year's results in just the first two quarters. And it's continuing to bring in big wins and great ROI for our client.
Here's a quote from a recent email:
"Got a very exciting MQL/SQL report attached. A company clicked one of our Google PPC ads and submitted an RFQ for around $47k. That'd be a nice win if the story ended there. But...
Then, two days later, the same company submitted a quote request for $1.6MM worth of [product].
I'd say that's a ricochet PPC lead and a pretty excellent way to close the month and head into a holiday weekend. Take a bow! Your work on our account continues to just be top-notch. That's a truly magnificent result."
- Nate
We're not stopping here
We are honored and proud to receive this prestigious award alongside the other 2022 Search Engine Land Award winners. The recognition is a testament to our belief that "passionate people create powerful results."
And the work continues! We are continually testing new pay per click advertising channels and strategies to find more ways to reach potential clients. In this case, our team is testing an expansion to Microsoft Advertising to create a secondary avenue to generate more leads.
Want to help us create the next winning awards entry? Drop us a note below and we'll put the same team to work for you.