How we conduct SEO audits to find opportunities to measure and improve results
How long has it been since your last SEO audit? If you answered "too long" or "I don't know," it might be time to enlist an expert to provide another set of eyes. An SEO audit not only helps you evaluate the performance of your existing strategies, but also provides valuable opportunities to dominate search results, drive more traffic, and convert more visitors to customers.
Our experts have audited hundreds of websites across a wide variety of industries. This article takes you behind the scenes to understand each item in our checklist. The process results in an easy-to-read scorecard with grades for each element and prioritized recommendations.
Want our experts to audit your website? Request your free scorecard here.
Site Experience
How your visitors experience your website directly impacts their levels of engagement and satisfaction. A user-friendly website ensures that visitors can find exactly what they are looking for and navigate with as little friction as possible. A positive site experience leads to lower bounce rates, longer session durations, and higher conversion rates.
Our SEO audit process begins with a review of the following factors to highlight areas to improve your visitor experience.
Site Speed
Search engines prioritize fast-loading websites in their search results because they recognize the importance of sending users to a site with a good experience.
We use a variety of tools to analyze site speed and the factors that influence it. Looking to assess your own site speed? Try Google's PageSpeed Insights tool to test your own pages and compare to their guidelines for each of the Core Web Vitals (CWV) factors.
Page Size
The file sizes of your website elements play a major role in improving your site speed scores. "Heavier" pages load slower on slower connections which could result in a poor user experience and lower search engine rankings.
Our SEO audit uncovers and prioritizes the largest pages and files that could be slowing your site down.
Mobile-Friendly Design
Users expect a seamless experience from websites that automatically adjust to different screen sizes. Search engines expect a mobile-friendly site and provide a free Mobile-Friendly Test tool to determine how easily a visitor can use your site on a mobile device.
Our SEO audit process includes a review of your Google Search Console data to identify individual pages or entire sections of your site that may not meet users' expectations.
Site Architecture
Does your website structure make sense to a visitor that needs to find specific information? Human users and search engine crawlers benefit from a logical, organized structure with clear navigation elements.
Our SEO audit includes a manual review of your site architecture to ensure it consistently reflects the hierarchy of information and presents an easily navigable experience for human users and search engines.
Asset Compression
Every asset that loads on your website can be optimized to take up only as much space as needed. Asset Compression ensures that images and externally loaded CSS and JavaScript files are properly sized and compressed to minimize file sizes and load more quickly.
Our SEO audit process uncovers and prioritizes assets that can be optimized to reduce server response times, improve download speeds, and consume less data.
Resources & Caching
Server configurations and caching systems can dramatically improve page load times and enhance the overall user experience. While typically invisible to the end user, the technical configuration of the servers and hosting environment can play a significant role in SEO.
Our SEO audit looks for render-blocking resources and opportunities to cache static content to improve page rendering times.
See How Improved Site Experience Revived This Industrial Website
On-page SEO improvements helped this client launch a new site quickly and efficiently, giving customers easier access to the products they wanted.
SEO Fundamentals
Do your site's basic on-page factors meet search engine guidelines? Is your content fresh, helpful, substantial, and relevant? More than ever, search engines are prioritizing content that offers expertise, experience, authority, and trustworthiness as explained in Google's Search Quality Rating Guidelines.
Our SEO audit process includes a deep dive into your website content and how it is presented to users and search engines. The scorecard items below provide you with more details about the opportunities that we find.
Header Tags
Do all of your pages have descriptive, relevant, unique, and compelling header tags (<h1>, <h2>, etc.)? Are they ordered in a logical hierarchy in your templates to help search engines understand your content structures?
Our SEO audit includes a summary report of your website's headers to flag missing and duplicate elements that can be cleaned up to provide higher quality signals to search engine crawlers.
Link Quality
Inbound links still factor heavily into search engine ranking algorithms and are an important predictor of a site's success in organic search results.
Our SEO audit includes a review of your inbound links and those of your competitors. We can identify gaps in your link profile and point out potentially troublesome links from disreputable sources.
Robots.txt
A robots.txt file is used to prevent search engines from crawling specific content on your site. When used properly, it can focus their crawl budgets on the areas you want to emphasize and reduce the likelihood of sensitive or unhelpful content from showing up in search results.
Our SEO audit includes a manual review of your robots.txt file to ensure search engines can access exactly what you intend and the robots.txt file doesn't present any issues for your most valuable content.

XML Sitemap
An XML sitemap serves as a table of contents for your website. It's not intended for human users but search engine crawlers can access it to identify new and updated pages to add to their crawl queue.
Our SEO audit includes manual and automated reviews of your site's XML sitemap(s) to uncover opportunities to guide search engines to your highest-priority content and ensure you're not exposing pages that are not intended to be crawled and indexed.
Addressing SEO Fundamentals Helps This Non-Profit Increase Traffic
Workshop Digital helped ensure a seamless website relaunch and implemented an ongoing strategy for SEO basics that grew traffic more than 50%.
Duplicate Content
Duplicate content issues happen when the same information appears on multiple webpages, which can confuse search engines and cause them to ignore or filter out pages unnecessarily. This can also make it harder for ranking algorithms to prioritize the best version of a page. To avoid this, site owners should create unique and original content for each page.
Our SEO audit utilizes automated tools to discover duplicate content across your site. This will inform our strategies to reduce, combine, or eliminate duplicates and allow search engines to focus their crawl budgets more efficiently.
Thin Content
Thin content issues occur when a webpage has very little or low-quality information, which isn't helpful for people searching online. Search engines, like Google, may not rank these pages highly because they want to show the most helpful results. To fix this, website owners should provide more valuable and detailed information on their pages.
Our SEO audit uncovers pages with thin content so they can be updated, combined, or eliminated.

Canonical URLs
Canonical URLs are encoded on a webpage to help search engines understand which copy of a page is the preferred version when similar content exists on multiple pages. By setting a canonical URL, website owners can tell search engines which page to prioritize and display in search results.
Our automated tools discover pages that should be canonicalized to another URL to avoid duplicate content issues. Fixing these issues can improve the user experience, increase conversion rates, and help minimize traffic loss.
Structured Data and Schema Markup
Structured data and schema markup are ways to organize and label information on a webpage so search engines like Google can understand it better. This helps search engines display more useful and detailed search results, like product ratings, store locations, or biographical information. By using structured data, website owners can help their pages stand out and in search results, which can lead to higher engagement rates and click-through rates.
Our SEO audit scans your site for appropriate use of structured data and identifies opportunities to dress up your organic search results listings to improve visibility and traffic.
Local SEO
Local SEO strategies focus on elevating the visibility and relevance of your physical locations in searches with local intent. This can include Google/Bing Maps and the "local pack" of local search results atop Google's web search results.
Google Business Profile (GBP) Optimization
Your Google Business Profile helps your business locations rank higher in search results when people search for your products and services. Optimizing this presence typically includes providing accurate information like your address, phone number, and hours, plus adding photos and getting good reviews.
Our SEO audit process includes a review of your Google Business Profile configurations and highlights opportunities to build a more robust, enticing profile listing.
Local Citations
Local citations are mentions of your business's name, address, and phone number on other websites, like Yelp or a local directory. They help search engines confirm that your business is real and trustworthy. Having more accurate and consistent citations can improve your local search rankings, so people can find your business more easily when they're nearby.
Our SEO audit includes a review of your local citations across dozens of sites and directories to find missing or incorrect information. This most often happens as businesses move, open/close locations, or change their contact information without notifying the major search engines and local directory sites.
Let our experts provide a free SEO scorecard for your site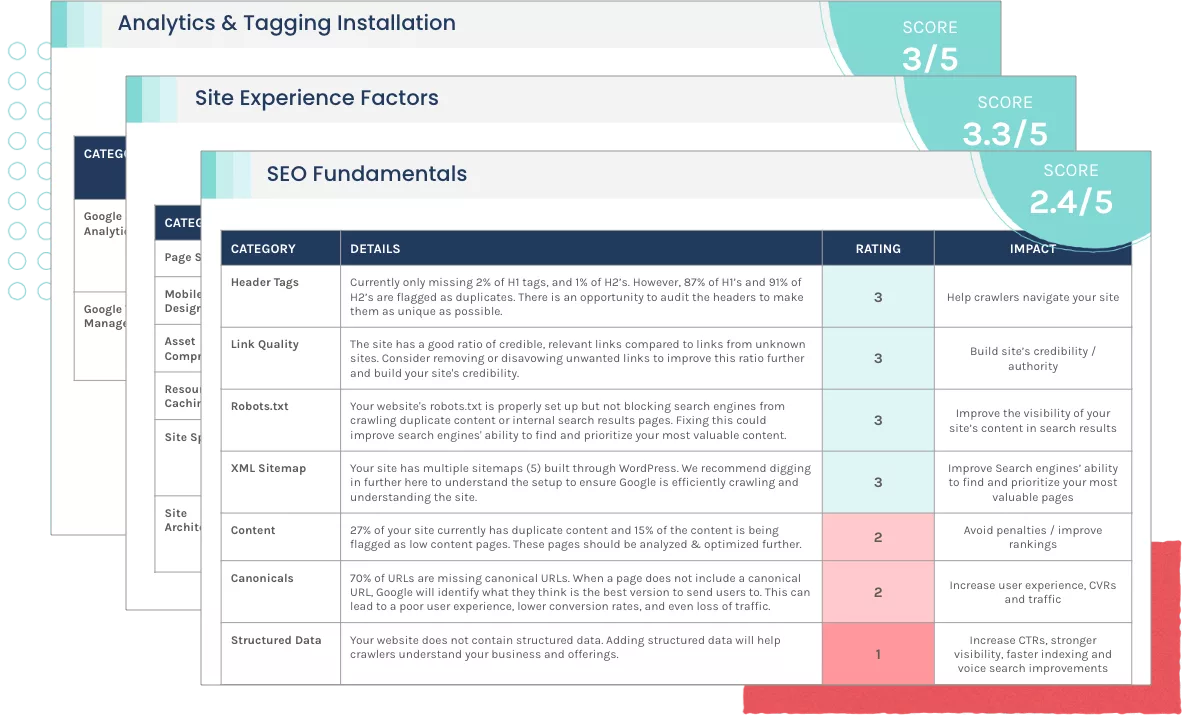 Whether you are just starting out with SEO or have an advanced strategy in place, an audit is an essential tool in improving your visibility in search engines and reaching your marketing goals.
We'll create a scorecard so you can see what's working and what isn't. We'll also prioritize our findings so you know where to focus your efforts.
More SEO content from our experts