Your SEO Scorecard is a custom report on your website's ability to attract the type of traffic that helps your business generate revenue. We offer this free to companies seeking to generate more leads, improve website visibility, or regain business lost to competitors. If you need more qualified traffic and sales, our SEO analysts will take a look at your website to show you what they would do to help you achieve your goals.
We start by checking the basics to make sure your site is compliant with SEO best practices and search engine guidelines. Next, we dig into visitor experience factors such as site speed and mobile friendliness to point out opportunities for improvement. Finally, we look at your analytics setup to make sure you're equipped to measure SEO success.
We'll share your results on a quick phone call to help you prioritize your next steps and discuss the four main ways you can start using your SEO Scorecard right away:
Improve your website's visibility in search results

Take market share from your competition

Avoid common SEO mistakes

Develop an SEO action plan for you, your team, or your agency partner
Improve Search Results Visibility
Search engines love websites that load quickly and provide relevant, helpful, authoritative content. In many ways, these fundamentals have not changed since the early days of web search. However, the rise in competition and changes in customer expectations demand a proactive, comprehensive SEO strategy that includes technical and content inputs.
Our SEO Scorecard includes a review of your on-page content as well as the site experience factors that Google and Bing use to rank sites for competitive search terms. Higher scores indicate a higher likelihood of ranking well in search results. Lower scores highlight opportunities to improve individual factors.
Take Market Share From Competitors
We have delivered hundreds of SEO Scorecards and exactly zero of them have achieved a perfect score. In fact, more than half of the sites we have analyzed in the past 7 years lose points in the fundamental areas of on-page optimization.
This represents an opportunity to gain ground on your competitors simply by improving the basics. Chances are, there are some easy wins on your site that will help you chip away at the first page of Google's search results.
For more complex sites and more competitive industries, our SEO Scorecard surfaces insights about link quality and recommendations for structured data usage that can help your content stand out in different types of rich search results such as recipes, reviews, shopping results, and lists of local businesses.

Avoid These Common SEO Mistakes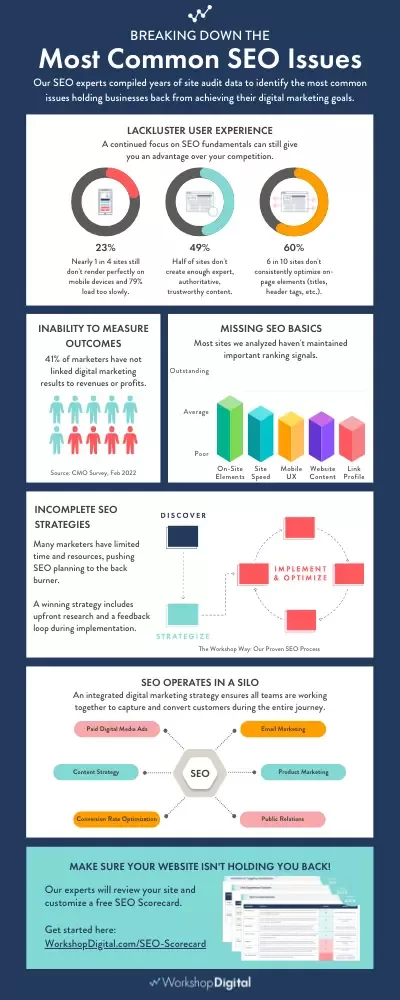 We have reviewed hundreds of sites and found several common mistakes that are holding marketers back from SEO success. Our SEO Scorecard addresses each of these areas so you can compare your site to our benchmarks.
For example, only 49% of sites are creating enough expert, authoritative, trustworthy content and 60% are still missing many of the SEO basics for site speed, mobile usability, and inbound links. Going beyond the website itself, many organizations fail to incorporate SEO planning into their budgeting and strategy processes. This creates even more of an opening for companies with a forward-thinking strategy that includes upfront research and a feedback loop during implementation.
The good news? These issues are fixable if you have a prioritized action plan. It won't happen overnight, but with dedication and a strategic approach to SEO your site will start outranking your competition for high value keywords and attracting more potential customers.
Your Prioritized SEO Action Plan
An SEO Scorecard is only as valuable as the recommendations it contains. We go beyond simply providing a report card to actually help you understand what each item means, why it's important, and how to improve.
If you prefer, we'll share the results with you in a brief, no-obligation call so you can hear directly from our experts. You'll receive next steps to help you, your team, or your agency get to work today.
The sooner you start making changes, the sooner the search engines can begin to crawl and index your improved website to help potential customers find your product or service.
Get your SEO Scorecard
If your site is attracting and converting enough qualified visitors into leads, you likely have a great SEO strategy in place. If you still aren't getting the results you want, check out our free, personalized SEO Scorecard. One of our analysts will check out your website and give you a detailed report on your current program, competitor activity, and action items to help you reach your goals.
Or, get in touch to learn more about our SEO services.