Our SEO experts compiled years of site audit data to identify the most common issues holding businesses back from achieving their digital marketing goals. We found some interesting trends and opportunities for companies to gain ground on their competitors.
We summarized the high level data in the infographic below and dug a little deeper into the trends to give you a starting point. Do you want our experts to take a look at your site? Request a free SEO Scorecard and you'll see how your site stacks up against the competition and whether any of these common issues are standing in your way.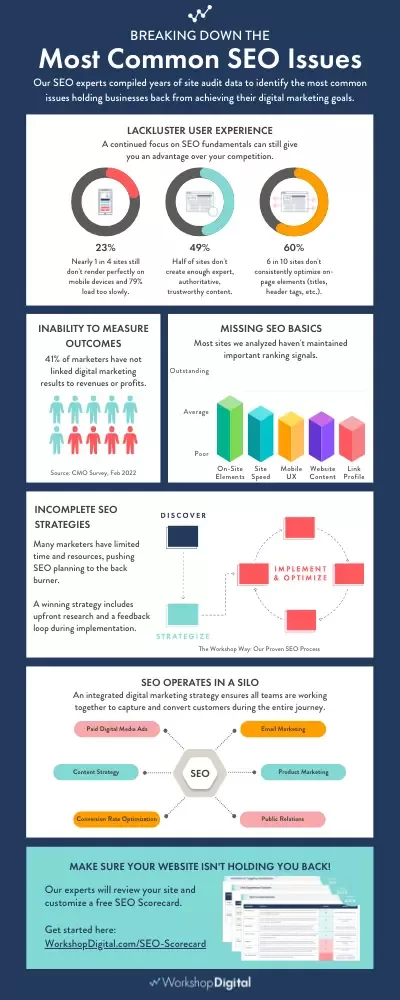 tl;dr: Don't ignore the basics!
There is still tremendous value in revisiting the "tried and true" SEO fundamentals on your website and within your content. Most often, we find that marketers are strapped for resources and don't have the time or a budget to focus on SEO. By the time they reach out to us for a second opinion, they are typically losing visibility in organic search results.
Other times, we find evidence of marketers chasing the latest and greatest SEO tactics while losing focus on the fundamentals. While there is a lot of innovation in SEO, it's important not to lose sight of the foundational work that needs to be done to remain competitive.

Most sites still provide a lackluster user experience (UX)
A continued focus on SEO fundamentals can still give you an advantage over your competition. Of all the sites we have audited over the past several years:
23% still don't render perfectly on mobile devices and 79% load too slowly. Google places a heavy emphasis on sites that load quickly and look great on all screens and connection speeds. As marketers add more tracking pixels, higher res images, and interactive elements, be sure to check your page load times frequently to keep up with visitors' (and Google's) expectations.
49% of sites don't create enough expert, authoritative, trustworthy content. All the technical SEO in the world won't offset the importance of standing out as an engaging expert in your field.
60% of sites don't consistently optimize on-page elements such as page titles and header tags (H1s, H2s, etc.). This was perhaps the most surprising finding from the sites we analyzed. There is always an opportunity to improve how you structure your content and present it to search engines in a logical, relevant way.
Inability to measure outcomes and ROI
41% of senior marketers have not linked their digital marketing results to their revenues or profits, according to the CMO survey. This is a missed opportunity to understand the true ROI of your marketing budgets and how different channels affect the bottom line.
66% of sites we analyzed scored well for having the basic Google Analytics conversion tracking set up. That means 1 in 3 still were not tracking website conversions in a meaningful way.
58% of sites were not taking advantage of more robust data collection mechanisms through Google Tag Manager (GTM). Tag management solutions like GTM give marketers more precise ways to gather data and measure interaction and engagement throughout the customer journey.
Missing SEO Basics
Most of the sites we analyzed haven't paid enough attention to the important ranking signals that Google uses to prioritize and rank sites:
On-Site Elements: Page titles, header tags, image alt tags, and other signals used to help Google understand more about your content and information architecture.
Site Speed: Google rewards faster sites that provide a better user experience.
Mobile User Experience (UX): Sites need to look great, load quickly, and make it easy for visitors to find what they need on mobile devices. Google even crawls and indexes sites with a "mobile first" methodology.
Website Content: Relevant, authoritative, and trustworthy content takes more effort than cranking out low-quality content simply for search rankings.
Link Profile: Although links have been an integral part of Google's algorithms since their inception, our audits consistently find that the majority of sites don't have enough links from high quality sites.
Incomplete SEO Strategies
While this is admittedly hard to quantify, we hear from marketers all the time that their resources (time and budget) are limited, or they don't have SEO expertise in house. This causes SEO to get pushed to the back burner when other pressing, more familiar, issues arise.
Our proven SEO process ensures we understand our clients' objectives, target audiences, and differentiators, and incorporate them into our SEO strategies—as fast as possible. We're also always looking at innovations and opportunities in the industry to help clients, as well as other outside factors, like how to apply the best SEO strategies during economic uncertainty. There are many different approaches to strategic planning for SEO initiatives and we are big fans of having a plan—any plan—that includes upfront research, a feedback loop during implementation, and insightful reporting.
SEO Operating in a Silo
Too often, we see signs of SEO work being done in a vacuum. If your team is lucky enough to have a dedicated SEO or an agency partner, make sure they have a seat at the table with other marketing channels. An integrated digital marketing strategy ensures all teams are working together to capture and convert customers during the entire journey.
Make sure your website isn't holding you back!
If your site doesn't have any of these common issues, you likely have a great SEO strategy in place. If you still aren't getting the results you want, check out our free, personalized SEO Scorecard. One of our analysts will check out your website and give you a detailed report on your current program, competitor activity, and action items to help you reach your goals.
Or, get in touch to learn more about our SEO services.