Note: Google renamed "Google My Business (GMB)" to "Google Business Profiles (GBP)" in November, 2021. This post has been updated to use the new name.
Getting your local listing verified, optimized, and then to show up in Google's Local Pack (Map Pack) can be time-consuming and frustrating. The last thing you want to see is a spammy listing outranking your business. Whether it's duplicate locations, fake companies, or keyword stuffing, many variations of Google Business Profile (GBP) spam exist and threaten the success of credible businesses and their local SEO strategy.
Instead of waiting for Google to clean up every spammy local listing, first understand what qualifies as spam—and then learn tips for reporting it to boost your company's Local Pack rankings.
Types of Google Business Profile Spam
GBP spam includes:
Duplicate listings
Fake listings
Keyword stuffing
Duplicate listings
Businesses can have duplicate listings when they accidentally verify more than one or purposefully create them to dominate the Map Pack. Either way, the duplicates of the original GBP listing are considered spam.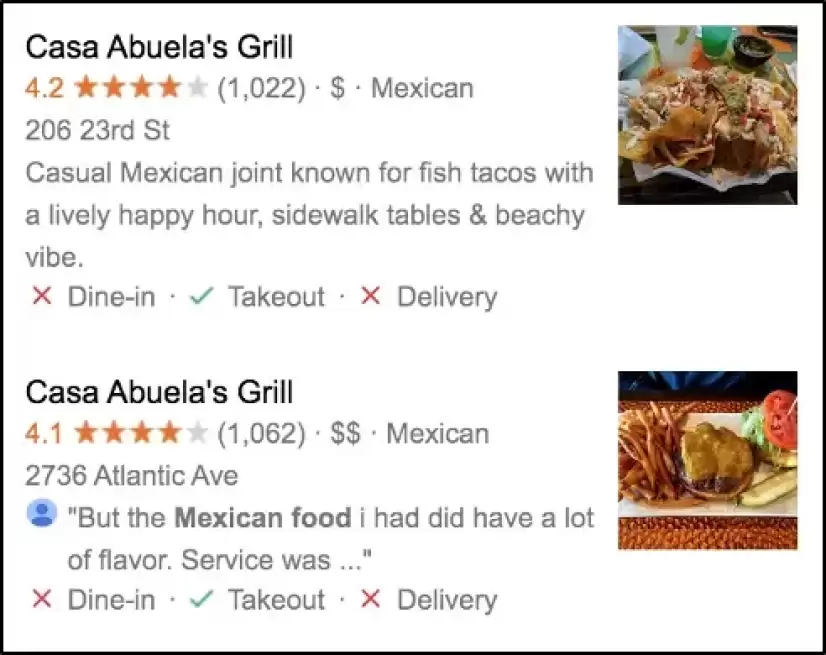 Fake listings
Occasionally, spammers are able to verify fake local listings, which are typically businesses that are not actually physically located at the specified address. Since they don't exist at the address, they cannot be listed in the local pack.
Business names with keyword stuffing
Another black hat local SEO tactic is keyword stuffing. Your local listing name should reflect the exact name of your business, so adding the street address or target keywords is considered spam.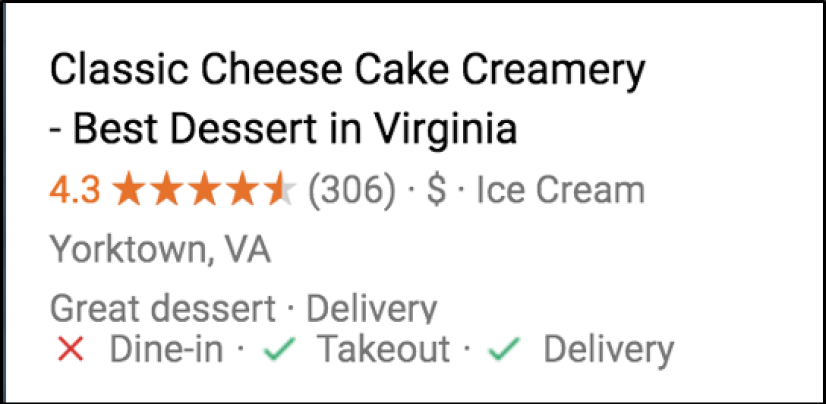 How to report spam on Google Business Profile
Now that you're able to identify spam on a Google Business Profile, it's time to learn how to fight phony local listings!
1. Edit the name or other details
The quickest and most efficient way to fight spam is to suggest an edit. First, click the local listing within the map pack, and you'll see the reviews, address, hours, and more logistical information. Below the phone number, you'll see two links: "Suggest an Edit" and "Own this Business?"


Click "Suggest an Edit" which will open two options: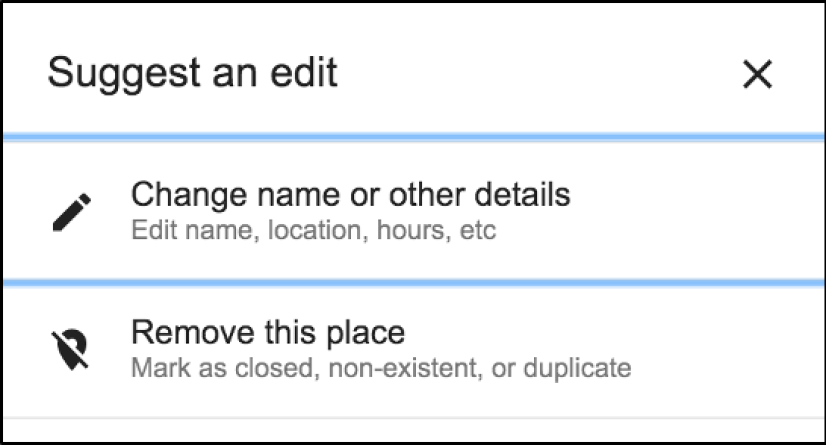 After clicking "change name or other details", you'll see this box: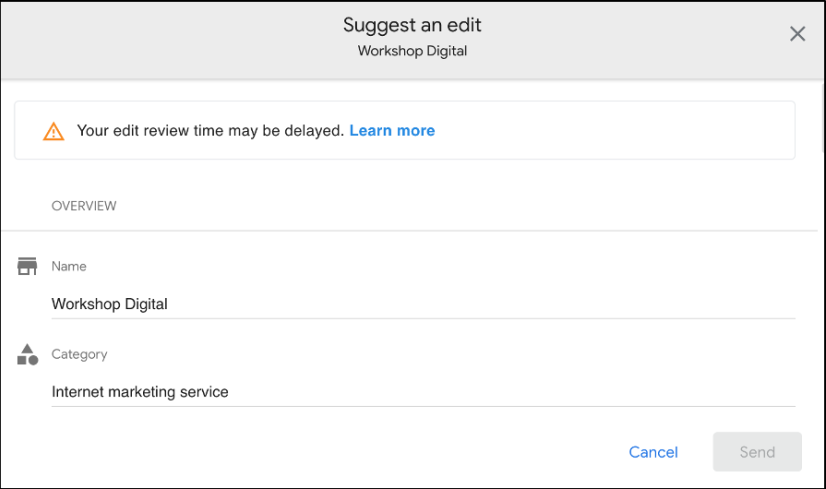 You'll then have the option to suggest an edit to the name and category—and if you scroll down the form, the address, hours, and other details. This should not be used as an opportunity to sabotage your competitors' listings by suggesting inaccurate information, because Google will more than likely penalize your own listing.
Always suggest accurate edits to spammy listings.
Google Business Profile may or may not implement your edits—and it can take a while to go through—but you'll get an email if and when the updates are added.
2. Suggest that Google removes the listing
Keep in mind that if you're trying to remove the spammy listing because it's fake or a duplicate, you should provide proof with pictures. Use Live View on Google Maps to see if the business is physically located at that address.
It may be hard to tell if it's a suite within a bigger building, but sometimes you can tell if the listing is fake by just checking the building's outside through Live View.
3. Submit a Business Redressal Complaint Form
If you come across cases where a certain business has multiple spam listings, you'll want to submit a Business Redressal Complaint Form to Google Business Profile. These forms should not be filled out for small discrepancies like keyword stuffing in one local listings.
Instead, the Redressal Complaint Form is meant for serious fraudulent activity in the Local Pack. If you do find spam that qualifies, Google requests that these forms:
Include specific details
Have as much information as possible
Fighting spammy listings can be confusing as well as time-consuming, but it is well worth the effort when spam starts to disappear and your listing moves up in the Map Pack.
Looking for local SEO support for your business?
We provides local SEO services for businesses of all sizes. From healthcare practices, law firms, and banks, to enterprise-level businesses with multiple locations, many companies rely on local customers. Let us help you attract qualified foot traffic and drive more sales.
Check out our Local SEO Services page or contact us to learn more.