As we emerge from the economic uncertainty created by COVID-19, consumers are continuing to seek products and services online with national ecommerce sites, resulting in a decrease in local brick and mortar foot traffic.
To compete, local restaurants, boutiques, and service providers had to adapt quickly to meet consumers where they are.
So, how can local businesses compete in search results against large scale competitors?
Now more than ever, a strong digital presence helps local businesses reach consumers in their geographic area across all devices.
Google's search statistics reflect buyers' desires to shop small. In 2020, Google searches for "support local businesses'' grew by over 20,000% (Google Blog, June 2021); a clear movement to support local businesses and keep communities afloat during the pandemic. With a renewed interest in shopping small, local businesses can and should capitalize on digital traffic.


Benefits of Using Google's Free Listing Tool, Google Business Profile
Local businesses can maximize free digital capabilities to attract and serve consumers in search.
Enter Google Business Profile (GBP), Google's free service directory that businesses can claim to update business information displayed in a search results listing and traditional search catalog.

Here's an example listing with a format that should look familiar to Google users: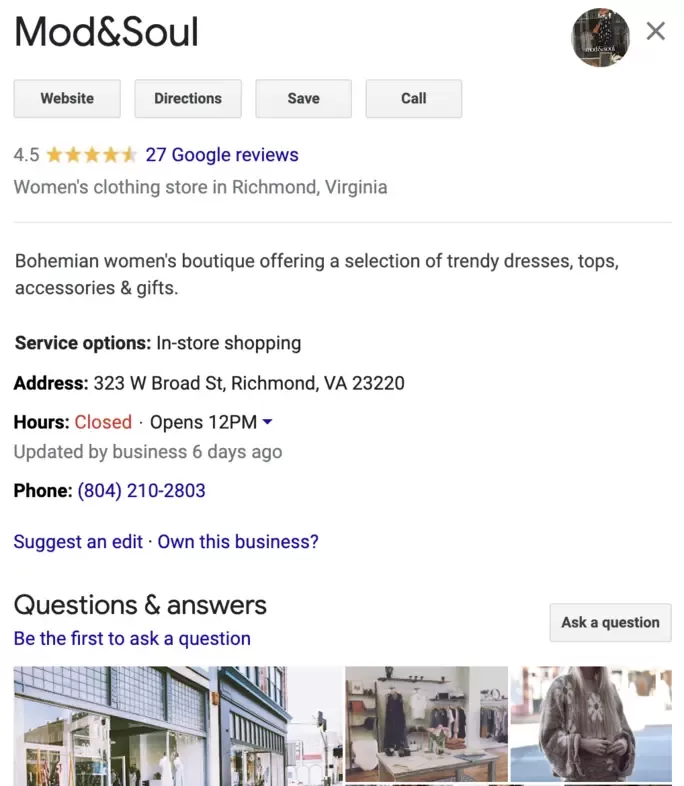 Impact of Local Search on Local Businesses
Since 2015, searches for local businesses with the qualifier "near me" grew 150% faster than comparable searches not including "near me." As our location data becomes more ubiquitous, consumers still want to find businesses close to them, but may not explicitly include "near me" in their search. Google's local search algorithm continues to improve and provide results based on the user's location, regardless of locally related terms.
Still, plenty of search queries include "near me" to generate results for an explicitly local search. When users include "near me," historical data indicates they likely clicked through to a site from a GBP listing.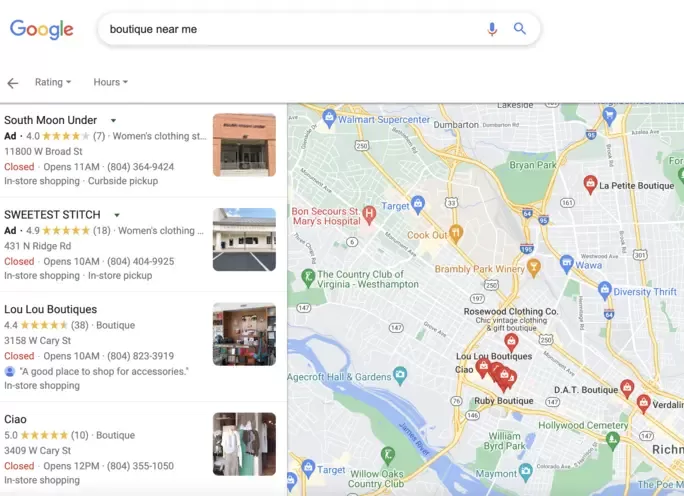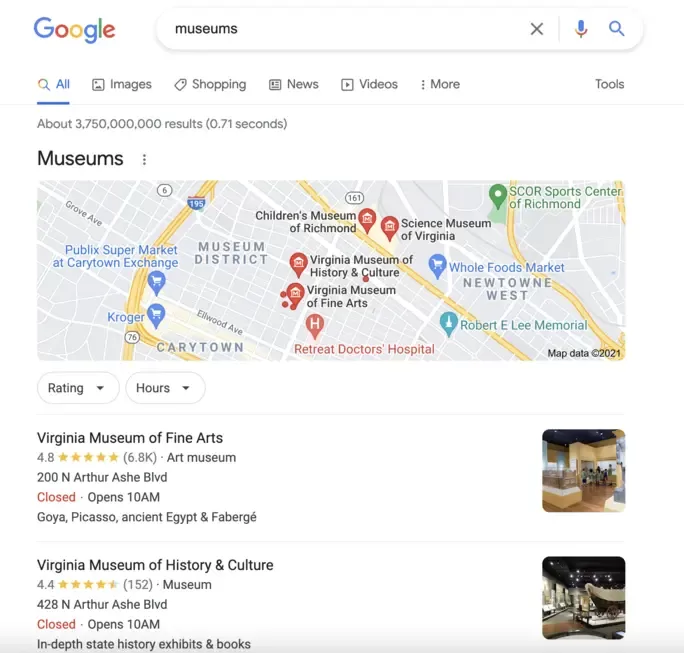 Google's Local Search Factors
Google's algorithm tracks users' locations and displays business results that are close and convenient. In November 2019, Google began using machine learning in their local search algorithm to help search engines understand the relationship between search terms to improve local search. This change didn't impact how businesses represented themselves, but helped improve Google's ability to rank businesses in relation to user location.
Google considers three key factors in their local search algorithm to influence GBP results:
1. Proximity or distance
For local service businesses, the familiarity and presence within a geographic area can be a driver for consumers. While for local retailers, the option to purchase a unique product without having to pay or wait for shipping makes local businesses all the more appealing.
2. Relevance
Relevance refers to how closely related a business is to a user's search terms. Relevance is influenced by the business information provided in a GBP listing.
3. Prominence or notoriety
Prominence refers to how well-known the business is, considering both offline and online signals. Prominence is related to a variety of factors, including reviews, articles, and other information across the internet.
With these factors in mind, a GBP listing should include the business's name, address, phone number, and website to appeal to Google's consideration of proximity. Adding a business category will help the algorithm determine relevance, and including reviews displays prominence or notoriety with previous customers.
How GBP Helps Improve the Digital Presence of Local Businesses
When improving a local business's digital presence, think about what consumers are asking and how a GBP listing can answer their questions. A consumer may ask:
Is the business near me?
Does the business have what I'm looking for?
Is the business available to serve me?
How can the business serve me? (Delivery, pick-up, and online options have all become more important to consumers during the pandemic.)
How can I contact this business?
With the peaks and valleys of the pandemic-related labor shortages, businesses may be operating under modified hours, limited product/service offerings or staff, and required precautionary measures. Business Profile is key to showing up for local searches, highlighting availability, and updating consumers on varying business circumstances. Claiming a GBP listing can not only give local businesses the autonomy to edit their business offerings and information, it can also increase real estate in Google's local map pack results as GBP drives Google Maps listings.
GBP Features for Service and Retail Businesses
Local service businesses without a brick-and-mortar location can improve visibility for their service offerings by including a service area in their Business Profile listing. The service area includes the geographic areas the business serves within a 2-hour radius.
For local retailers, displaying products in a GBP profile can be helpful to show consumers current product offerings and stock. According to Google, consumers are searching for "who has" + "in stock" 8,000% more frequently year over year (Google Keyword Blog, June 2021).
GBP Listings and Mobile Search Traffic
In the digital age, smartphones allow users to search for local business information on the go. According to SEMRush, 60% of web searches are done from a mobile device. When local businesses claim their GBP listing, they are eligible to show up in the highest ranking mobile search position for 60% of total searches. That's search real estate not to be missed.
Wrap Up
From unique products to quality, personalized services, GBP listings help local businesses build their reputations as the shops, restaurants, and services consumers frequent time and time again. Local businesses using Google Business Profile listings improve their digital presence by showcasing their proximity, availability, and quality of offerings.
Are you a local business interested in claiming and optimizing your Google Business Profile listing? Check out our Local SEO and Virginia SEO services for more information.