How are B2B marketing leaders preparing for 2023 amidst economic uncertainty? There are plenty of prediction posts, but no single person can accurately predict the future with certainty.
We can do better.
Smart marketers follow the data and observe trends to inform their budgets and forecasts. Even smarter marketers segment the data to get the insights they need to inform their budgets and forecasts.
We dug deep into data from The CMO Survey's Highlights and Insights Report to find informative trends from a large panel of B2B marketing leaders. Here are 4 of the trends we expect to see in 2023.
B2B marketers are planning to increase their 2023 digital marketing budgets faster than B2C marketers
While overall marketing spend is still expected to grow in 2023, the rate of growth is expected to slow. This is normal behavior when future demand is harder to predict.
Marketers are not economists. But there is usually some wisdom in the crowds. Collectively, we are forecasting more growth in 2023 and are willing to invest more to achieve it.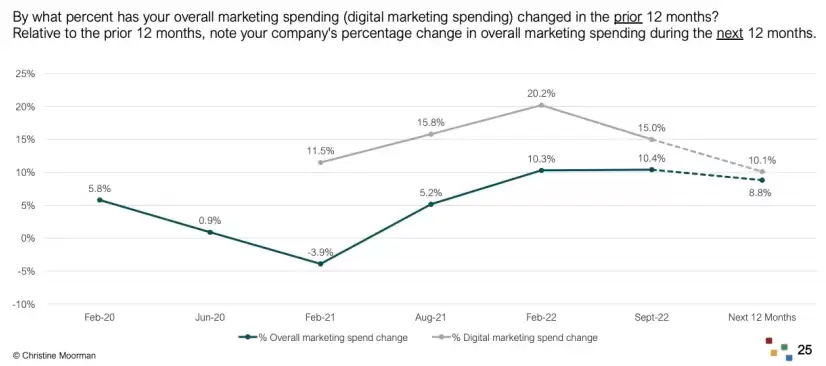 The majority of the growth will come from B2B brands. B2B marketers are expecting to increase their digital marketing spend 11-12% compared to about 7% for B2C marketers. Overall marketing spend will increase significantly more for B2B marketers compared to their B2C peers.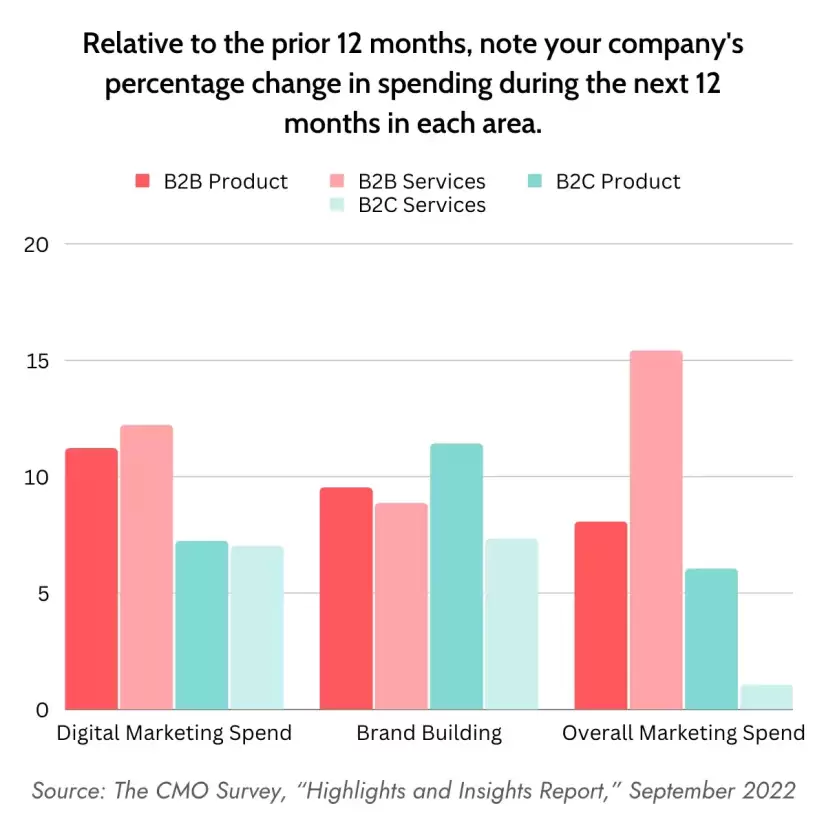 Slowing growth rates are normal during uncertain economic times. But there is reason for hope and optimism.
B2B marketers are more optimistic about the US economy than B2C marketers
Marketers' optimism for the US economy is below historic averages and trending downwards with the warnings of an impending recession. However, B2B marketers are more optimistic than their B2C counterparts.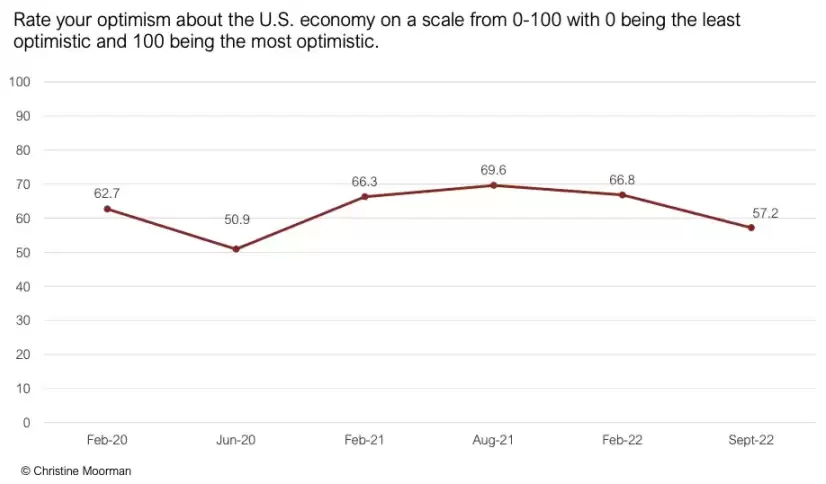 The CMO survey finds that B2B products marketers have a higher overall optimism (60.3/100 average) than B2C product marketers (48.6/100 average). B2B services marketers (59.3/100 average) are more optimistic than their B2C services counterparts (56.7/100 average).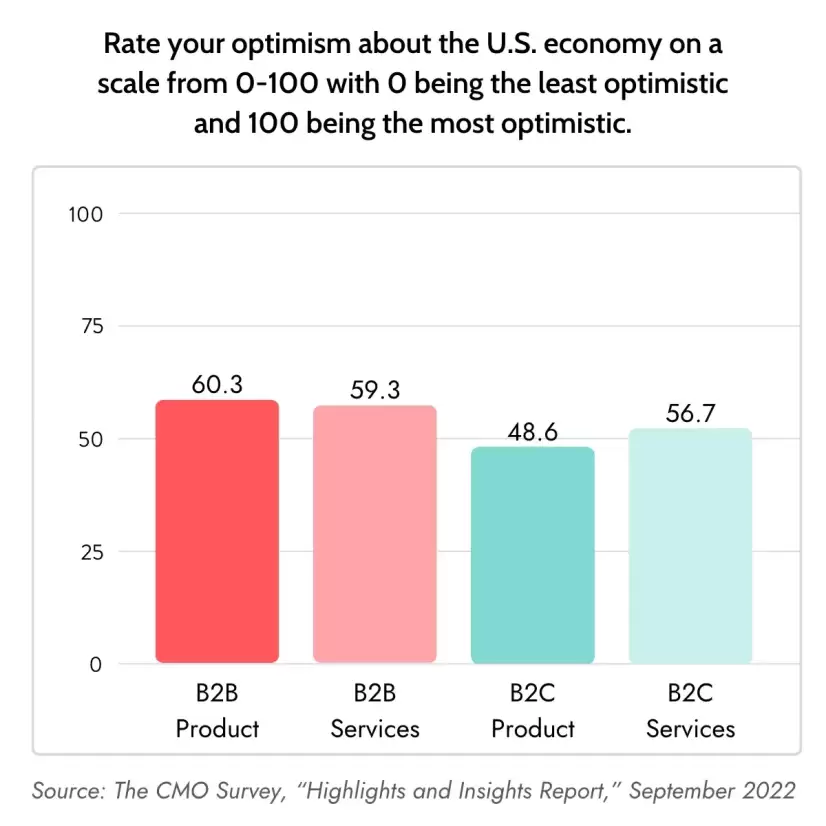 The 3 most confident industry sectors are real estate (70.0/100 average), healthcare (62.6/100 average), and manufacturing (62.2/100 average). The least optimistic sectors are mining/construction (42.3/100 average) and banking, insurance, and finance (45.9/100 average).
This data was fielded in July and August 2022 and we all know that marketers' sentiment can change quickly. Inflation is always a concern and this uncertainty can cause a knee-jerk reaction. However, there are better approaches to implementing paid media and SEO during an economic downturn, as cutting spend will likely cost more in the long run in terms of lost market share and awareness.
B2B marketers are less likely to decrease their marketing spend due to inflation
B2B marketing budgets are less susceptible to short term inflationary pressures because marketers are focusing their investments on building long-term relationships with prospective customers. B2B growth leaders recognize that marketing is a strategic investment that can drive business over the long term.
Of course, inflation may cause some short-term cost pressures. But B2B marketers are generally more willing to sustain marketing efforts in the tough times. This helps them maintain relationships and build brand awareness in their target markets.
According to the CMO Survey, B2B marketers are far less likely to cut their budgets with 60-70% projecting no change or even an increase in marketing spend.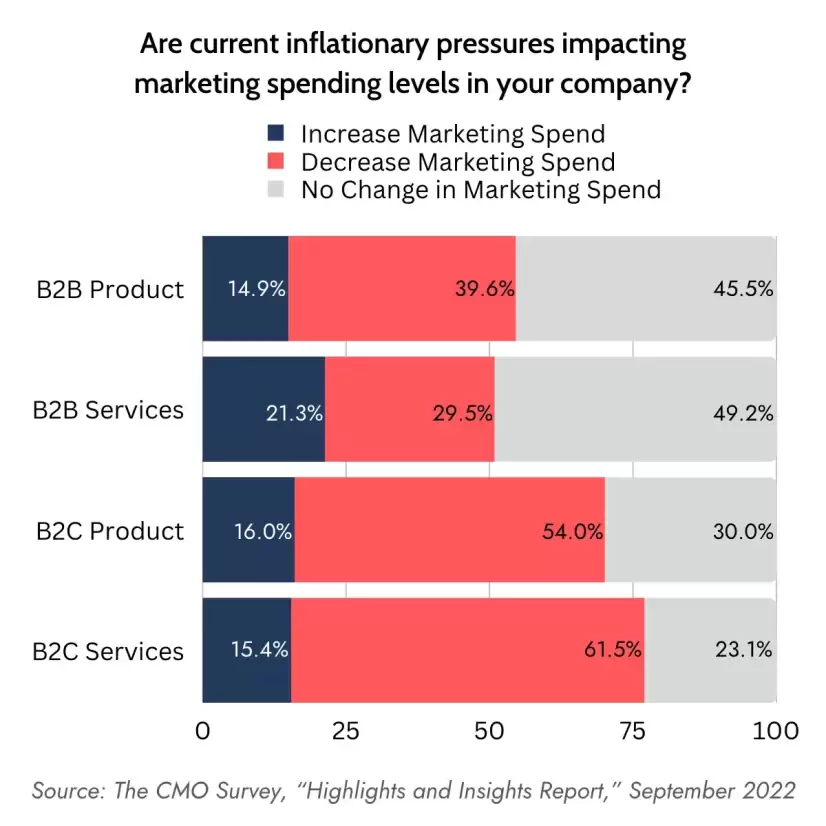 In contrast, B2C marketing budgets are more focused on immediate sales and generating short-term revenue. B2C marketers may be more sensitive to changes in consumer demand and purchasing power, and may be more likely to decrease marketing spend in response to inflation if they expect it to impact consumer behavior.
B2B marketing budgets are smaller than their B2C counterparts
The CMO Survey found that B2B companies typically spend a smaller percentage of their overall budgets on marketing than B2C companies. That's not a bad thing by itself. Business goals, sales cycles, and channel selection can be dramatically different for B2B vs. B2C brands.
These averages give B2B marketers a solid benchmark to compare against. Keep in mind that marketing budgets often include marketing employees, media spend, production costs, analytics & software expenses, research, training, and other overhead costs.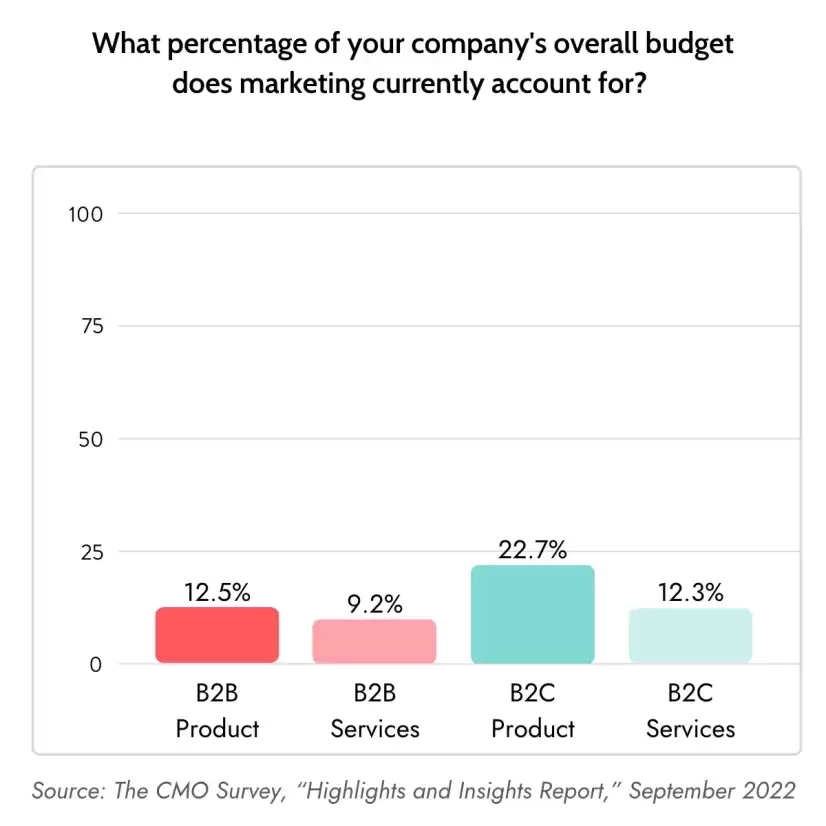 Why do B2B marketing budgets tend to be smaller than B2C? There are likely several reasons:
B2B markets tend to be smaller than consumer markets. Smaller addressable markets require less spend to create more reach and frequency.
There are fewer effective B2B marketing channels to invest in. Marketers don't have to stretch budgets across more channels and can find greater concentrations of their target audiences in fewer places.
B2B products and services often have longer sales cycles. This can lead to a longer lead time for marketing efforts and a slower path to showing ROI.
B2B marketers are often envious of their B2C peers with larger budgets and flashier campaigns. However, B2B products are often more complex and may require more educational marketing efforts. Content production can take longer for B2B brands but may have a longer shelf life if the market doesn't change as quickly.
About The CMO Survey
The CMO Survey is a semi-annual survey of marketing leaders conducted by the Duke Fuqua School of Business, the American Marketing Association, and Deloitte. 95% of respondents are VP-level or above at for-profit US companies. All copyrighted materials are used with permission.