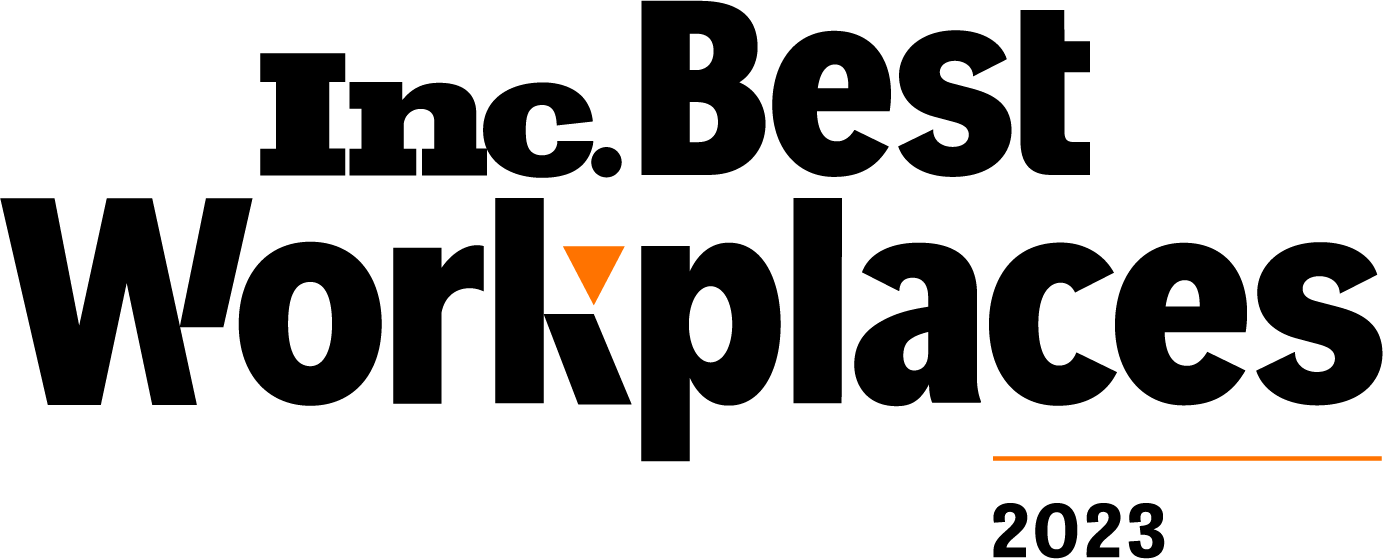 We made the Inc. Best Workplaces list for 2023! I am extremely proud of our team's passion and enthusiasm for helping us live up to our purpose of "building a better agency." We are also grateful to our clients for their support and partnership as we evolve our services to help them thrive in a changing digital marketing world.
What it means for me as a co-founder
I get to witness a lot of ups and downs as a co-founder of a growing business. Thankfully it's mostly ups! Writing our entry for the Inc. Best Workplaces award gave me time to reflect on the progress we're making toward building a better agency.
I see the progress every day in the way our teams engage in finding creative solutions to new challenges. I see it when we welcome new hires to the team in our own weird ways. I appreciate the impromptu feedback sessions that reveal opportunities and expose blind spots. Our commitment to keeping our culture strong is never more visible than when we get to promote from within and give people opportunities to grow their careers.
Most importantly, I take great pride and comfort in knowing that the Workshop Digital culture is more than just what the co-founders or marketing team says it is. We're an amalgamation of our unique identities, skills, passions, and personalities. Sometimes it's hard to define our culture to an outsider but the most common expressions used in employee surveys are collaborative, caring, and supportive.
The awards don't make us a better company or make me a better leader. The awards validate that everybody is committed to doing the right things to build and nurture a better company.
What it means for Workshop Digital
We invest heavily in our people and improving how we work together, especially as we lean into being a hybrid/remote-enabled company. Awards like this help us in many ways besides the logos on the websites and self-congratulatory blog posts:
The anonymized survey responses from our team help us improve how we work together.

The third party validation differentiates us in a sea of similar-sounding digital marketing agencies.

The process creates a positive feedback loop around the culture and our spirit of collaboration, transparency, and mutual respect.
The proof is in the outcomes: Our NPS scores are up. Our internal camaraderie is high. Our adaptability and open communication channels allows us to work across multiple area codes and time zones. Our ability to impact our communities is growing.
Most importantly, we're setting our company and our team up for future success by building a company where talented, empowered people feel motivated and supported to do their best work.
Thank you to our clients and partners
Your partnership makes this possible. We can't be a great workplace without great clients. We're not always perfect, but we know that we do our best work when our clients share our enthusiasm for building strong relationships and getting great results together.
As you continue to trust Workshop Digital with your digital marketing, we're investing in building an agency that can help you succeed in today's economic environment while also preparing you for the future.
Thank you for being a part of our award-winning team!
"Being named to Best Workplaces is an honor that only a small fraction of companies have
been able to claim. Proving to the world that you're a magnet for talent and have a culture that keeps teams engaged, productive, and proud to come to work is a truly remarkable achievement."

- Scott Omelianuk, Inc. Editor-In-Chief
About the Inc. Best Workplaces award
Inc. Best Workplaces awards company cultures that thrive in the face of adversity. Cultures that, in response to a pandemic, redefine the workplace and continue to enrich it. Cultures that foster employee growth and advancement at all levels.
The Inc. and Quantum Workplace teams received thousands of applications and chose only a small percentage of companies as honorees. The application process includes an employee survey on topics such as management effectiveness, perks, benefits, fostering employee growth, and overall company culture. Company benefits are also audited to determine the overall score and ranking.