The Story
A home improvement and interior design ecommerce company contacted Workshop Digital to improve their search marketing efforts. Historically, the client's vertical consisted of small ecommerce websites offering niche services. However, big box retailers entered the fray, meaning that consumers and businesses could purchase products directly from large brands.
Our client saw attrition over the years because of competition, from both big box retailers who benefit from deep pockets and brand recognition, and smaller companies appearing across search results. To help stay afloat, our client wanted to discern how much revenue from their sales team could be tied back to website sessions and paid search campaigns.
The Challenge
While our client had previously hired an agency for paid search, they felt that they did not have an understanding of the full value of their digital advertising investments. For starters, their attribution model only accounted for website sales. But because their business model relies heavily on phone orders, our client wasn't getting enough orders to perform significant optimizations. And because their prior agency partner used KPIs that largely ignored key visitor conversion paths, a lack of data points left our client to rely on assumptions about lost revenue.
Additionally, because our client has a large, complex ecommerce website with more than 12,000 product pages—all of which are valid, potential earners—they needed help with prioritizing tasks and identifying opportunities that could drive the highest impact.
The Approach
Knowing that our client wanted to track the full spectrum of B2B search marketing, our teams started tracking leads closest to the end of the customer journey. By aligning both paid and organic search marketing, Workshop Digital helped our client prioritize their needs and fully realize how to drive results as quickly and efficiently as possible.
On the paid side, this meant realigning our client's focus on lower funnel conversions. In our exploratory meeting, Workshop Digital suggested call tracking. Incorporating call volume with website revenue would help provide enough data to optimize our client's value metrics. Focusing on true conversions—as opposed to those higher up in the funnel—enabled us to conflate paid search revenue with value-added actions. Once we understood the value of conversions, our paid team manipulated algorithms to maximize performance. This data led to an increase in orders and phone calls, which led to even better optimization and testing.
Our SEO team first started implementing the findings from their audit in Q3 of 2019. Among our suggestions, we consolidated duplicate category pages and removed barriers for entry to these pages. Now, users could browse products directly from optimized category pages. We also increased and guided content production and optimized for image search. While these image optimizations led to an immediate boost in traffic, the on-page optimizations on category pages—including copy changes—resulted in an increase in high-quality traffic and conversions.
The Results
By aligning SEO and paid search strategies, we helped our client optimize their site for traffic increases and better bidding—which led to an increase in orders and revenue. After dialing in our machine learning efforts, our client started seeing which conversions and sources were attached to paid search revenue, including business quotes, website leads, and phone calls. They also saw an increase in call volume to their sales team. This all culminated in a 125% increase in website revenue from paid ads in Q1 2020 compared to Q1 2019.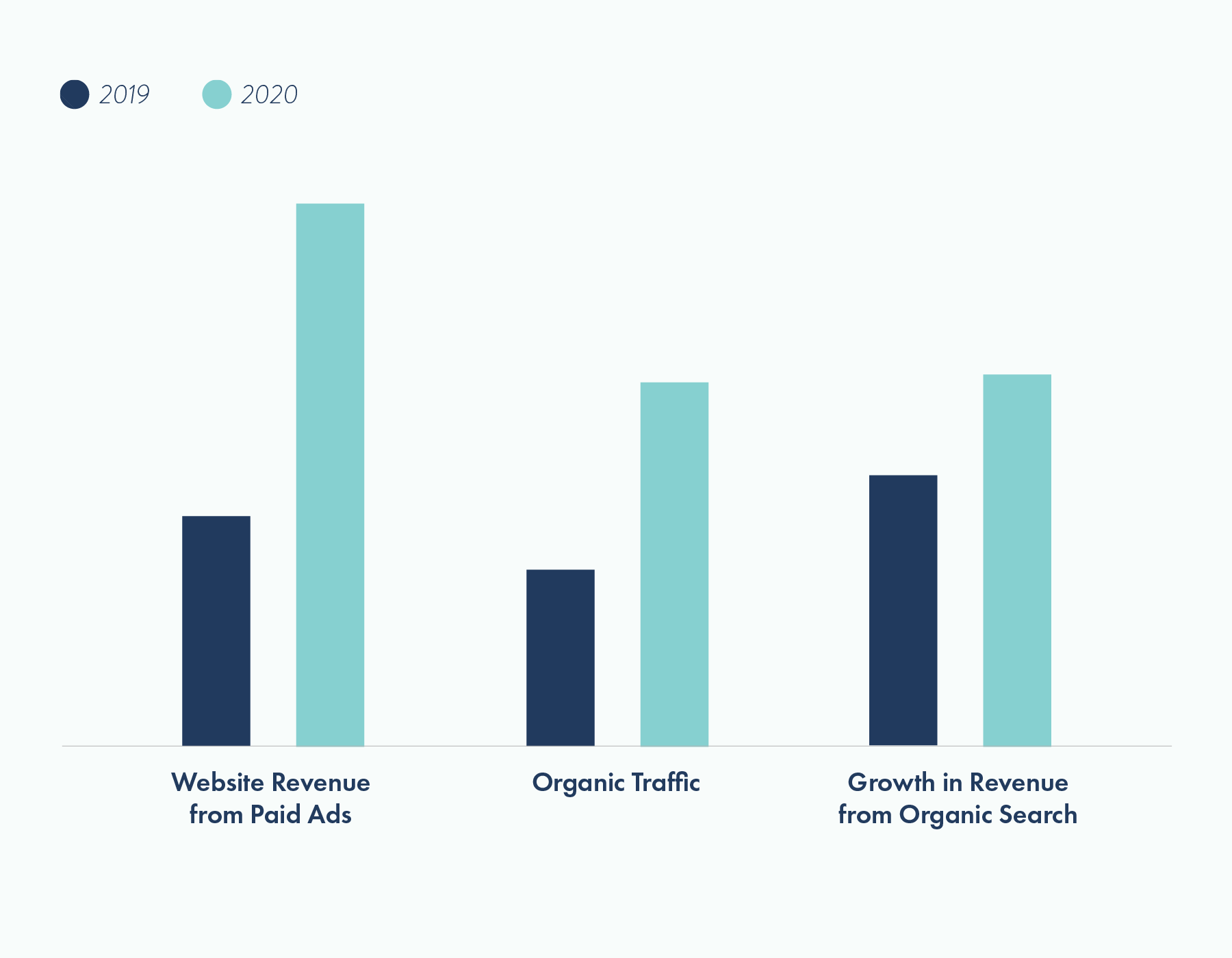 On the SEO side, we also started seeing meaningful improvement in Q1 2020. In fact, we saw sessions increase 40% during that time, when compared to Q1 of 2019. In addition to a 108% growth in organic traffic in Q2 of 2020, we also saw a 34% year-over-year growth in revenue from organic search, when compared to Q2 of 2019.
Our paid and organic teams continue to inform each other's strategies and identify gaps or overlaps. For example, following Google's decision to include organic listings in Shopping search results in Q2 of 2020, we're exploring opportunities to align our efforts. By incorporating better tracking methods, our client now has an overview of conversion sources, which has helped grow their business as a whole. This has given them the confidence to increase their budget, which has snowballed into more conversions, better data, and increased efficiency.