The Story
A Virginia-based provider of orthopedic and physical therapy services partnered with Workshop Digital to drive SEO initiatives for more than three years. As the state's largest provider of orthopedic care, the practice has more than 100 physicians across more than 20 office locations and clinics. However, they needed help attracting local traffic and tracking conversions.
The Challenge
Our client first contacted Workshop Digital in 2017. Because their business is split into three regions that span the state of Virginia, it was difficult to centralize marketing initiatives. For example, our client did not have a single owner of their website or marketing efforts. And at the beginning of our engagement, we reported to three separate points of contacts.
Despite being a well-known brand with multiple locations, our client didn't have website governance. Not only was their website not fully optimized, they had difficulty managing local listings on Google and Bing—which resulted in limited local search visibility. Our client was also using an on-site open scheduling system that did not integrate directly with Google Analytics, which made it difficult to track goals around patient appointment bookings.
The Approach
Our initial SEO audit was performed in 2017. After establishing the technical foundation for our client's website, we focused our efforts on local SEO in 2018. This included claiming, creating, duplicating, verifying, and updating Google My Business and Bing Places listings for each location and physician—and managing these listings moving forward.
In 2019, our client hired a marketing director. As we had already proven ourselves a trusted partner, we began working with this new point of contact to drive statewide initiatives. This included helping our client measure the success of their website and gauging which channels were driving traffic and appointments. We implemented advanced analytics tactics to funnel data into Google Analytics to track new appointment bookings. Setting up event tracking across each stage of our client's goal conversion funnel allowed us to collect data when users clicked on appointment buttons and selected specific doctors and times. This enabled us to track new appointment bookings by channel and doctor and provide helpful insights.
The Results
Following our local listing management initiatives, our client gained an uptick in relevant traffic. In February 2020, we saw a 45.7% year-over-year (YOY) increase in traffic for users from organic local listings (from 9,674 to 14,094).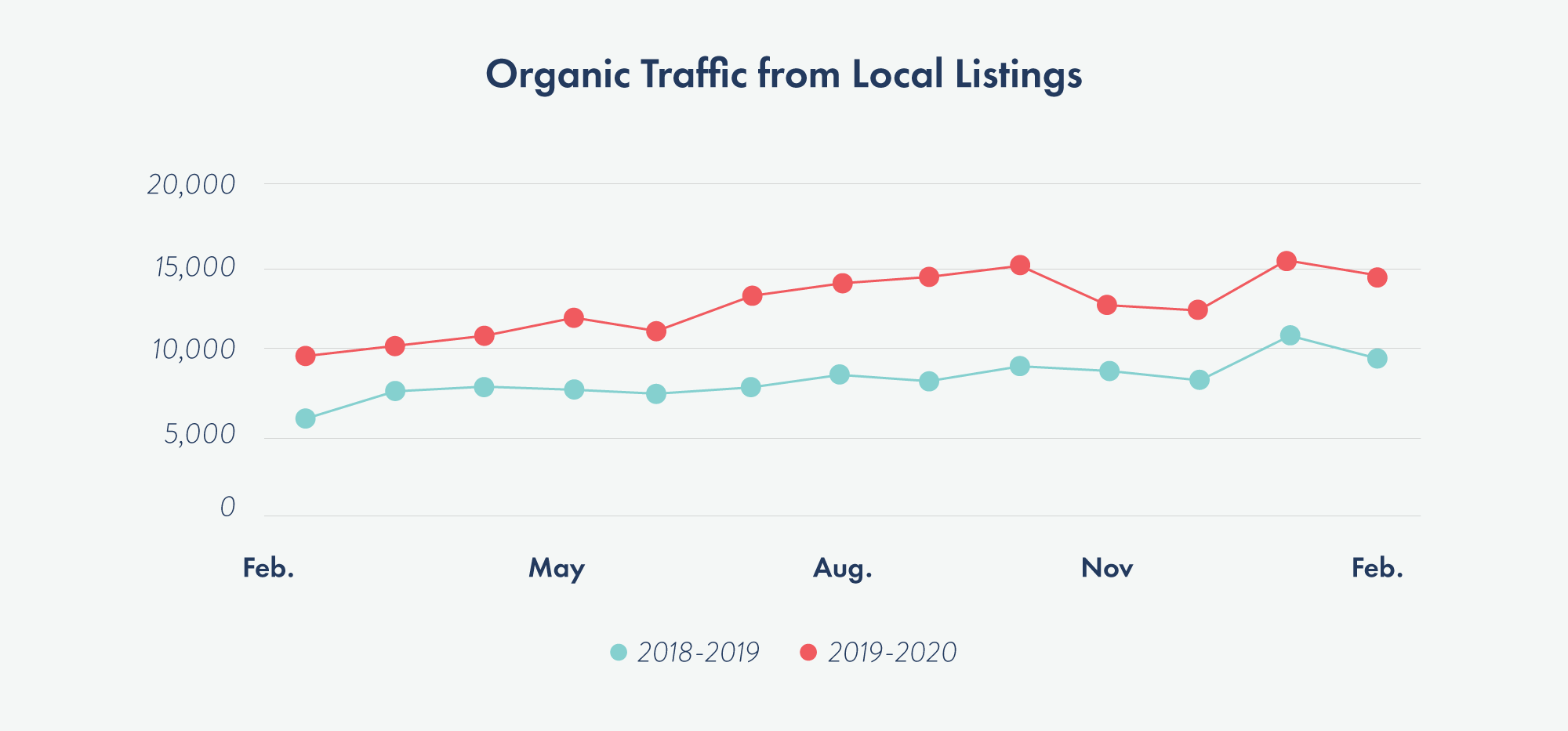 Incorporating advanced analytics provided our client with important insight into when users were dropping off across each stage of the conversion funnel. We were able to help our client gain oversight of new patient appointment bookings by physician and data on conversion path action.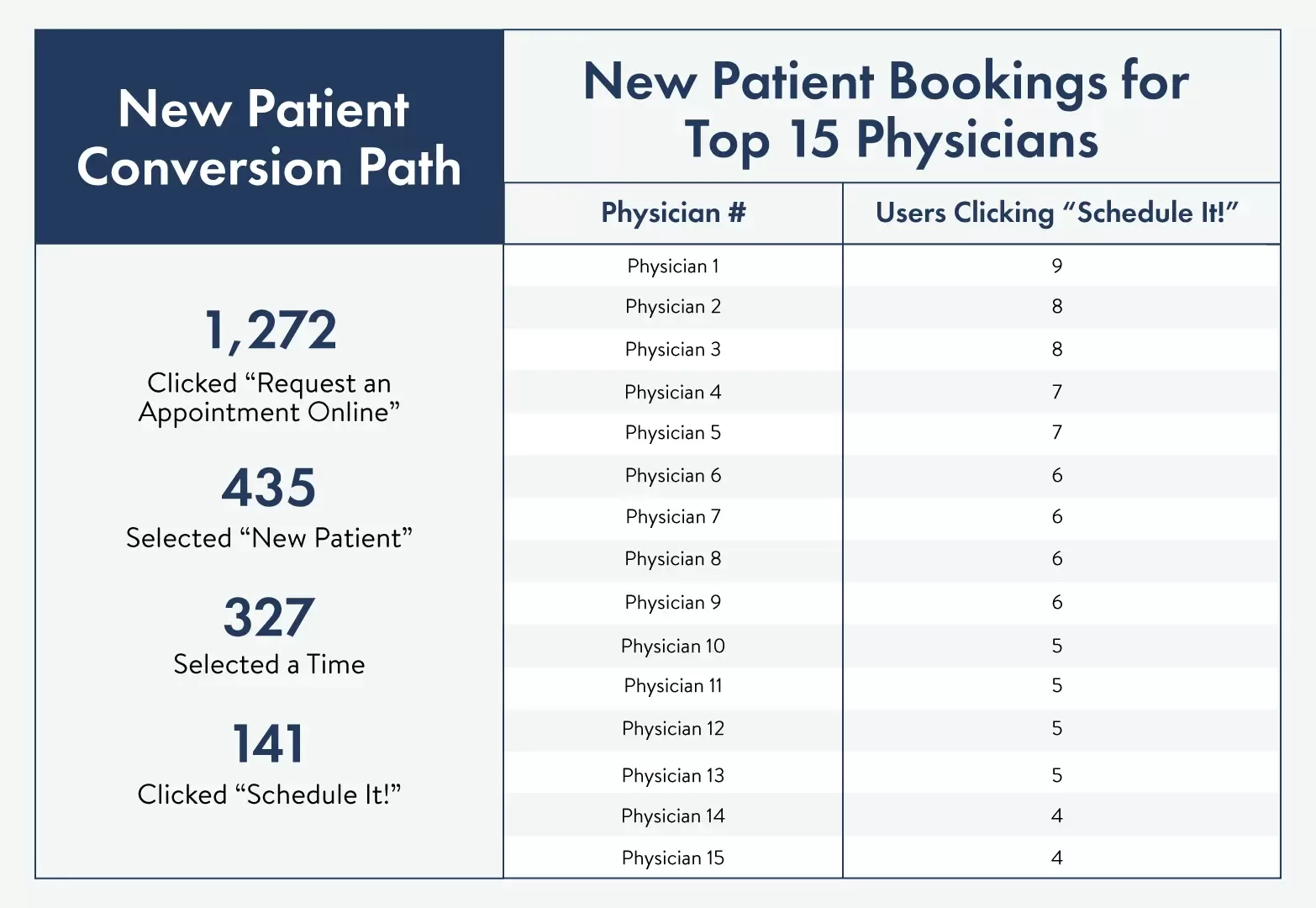 At Workshop Digital, we embrace the concept of GLUE (giving little unexpected extras), which is designed to provide value beyond our day-to-day work. In 2019, we performed a conversion rate optimization (CRO) review. We were driving higher levels of relevant traffic to the site—and online new patient appointment bookings were increasing as a result. However, because conversion rates were low, our client wasn't able to properly capitalize on these traffic increases. Below is one of the suggested changes from our CRO review.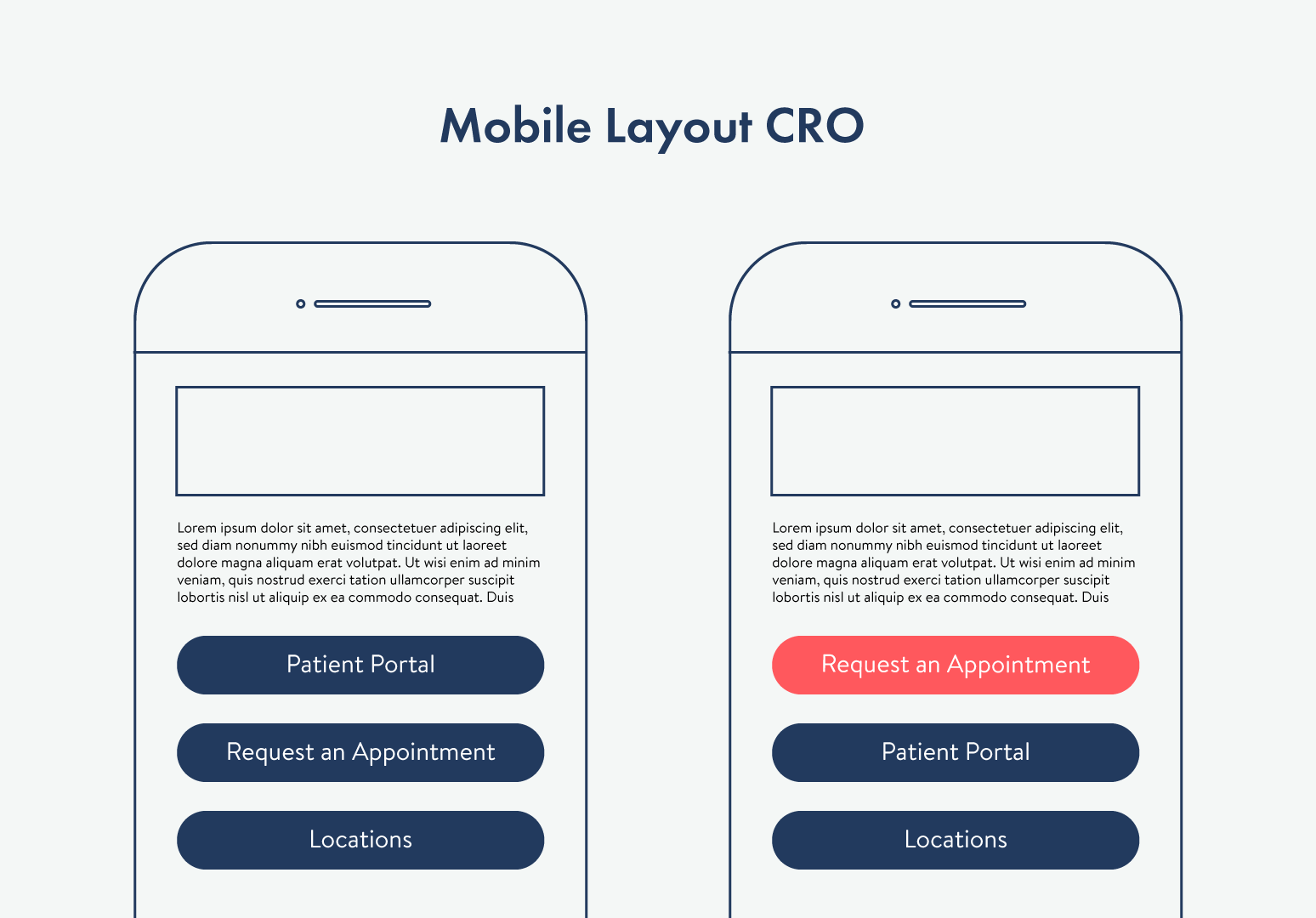 Ultimately, our client's developer implemented a majority of high-priority recommendations from our CRO audit, including the suggestion to change the color of their appointment buttons on mobile. Because of recommendations like this, our client saw new patient appointment conversion rates for organic traffic increase from 1.5% to 2.15% the month after implementation.
Interested in SEO services?
Our clients are located across the country so whether you're in Virginia or beyond, we'd love to help!