The Story
Growth is what drives law firms. And growing a legal practice requires a steady flow of clients and cases. While large, national firms are often occupied with Fortune 500 companies and high-profile cases, small- to medium-sized law firms have different concerns. Firms in mid-sized markets must generate local awareness to stay competitive in this cutthroat industry.
This requires an assertive digital marketing approach. One that's different than the competition.
The Challenge
A Richmond-based law firm had relied on Workshop Digital to deliver customized digital marketing results, however, the practice faced increased pressure from competing firms who were challenging their rankings on local search. In response, they wanted to increase their volume of local traffic and qualified leads.

In the legal industry, hyperlocal marketing is key. For certain geographic locations, attracting a high volume of qualified leads is a challenge. Like many law firms in mid-sized markets, they wanted to see results from an established budget—and were receptive to new approaches.
Ultimately, our client's biggest goal was to get their phone to ring. To drive results, Workshop Digital combined two primary SEO strategies with a paid advertising component.

The Approach
Focusing on local SEO efforts helped the firm improve their local listings. This meant claiming and optimizing all listings—including the company's Google My Business page—and building a foundation of citations and links on local and industry-specific directories. It also meant maintaining an optimized, well-designed website to bring in qualified leads.
Workshop Digital found that local blogging worked well for our client's unique situation. This meant focusing content development efforts on service lines like personal injury and workers' compensation. Through keyword research, Workshop Digital identified tangentially-related blog topics to help drive lower funnel traffic, increase authority, and improve rankings.
Through a seamless CallRail and Unbounce integration, Workshop Digital was able to attribute phone numbers to individual landing pages and track their success. By using dynamic keyword pools in CallRail, Workshop Digital set up 20 phone numbers across Unbounce landing pages. These trackable numbers helped uncover exactly where phone calls were coming from—and helped A/B test pages to optimize their success.

The Results
The law firm saw positive organic traffic results. They saw a 100% year-over-year (YOY) increase in on-site conversions from organic search (a contact for free consultation form) and a 21.9% YOY increase in calls from organic search. Similarly, traffic was up 64.8% YOY for organic sessions.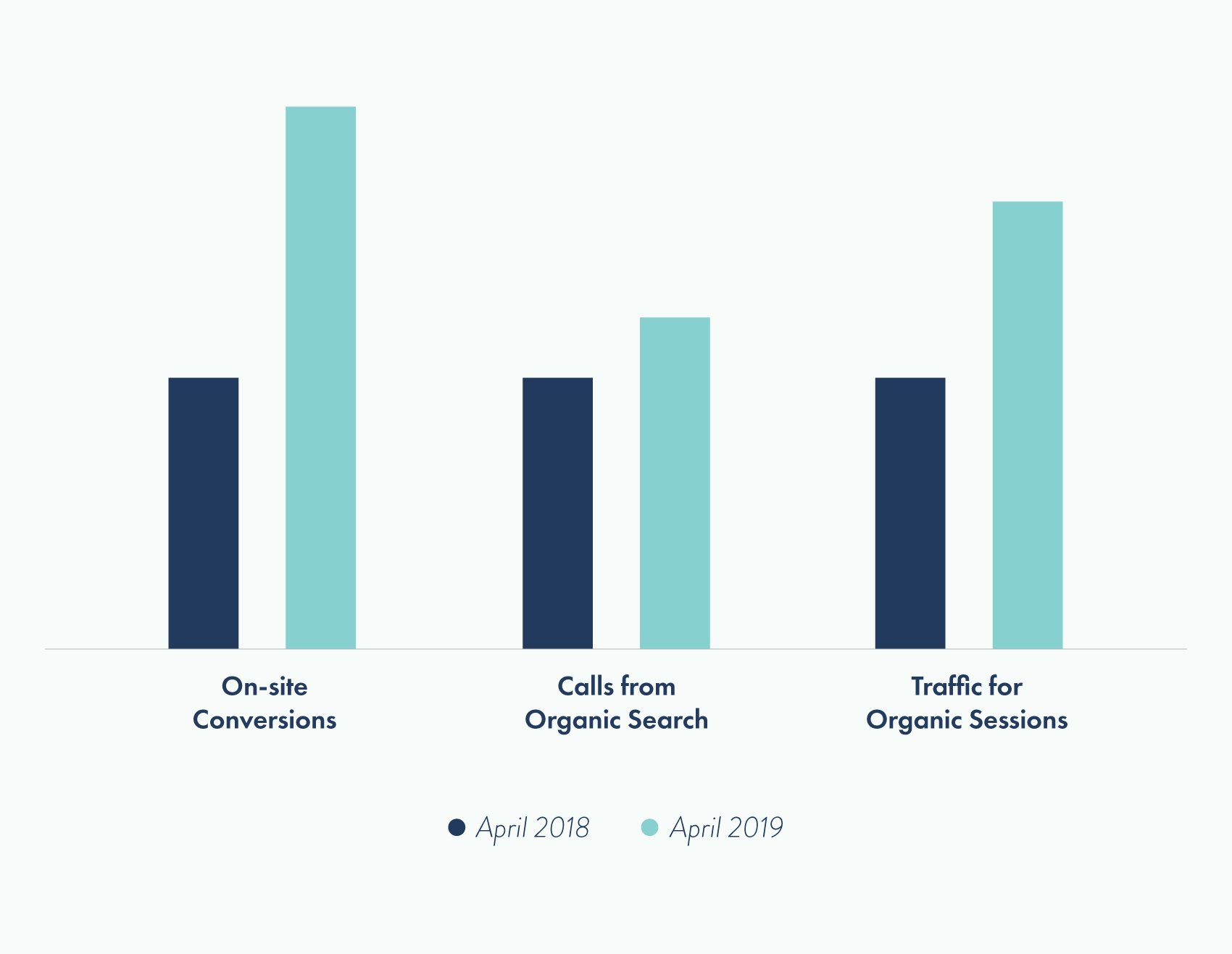 Workshop Digital also helped the law firm bolster their lead volume. More comprehensive data enabled better A/B testing, which further facilitated success. The end result? A 219% increase in leads from paid and remarketing channels. These numbers all came at $107 per lead—a considerably low cost per lead for law firms.
Through the CallRail and Unbounce integration, Workshop Digital found that more than 75% of visitors were converting over the phone, compared to website forms on landing pages. By attributing leads to their appropriate source, our client gained a better picture of all conversions—which has helped inform their strategy, moving forward.
Interested in legal SEO services?
Our clients are located across the country so whether you're in Virginia or beyond, we'd love to help!