How we review accounts to find opportunities to measure and improve results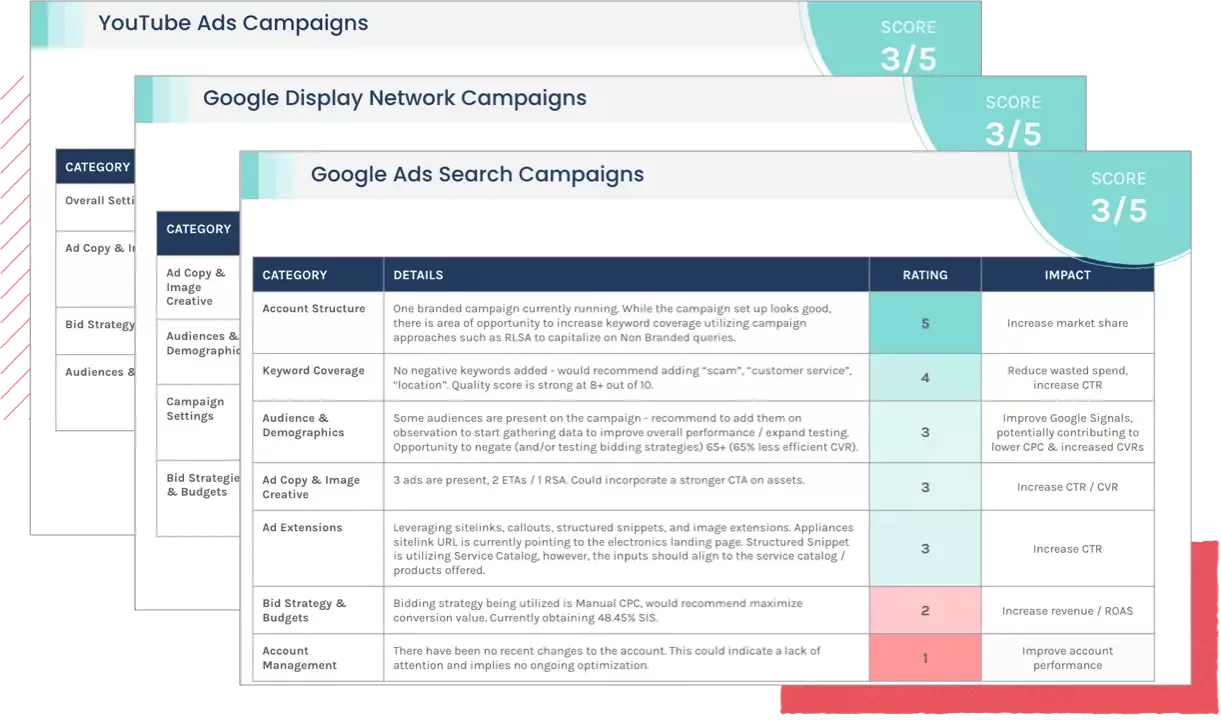 How long has it been since your last Google Ads account audit? If you answered "too long" or "I don't know," it might be time to enlist an expert to provide another set of eyes. An account audit not only helps you evaluate the performance of your existing campaigns, but also provides valuable insights into areas of improvement and opportunities for optimization.
Our experts have audited hundreds of Google Ads accounts. Each one turns up unique opportunities to increase ROI and generate better results. The process results in an easy-to-read scorecard with grades for each element and prioritized recommendations.
Want our experts to audit your Google Ads account? Request your free scorecard here.

Account Structure & Settings
Does your Google Ads account have a logical, efficient hierarchy that supports your business goals? A review of all account and campaign settings ensures there are no missed opportunities, your data and access privileges are secure, and your spend is going where you expect it to. Reviewing campaign and ad group hierarchies can identify opportunities to improve relevance and feed better data into more advanced optimization strategies.
An organized Google Ads account structure:
Includes tightly-themed campaign structures and settings optimized for your business goals.
Simplifies campaign builds, account optimization, and reporting.
Allows Google's machine learning tools to optimize specific campaigns or ad groups for better results.
Enables better analysis and reporting by product line, location, target audience, message, etc.
A poorly-organized account can contribute to inefficient spend and make it hard to understand what's working and what isn't.
Keywords
Keyword Coverage
Do the keywords reflect customers' search behaviors with minimal wasted spend?
Our Google Ads account audit process focuses heavily on how keyword selection impacts results. In addition to keyword-level performance, we look at the following settings and metrics to ensure the chosen keywords are relevant to searcher intent.
Match Type Distribution

Google Ads is pushing advertisers to use Broad Match settings to feed their optimization algorithms but it may not always be in your best interest. Advertisers still have the ability to use Phrase Match and Exact Match keywords to target specific user searches.
An effective match type distribution:
Helps focus spend on more relevant search terms.
Minimizes keyword overlap across ad groups and campaigns.
Can improve Google's ability to match searchers with the right ad based on their intent.
When match types aren't used appropriately, campaigns can be overly reliant on Broad Match keywords and result in wasted spend and unqualified traffic from irrelevant search terms. Conversely, a narrow focus on Exact Match keywords can limit your ability to reach potential customers that choose different search queries that could still match your products or services.
There is no "right way" or "wrong way" to use match types. Our Google Ads account audit process identifies how the match types used in your account are impacting your ability to achieve your unique goals and reach your target audiences.
Negative Keywords
Negative keywords prevent your ads from showing up for irrelevant searches. For example, many search marketers will add "free" as a negative keyword to avoid showing ads to consumers that don't have a budget. They are increasingly important as Google expands the match type definitions and takes more liberty to pair ads with related keywords that don't exist in your account.
Accounts with effective negative keyword strategies:
Minimize wasted spend on clicks from irrelevant keywords.
Avoid showing ads to unqualified searchers.
Ensure the right ad shows up for the right query at the right time.
When negative keywords aren't used appropriately, ads can show up for unintended search terms. This drives up your cost and lowers the likelihood of visitors converting on your site. Additionally, negative keywords in the wrong place can prevent your ads from appearing when you actually want them to.
Our Google Ads account audit looks for negative keywords at the ad group, campaign, and account levels. We then compare the negative keywords to your ideal campaign structure to make sure you are excluding only the searches that you intend to.
Quality Score Distribution
Quality Score (QS) is Google Ads' measure of a keyword's relevance for a specific search query compared to other advertisers. In simple terms, keywords with a high QS will likely rank higher in the paid results and have a lower average Cost Per Click when compared to a keyword with a lower Quality Score.
Keywords with a high Quality Score:
Have a high expected click through rate (CTR): Ads are more likely to be clicked when shown.
Have a high ad relevance: Ad content closely matches the searcher's intent.
Provide a relevant, useful landing page experience: Users that click your ad will find what they need on the landing page.
Keywords with a lower Quality Score are missing opportunities to capture and convert the right types of visitors.
Quality Score is displayed as a number from 1-10 in the Google Ads interface but is actually calculated in real time for every ad auction. While it's not a performance metric, it can provide insights into why certain keywords are performing better or worse than expected.
Text Ad Copy & Image Ad Creative
Great ads help your brand stand out from the competition and encourage your prospects to engage. Does your ad creative contain relevant messaging, clear offers, and a strong call to action?
How effectively are you using the various types of ad units available in Google Ads? With a move to Responsive Search Ads (RSAs) and Responsive Display Ads (RDAs), Google is incentivizing marketers to let their machine learning algorithms automatically rotate and optimize the best-performing ads.

High-performing ads:
Utilize Google Ads' Smart Creative (RSAs and RDAs).
Earn higher click through rates (CTR) and lower CPCs.
Are relevant to the user's intent at various stages in the customer journey.
Align with the targeted keywords and audiences in each ad group.
Position your brand as the best option based on your unique value propositions.
Contain a clear offer and a strong call to action.
Underperforming ads don't stand out, often don't include enough variations for adequate testing, and are not regularly updated.
Bidding Strategies
Are keyword and audience bids set to maximize efficiency without overpaying for clicks? Google Ads offers many types of manual and automated bidding options. Each option has its own pros and cons. Too often, our account reviews show an overreliance on one bidding strategy that might not be the best fit for each campaign type.
Our Google Ads account audits include a review of your business goals so we can assess each campaign's bidding strategies and its likelihood of success.
Optimal bidding strategies:

Balance advertiser goals with market conditions and competitor activity.
Help achieve business objectives with Cost Per Acquisition (CPA), ROI, and Impression Share targets.
Include conversion data in addition to ad performance metrics.
Take advantage of Google Ads' machine learning capabilities to maximize performance and efficiency.
Inefficient bidding strategies result in overspending and/or underdelivering.
Budget Distribution
Is your budget focused on the most impactful campaigns? Are you overspending or underspending in key areas? Similar to bidding strategies, your ideal budget distribution is going to depend on your unique objectives, the addressable audience size, and your competitive landscape.
Our account audit explores your budget distribution to find areas to improve overall performance without increasing your spend. This can include capturing lost impression share, dialing in the right ad frequency, or ensuring you're not missing valuable prospects due to underfunded campaigns.
An effective Google Ads budget allocation:
Allows for fluidity between campaigns based on performance and contribution to goals.
Prioritizes the most efficient opportunities first. Once those are maxed out, budget can flow to other opportunities.
Doesn't run out of daily budget in key campaigns.
Can respond to expansion or contraction in demand and competitor activity.
An ineffective budget allocation frequently overspends or underspends in critical areas of the account without enough oversight.
Conversion Tracking & Attribution
Are goals clearly defined, measurable, and utilized for optimization in your Google Ads account? Measuring impressions and clicks is not enough. Marketers need to measure the resulting conversions that happen on their website after a searcher clicks through. These often include sales leads, phone calls, ecommerce transactions, video views, content downloads, or any other meaningful engagement that helps move a visitor closer to becoming a paying customer.
Google Ads offer a variety of methods for tracking conversions and using the data to optimize campaigns. Our Google Ads account audit examines the current conversion tracking implementation and identifies opportunities for improvement.
Signs that a Google Ads account is capturing conversion data properly:
The Google Ads account is linked to Google Analytics with autotagging enabled.
Goal conversions are set up and actively recording data via a pixel or analytics integration.
Conversions have an established value to help determine ROI.
An attribution model has been selected for each conversion type.
Conversion Action Sets are used to group conversions and campaigns.
Without proper conversion tracking, Google Ads advertisers are not able to quantify outcomes or optimize campaigns to create more leads, revenue, or engagement.
Ad Extensions
Does your Google Ads account make use of ad extensions to improve visibility and performance? Great ads are more than just 3 lines of copy and a link. Attention-grabbing creative includes ad extensions to highlight your phone number, products/services, promotions, addresses, and more.
These extensions help your ad stand out by taking up more real estate on a search results page. But more importantly, they help your potential customers understand more about your business and your offerings before deciding whether or not to click your ad.
When applied correctly, ad extensions:
Deliver relevant, timely, accurate information to prospective customers.
Provide searchers with more context about your offerings.
Are applied at the appropriate level: account, campaign, or ad group.
Help your ad stand out against the competition to earn more clicks.
Accounts that don't make good use of ad extensions are likely losing clicks to competitors.
Audiences & Demographics
Are user segments being tracked, bid to, and marketed to differently? No two customers are alike and your Google Ads strategies can vary based on different audiences' unique needs.
Our Google Ads account audits look for intelligent use of custom audiences for ad targeting, observation, and testing.
Effective use of audiences and demographics:
Focuses more of your budget on prospects that are most likely to click and convert.
Allows for observation and analysis of campaign performance at a more granular level.
Creates testing opportunities to learn how different audiences respond to different triggers.
Google ads accounts that don't use audiences miss opportunities to improve results by treating all searchers the same.
Want more audience insights? Check out these 5 tips for B2B marketers to reach their target audiences.
Account Management
An actively managed Google Ads account is more likely to perform better than a neglected account. The availability of real-time performance data allows marketers to react to changes in the account and competitive landscape more quickly.
Our Google Ads account audits include a review of the change history, account access, and an assessment of recent changes. We look for opportunities to improve visibility, accountability, and proactivity.
Actively managed Google Ads accounts:
Are more likely to be testing and optimizing based on results.
Can respond to changing market conditions faster.
Are less likely to be altered unintentionally by unauthorized users, rogue scripts, automatically applied optimizations, or changes in Google Ads policies.
Google Ads accounts that receive less frequent attention could see dramatic shifts in performance go unnoticed until it is too late to do anything about it.
Landing Pages
Once a searcher clicks your ad, do they see a relevant, compelling landing page that inspires them to take action? The landing page experience is critical to converting more visitors into customers and improving the ROI of your Google Ads campaigns.
Our Google Ads account audits include a landing page review to identify opportunities to improve the user experience and set clear calls to action.
A great Google Ads landing page:
Is relevant to what the user expects to see based on the ad they clicked on.
Can improve the "landing page experience" Quality Score factor.
Loads quickly and looks great on a variety of devices.
Contains a clear call to action to encourage visitors to take the next step in their journey.
Landing pages that don't provide a great user experience can end up costing you more money per conversion in the form of higher CPCs and lower conversion rates.
Display Campaigns, Discovery Campaigns, and YouTube Ads Campaigns
Our Google Ads account audit process includes Display, Discovery, and YouTube Ads campaigns. We use many of the same scoring criteria to evaluate ad creative, targeted audiences, budgets, and bidding strategies.
Let our experts audit your Google Ads account for free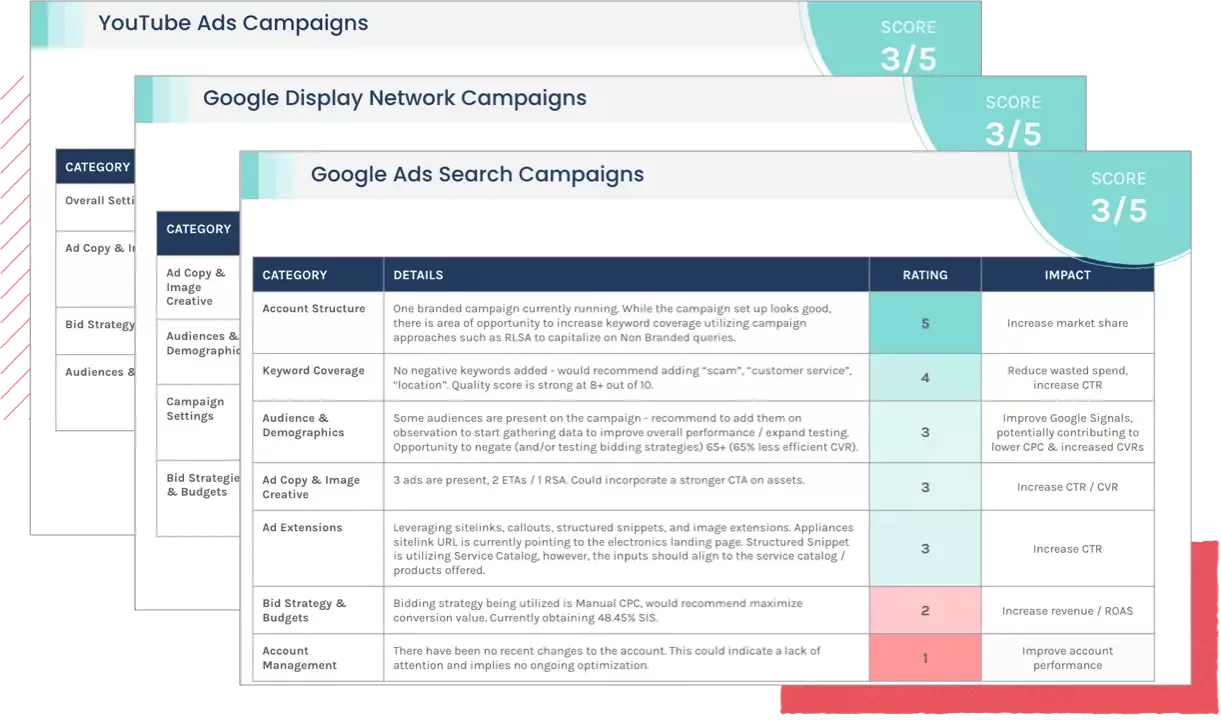 Whether you are just starting out with Google Ads or have been running campaigns for a while, an audit is an essential tool in improving your advertising performance and reaching your marketing goals.
We'll create a scorecard so you can see what's working and what isn't. We'll also prioritize our findings so you know where to focus your efforts.