What does Screaming Frog do?
Screaming Frog is a tool that mimics how a search engine crawls your site and is commonly used to address site issues related to search engine optimization (SEO). If you're a digital marketing or SEO professional, you're probably familiar with the Screaming Frog SEO spider as a tool you've either heard of, or often use, and you may be wondering how else you can make use of all of the settings and capabilities Screaming Frog offers.

How to Use Screaming Frog? The Custom Search and Custom Extraction Feature
While there are numerous ways you can use the helpful Screaming Frog crawler, the custom search and custom extraction components can be useful beyond SEO. Departments across your company or organization can make use of the custom search and custom extraction capabilities in Screaming Frog—and today we'll go over a few of those use cases.
Let's get situated before we dive in. When you open Screaming Frog, custom search and custom extraction are located in the top menu bar under Configuration>Custom>Search or Extraction.
Screaming Frog Custom Search
Custom search allows you to search a site or certain URL for a specified string of text. It can be used to find analytics codes, other tracking codes such as a Facebook Pixel, or simply to find a particular string of text. When in the custom search feature you can select Contains or Does Not Contain in order to search a site by what has been applied or what may be missing.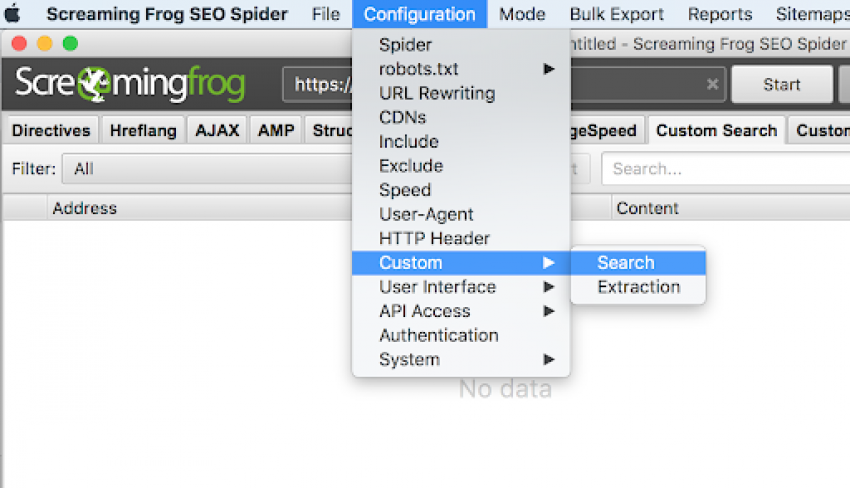 Find Text and Tracking Codes with Screaming Frog Custom Search
Let's explore an example of searching for a particular string of text on a site. We'll search this site, https://www.workshopdigital.com for the text, Workshop Digital and the 'Contains' option in the Custom Search window to see where the company name appears throughout the site.
Screaming Frog Custom Extraction
Custom extraction allows you to search a site or specific URL for a string of data within the HTML, CSS, and even the JavaScript.
Ways to Use Screaming Frog Custom Extraction
When doing a custom extraction in Screaming Frog, there are a few methods to choose from within the Custom Extraction window to help you accomplish your extraction.
Today we'll review these two methods:
XPath
CSS
Each of these methods can be used to help you find the specific string of data you are looking for among a URL or across a site. To better understand how these extraction options work, let's go through a use case for each method.
Custom Extraction Using XPath
The XPath selector in Custom Extraction allows you to find a specific string of data by using the XPath query language to sort through the HTML.




Custom Extraction Using CSS
The CSS selector in Custom Extraction allows you to search for a string of data by that specific CSS selector. In the example below, see how we first choose the CSS Path option in the Custom Extraction section of Screaming Frog.


How Can Screaming Frog Custom Search or Custom Extraction Be Used for Your Organization?
By discussing the various ways Screaming Frog's Custom Search and Custom Extraction features can be used, I hope you have been able to identify how this feature could be used for your organization's website. There are many other ways to use the various options in Screaming Frog for content pruning or to identify common SEO issues.

Screaming Frog Custom Search and Custom Extraction can help automate the process of checking for text throughout your website or a string of data. This can save your organization time in cases such as a rebrand where you want to be able to see the instances of phrasing of a product or service that is being updated throughout a site, an element on a page such as a publish date or author in order to know who wrote a post or how old your organization's blog posts are at once in order to update them, and to check if various tracking codes are applied across all pages of a site.
Here at Workshop Digital, we use this tool among other SEO tools to help our clients improve their search presence. Contact us to learn how we can partner with your organization to enhance your company's visibility in search.
Boost your customer acquisition goals with SEO
Learn how to assess and optimize your website performance with this guide.