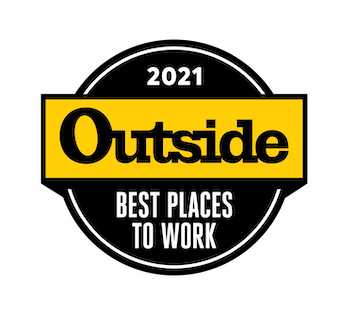 I am thrilled to announce that Workshop Digital ranks #8 in Outside Magazine's 2021 Best Places to Work Award. After earning honorable mentions in 2017 and 2018, and a #33 ranking in 2020, it is extremely validating to be recognized for our continued efforts to build a better agency.
2021 was a year of learning and growth for Workshop Digital. We hired more Workshoppers in more places than ever before. This award is a testament to our employees' dedication to making Workshop a dynamic, fun place to work.
Below is our listing and a sampling of our team's survey responses that earned us a top spot in the rankings.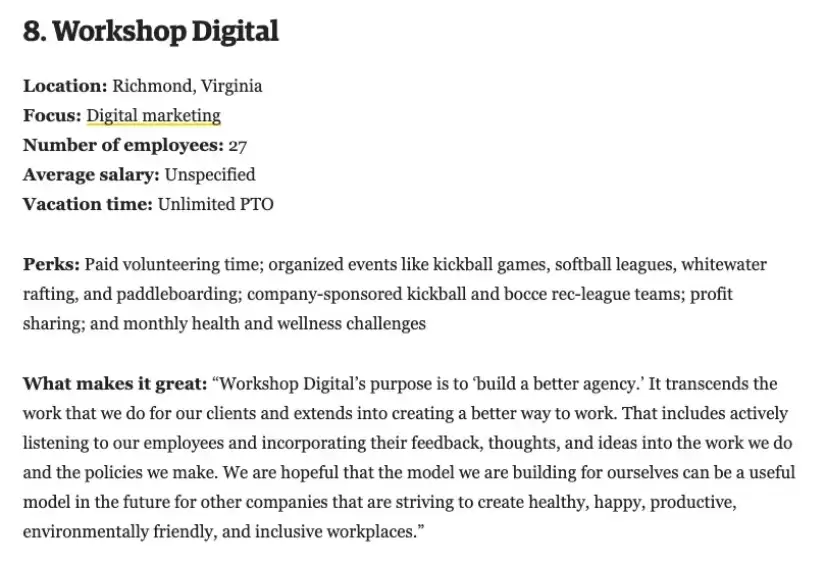 Living Our Core Values
"We are empowered to be awesome in work and life."
As one of our core values, we empower our employees to live engaged, passionate lives at work, at home, and in their communities. Our core values don't just live on our About Us page. We incorporate them into hiring and decision-making processes as an integral part of who we are and where we're going.
Our company culture is always evolving. To give team members opportunities to do the things they love, we've created a foundation of employee-led committees focused on culture, health and wellness, and our local communities:
The Culture Committee organizes unique events that give employees an opportunity to bond as a team. This includes everything from food challenges (Pickle-Making Contest, anyone?!) to our summer kickball team.

The Health & Wellness Committee creates initiatives to keep our team healthy and plans events such as employee-led bike rides, yoga sessions, and financial wellness sessions.

The Community Committee facilitates local volunteer opportunities for all our Workshoppers. We believe in giving back to the Richmond community we love, along with communities our remote employees call home. We also offer our team the unique opportunity of monthly paid volunteer hours to make it easier to find time to give back.
2021 Workshop Events
We are always finding new and innovative ways to foster connections across the company. A few of our favorite events in 2021 were AirBnB online group cooking classes, a 5K supporting Greater Richmond's Fit4Kids, Habitat for Humanity build days, meal deliveries to Richmond's Ronald McDonald House, virtual book clubs and coffee chats, and even a few virtual happy hours.
While we're getting better at connecting remotely, nothing beats an in-person meetup. In July 2021, we welcomed all Workshoppers to our Richmond office for a day of team building activities followed by a trip to our local shuffleboard hall. We've already booked the next "onsite offsite" in January 2022!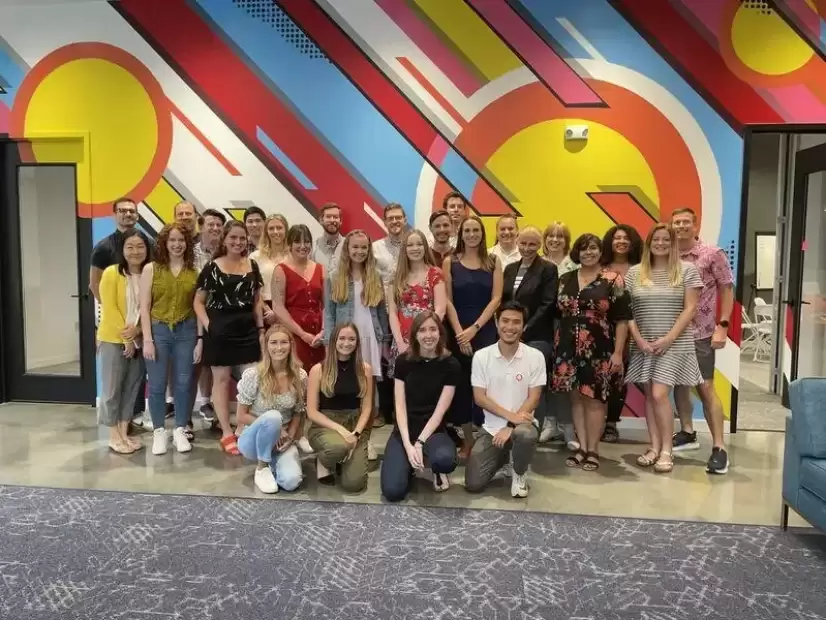 As Workshop Digital grows into a national brand, we love to see how our team is creating a culture driven by our values. From California to Minnesota to Virginia, Workshoppers far and wide are committed to our clients and each other.
I am proud of our team's effort and our management team's consistently high scores for leading by example.
The Best Places to Work award is a nice piece of hardware for the trophy shelf, but it's just another tangible expression of our progress towards building a better agency.