GA4 Video Walkthrough
Google Analytics 4 expert Charles Farina walks you through a comparison of GA4 to Universal Analytics, the newest features in GA4, and how to get started.
About Google Analytics 4
Google Analytics 4 (GA4) is the latest version of Google Analytics. It was built from the ground up to focus on providing useful insights enabled by machine learning. GA4 will replace the current version of Google Analytics called Universal Analytics (UA) in July 2023.
GA4 was released in October 2020 and is now the default version of GA for new properties. It is still possible to set up a UA property for now but it likely won't remain an option for long. If you have to set up a new analytics property, I suggest building GA4 and UA properties simultaneously.
Google Analytics 4 (GA4) vs. Universal Analytics (UA)
GA4 has several unique features that are different from those in Universal Analytics. Here's a breakdown of the newer features promised in GA4 and how they compare to Universal Analytics.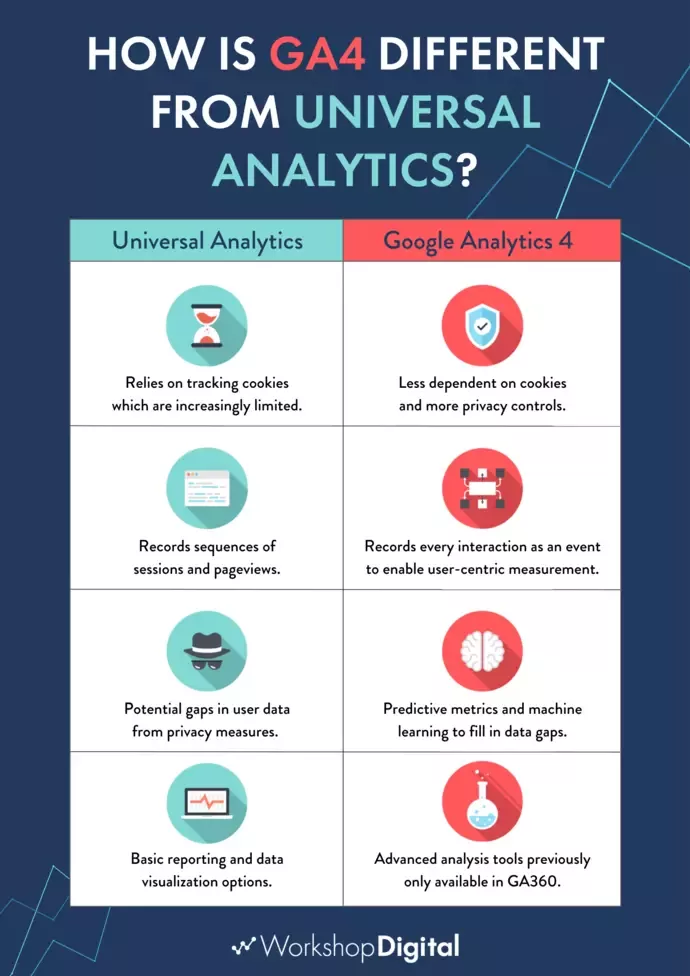 Combine data and reporting from multiple sites and apps
GA4 is designed for marketers who want to combine data from multiple properties such as websites or mobile apps. Tracking users across multiple properties has traditionally been challenging especially when trying to attribute revenue (e-commerce transactions or mobile app purchases) to multiple touch points in the customer journey.
To do this, GA4 allows users to set up multiple "Data Streams" within each Property. A Data Stream can be an iOS app, Android app, or a website. User data, engagement metrics, and conversion data from each Data Stream are merged into GA4's reporting interface to paint a more complete picture of how users travel between websites and apps on their path to a purchase.
Advantage: Google Analytics 4


Insights driven by machine learning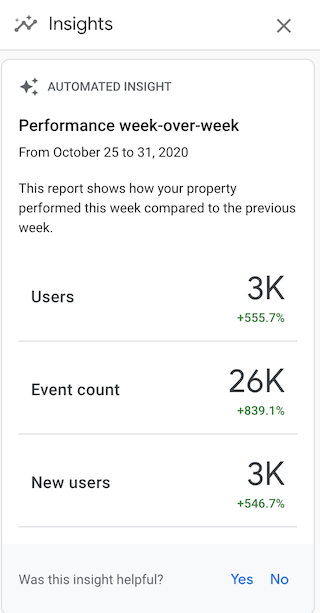 According to the launch announcement, GA4 "has machine learning at its core to automatically surface helpful insights and gives you a complete understanding of your customers across devices and platforms."
These insights are shown in the analytics interface and often include details that would elude a human analyst. For example, comparisons across time periods (e.g. "this week vs. last week") and anomalies (e.g. "Users from Richmond, VA are 125% higher than expected this week") can help marketers identify and act on fast-moving trends.
This feature will get even more powerful as GA4 gathers more data for longer time periods.
Advantage: Google Analytics 4


Reporting that follows the customer lifecycle
GA4's premise is that each customer follows a similar pattern through Acquisition, Engagement, Monetization, and Retention. Their report hierarchy matches this pattern with pre-built reports for each step in the customer's journey. This should make it easier to find data and address performance issues in each phase of the customer lifecycle.
Intuitively this makes sense but many basic reports that we rely on in Universal Analytics simply aren't available in GA4 yet, even in the custom report builder. This severely limits our ability to run deeper analysis on user behaviors and find areas to improve site performance.
Advantage: Universal Analytics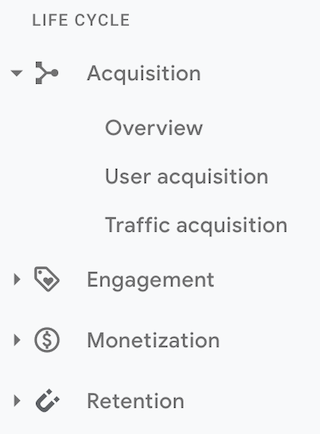 Event-driven tracking and conversions
Marketers are accustomed to tracking conversions in Universal Analytics using pageviews or events. In GA4, all conversions are tied to user-driven events (e.g. form submissions, scroll depth, button clicks, etc.) that must be customized in each property. This seems limiting at first simply because it's a more technically challenging implementation. Once mastered, it gives marketers more flexibility in tracking and reporting on conversions across devices and platforms.
Advantage: Universal Analytics



Built for a privacy-focused future
GA4 also recognizes the likely future reality of cookieless tracking and/or enhanced privacy regulations for consumers. As cookies are phased out or blocked by device manufacturers, browser developers, or government regulations, GA4 will use modeling driven by machine learning to paint a picture of visitor behaviors by filling in gaps where user data is not available. Conversion models won't provide the level of detail that we currently enjoy as marketers so there are some drawbacks especially with smaller data sets.
User-specific data controls allow marketers to customize how they collect, track, and store user data. Users can also opt out of GA4 tracking by installing the Google Analytics opt-out browser add on.
Advantage: Google Analytics 4 (in the long run)
Predictive metrics and audiences
Predicting future outcomes based on historical data is perhaps the biggest game changer for GA4. The new "predictive metrics" feature use machine learning to model the likely future transactions and revenue for e-commerce sites. "Predictive audiences" allow advertisers to target ads on Google properties to visitors that are deemed more likely to purchase in the next 7 days.
Currently, these predictive features are only available for e-commerce sites and based on transactions, revenue, and churn metrics. I can envision a future state where GA4 will identify visitors most likely to convert based on goals set by marketers such as lead form submissions, video views, or other types of engagement.
Advantage: Google Analytics 4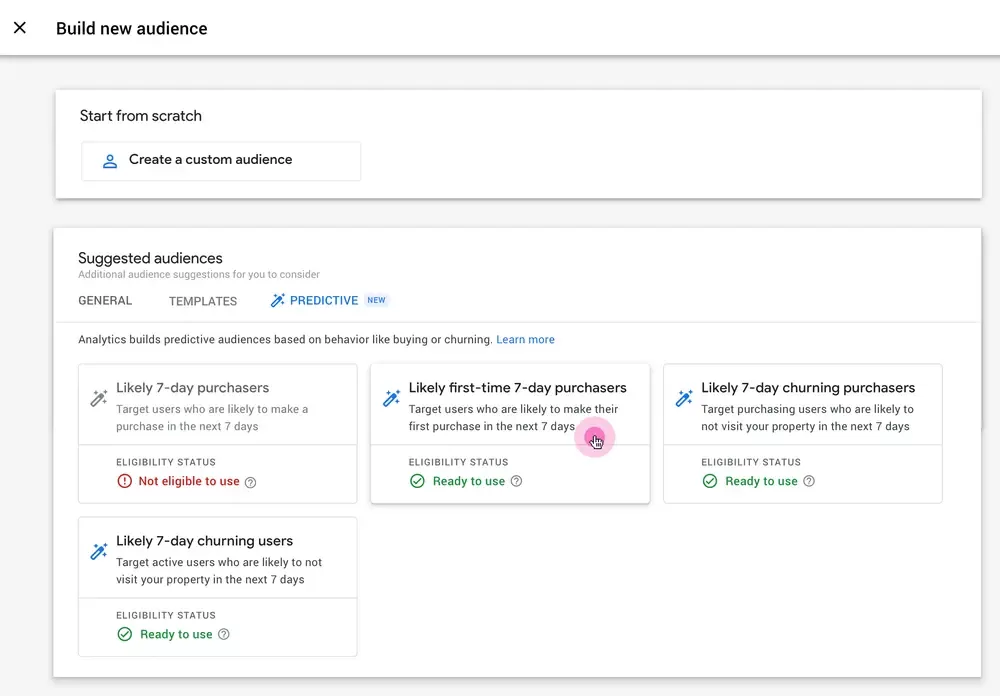 Initial limitations of Google Analytics 4

As a new product, Google Analytics 4 is very immature and not ready to meet the needs of more advanced marketers. Here are a few critical shortcomings that hopefully will be addressed in future updates.
GA4 can't access historical data
A new Google Analytics 4 property begins collecting data immediately but does not import any historical data from Universal Analytics. The usefulness of GA4 will be severely limited until you build up enough history for the machine learning insights to work properly and to gain year over year data for comparisons.
GA4 launched with a small but growing feature set
Some GA4 features are not fully baked yet and I am watching intently to see how they evolve to meet the needs of today's marketers. As with previous generations of Google Analytics, I expect to see new features added to GA4 that won't be available in Universal Analytics.
Limited granularity in built-in and custom reports
Many reports that we rely on in Universal Analytics simply don't exist in GA4 yet. For example, Google Ads reports in GA4 only include campaign and ad group level detail. There is no way to see performance by keyword, audience, or ad creative. I have to assume this is coming but for now, it's a mission critical component for most marketers.
Should you upgrade to Google Analytics 4?
Clearly, Google is building toward a GA4-centric future but don't abandon Universal Analytics yet. There is no public timeline for sunsetting Universal Analytics so it likely will co-exist with GA4 for quite a while given the sheer volume of users that rely on it. [Update: Google Analytics announced that Universal Analytics will sunset in July 2023. Download our free, 15-point GA4 Migration Planner!]
That doesn't mean you should ignore GA4. I do recommend adding a Google Analytics 4 property to your existing Google Analytics account. GA4 can run side-by-side with Universal Analytics so your UA data remains intact and accessible. You get the best of both worlds and can experiment with GA4 as it matures.
Free GA4 Migration Planner
Worried that a broken or incomplete infrastructure might make your switch to GA4 difficult? We can take a look and let you know where we see potential issues and how to make it work!
Use this GA4 Migration Planner to see what you might be missing.