The Story
Woodfin, a Richmond-based home services company, asked us to create a digital strategy to generate qualified leads for their whole-home backup generator sales team.
When a homeowner has a positive experience with Woodfin's generator services, they develop a loyalty to the Woodfin brand, returning for HVAC installations, electrical services, and maintenance packages. Retention is strong and customer lifetime value is high.
Unlike many of Woodfin's products and services (such as plumbing, heating, or cooling repair), for most homeowners, generators are:
A "nice-to-have" product with a high initial cost;

Unfamiliar to the average consumer who may not know how they work, what will be right for their home, or how to start the buying process;

A product homeowners put on their list of future improvements that doesn't become a high priority until their power goes out unexpectedly.
With these challenges and nuances in mind, our team set to work building an evergreen strategy promoting the benefits of whole-home generators.

The Approach
Working with Woodfin's home generator experts, our team produced a Generator Buying Guide as a downloadable PDF. The guide answers common questions about generators and walks customers through the buying and installation process.
Facebook, Instagram, Google Display, and Google Discovery ads feature a link to a landing page where users can fill out a form to download the free guide.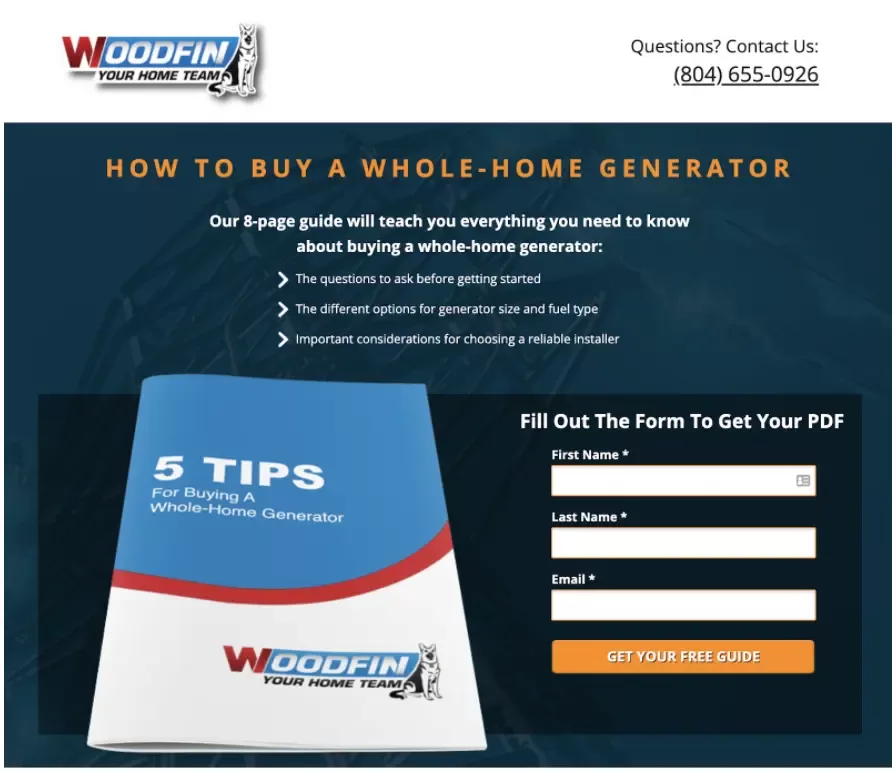 After completing the form, users are entered into an email nurture campaign for automated follow-up. Leads are scored based on engagement and warm prospects are passed to sales team members to schedule an estimate.
The Results
Our strategy has consistently driven qualified leads since 2014. And the results are only getting better as we test new ideas and learn what works — and just as importantly, what doesn't.
Demand for generators spikes during a severe weather event. We increase ad spend during these times and our team uses seasonal creative to speak to the benefits of a generator before, during, and after a power outage. After a recent snow storm, a wintry-themed ad led to 50+ downloads of the Generator Buying Guide over just a few days.
The Generator Buying Guide is also an evergreen campaign that produces leads during slower months. Throughout the year, the ads receive high engagement as hundreds of people like, share, and comment about their satisfaction with Woodfin's services and recommend generators as useful, convenient products. The additional likes and shares of our ads increases organic engagement, reaching even more prospective customers without additional spend.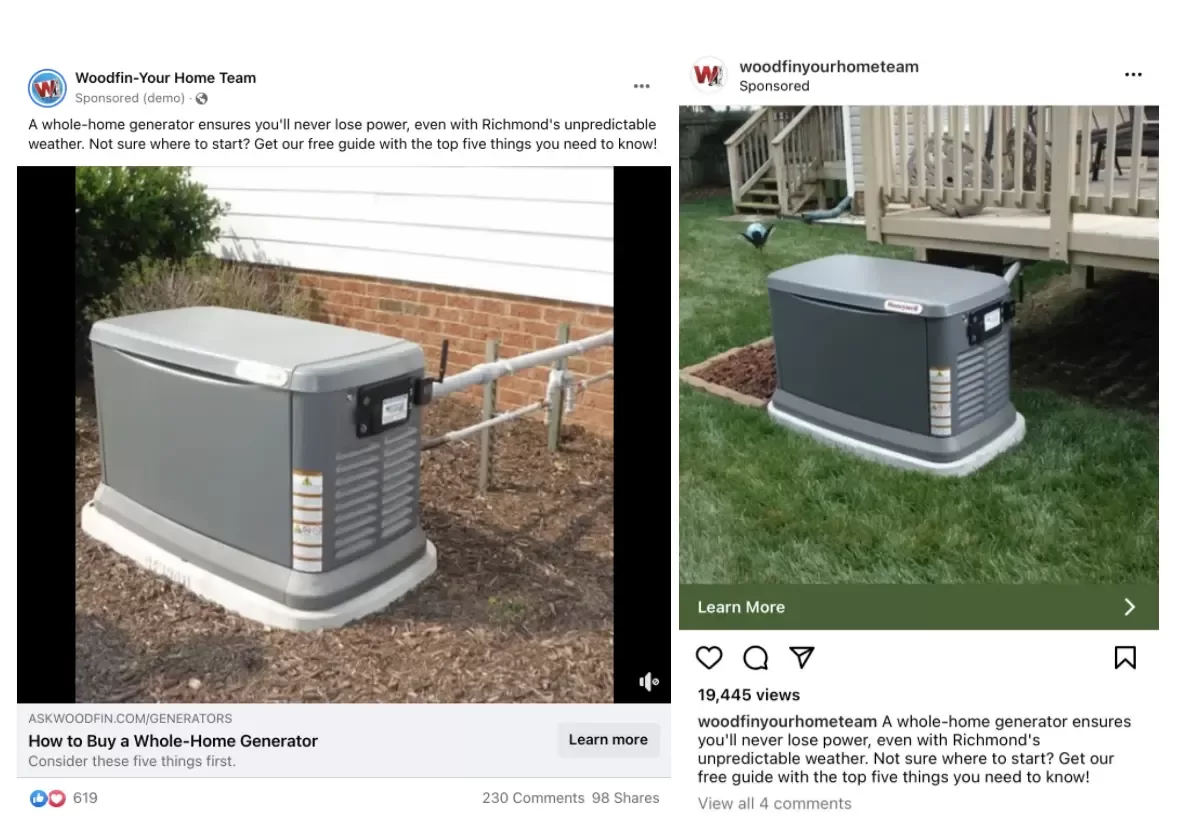 Over the course of our partnership, Woodfin's Generator Buying Guide has driven over 3,400 qualified leads, producing a 19x ROI in 2021. As a long term client, our Paid Media team continues to help Woodfin increase generator sales with this sustainable campaign that simplifies the generator buying process and boosts brand engagement, awareness, and trust.

"We hired Workshop Digital to help us build on and improve our paid digital marketing efforts—and they delivered. They helped us consistently grow our traffic and leads. They're always on top of the latest online marketing trends and make sure that our campaigns are reflecting these changes."

Kelly Williams, Marketing Manager at Woodfin