This is a companion to last week's post about patient referrals. When paired together, these two blogs will help your healthcare practice verify its Google My Business listings and manage citations across numerous channels and touchpoints.
You're looking to increase leads—with the goal of driving new patients to your practice. Although streamlining your patient acquisition process is a primary motive, you must keep an eye on the patient experience. Because as we've discussed, consumers now have an unprecedented ability to compare providers and use a combination of methods to select a healthcare provider.
According to some research, aside from hospital or clinic websites (34 percent), Google is the leading place for patients to find a practice (29 percent)—beating out WebMD (18 percent), Healthgrades (15 percent), and Facebook (12 percent).
The patient journey often begins with a Google search. And your Google My Business (GMB) listing is often the first thing they see.

Last week, we discussed how patient reviews are central to local search (and they certainly are!). However, according to their 2018 Local Search Ranking Factors report, Moz considers GMB signals—including proximity, categories, and keywords—the number one signal for local SEO. So, whether you're a LASIK practitioner, a healthcare marketer, or a physician at a large hospital, your local presence depends on the accuracy of your GMB listing.

Claiming and managing a Google My Business listing increases your visibility on Google search and maps and provides a better experience for potential prospects. Because the majority of healthcare searches deal with local practices, claiming and maintaining your listing allows your practice to remain competitive in local search engine results.
How do I verify my business listing online?
Google relies on data provided by practices such as yours to provide its users with relevant information. Thus, the onus is on you to get started.

Google My Business is a free resource that enables businesses to manage their presence on different properties. Verifying your business is the first step and is a painless process (and one that we'll leave to Google to explain). Once that's done, it's time to start optimizing your page.
Uniformity is key.
No matter how many locations you have, it's important to have a consistent NAP (name, address, and phone number) across your website and GMB listings. (Incidentally, this consistency should extend beyond Google to include all directories and platforms.)
It's also important to put a face to a name. Including high-quality, professional headshots of doctors can humanize your listing. Additionally, practice logos and photographs of your facilities can further legitimize your listing. Whatever you do, though, try to avoid stock photos.
How do I improve the SEO of a multi-location healthcare business?
For healthcare businesses with multiple locations, it's important to have a Google My Business page for each doctor, practitioner, and location. As a rule of thumb, if you operate in a public-facing role, you should have your own listing.

While claiming your listing, be sure to include your NAP and your qualifiers (such as MD or Dr.), but not your title. For example, if you're an orthopedic surgeon, your specialty should be listed as a category—not in the title of your GMB listing (see below):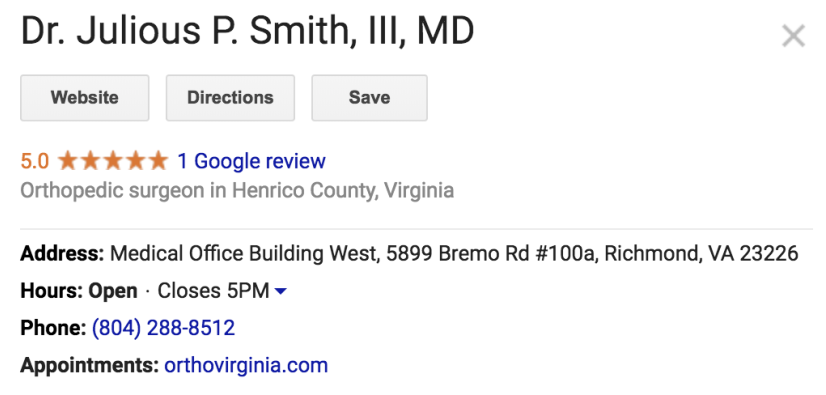 A doctor should never create multiple listings for each of their specialties. Perhaps more importantly, your practice should manage a single listing for each location—which should exist as a separate entity from each practitioner's individual listing. For example, a practice with seven doctors and three locations should have 10 total listings.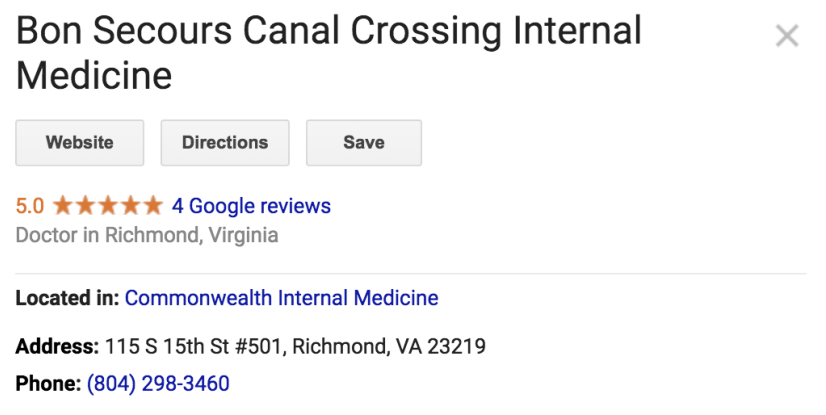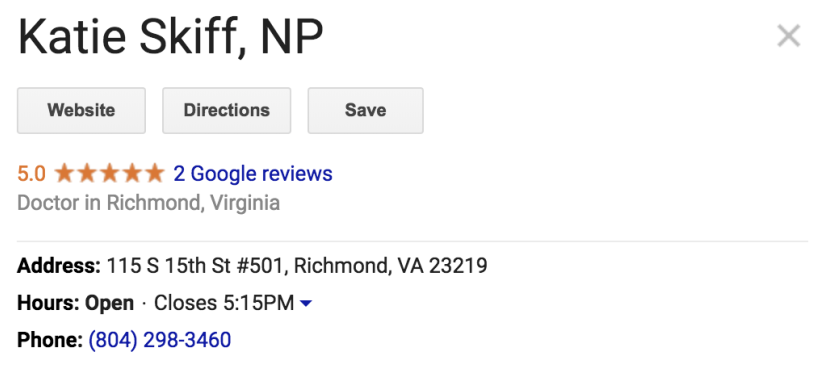 In this example, we turn to a local practice (in proximity to the Workshop Digital office). As you can tell, both the practice and the nurse practitioner have separate listings. Although the NP operates out of Bon Secours Canal Crossing Internal Medicine, they've still claimed their individual profile. And, true to form, the address and hours are consistent across both GMB listings.
Making the Most of Your Google My Business Listing
Making the most of GMB takes more than just setting and forgetting your listings. An effective listing is one that makes the most of the many options offered by Google.
For starters, Google My Business Posts allow practices to share useful content. For example, a practice can share promotional offers, push out newsletters and events, and answer relevant questions. Not only do these posts engage patients, as we've discussed before, Google My Business posts can even boost the local organic performance of healthcare providers.
Another overlooked component of GMB is the Q&A feature, which allows practices to directly interact with their patients. Much like reviews, Q&As are crowdsourced by real people asking real questions. And they deserve real answers. Taking the time to thoughtfully engage with your patients not only improves your GMB profile, it builds rapport with current and future patients.

Finally, as we've mentioned last week, patient reviews can help sway the public perception of your GMB listings. Reviews are a central component to the success of your practice's SEO efforts. As aforementioned, review signals are an important local search ranking—especially when paired with optimized Google My Business listings.

Maintaining your GMB listings enables your practice to increase its visibility across local search. It provides a better experience for potential prospects by providing them with relevant content and answers. And it ensures that third-party listings that rely on Google for data are accurate.
See results with digital marketing.
Our LASIK digital marketing guide can help your practice compete.