In 2020, Google announced the 2022 removal of Chrome third-party cookies in favor of the Privacy Sandbox, "to build innovations that protect anonymity while still delivering results for advertisers and publishers." Earlier this year, Google clarified the Privacy Sandbox will not replace third-party cookies with alternate individual tracking identifiers, and instead will use Application Program Interfaces (APIs) to track use cases such as ad selection and conversion measurements without recording personal user information.
In short, we know access to user data is changing.
Workshop's Paid Media team is working to adjust our practices in anticipation of less data, while still maintaining a focus on using the data we have to make informed ad campaign decisions that support our clients' business goals.

Create synergy across teams and channels
Workshop client services teams operate under two umbrellas: Paid Media (a.k.a. PPC) and SEO. Each has their own challenges and opportunities with data collection. The best results come from combining the insights from both to see a more complete picture of user intent and behavior.
Typically, Google Ads advertisers have enjoyed greater access to search term reports to uncover new keyword variations to include or exclude in their campaigns. However, in 2020, Google limited search terms reports to only reflect terms searched for by a significant number of users.
As our Paid Media folks prepare to craft and implement client campaigns with fewer insights, collaboration with SEO counterparts garners deeper keyword understanding. Our SEOs use Google Search Console (among other tools) for keyword research to identify organic impressions, the percentage of impressions resulting in a click, total clicks, and average keyword position among search results for a site.
Senior Paid Media Manager Christine Askew says:
"With Google search query reports thinning, tying in SEO tools offers valuable data support to ensure PPC campaigns are targeting appropriate keywords."
Our teams are also able to tap into audience selection and segmentation research from a client's branding or PR initiatives. When we can use audience information that's proven successful in other areas of a client's business, PPC can work in tandem with all marketing efforts to create consistently targeted ad campaigns.

Build first party data capabilities
We know third-party cookies will eventually become a thing of the past. Depending on business needs, some companies may consider how they can leverage first party data collection methodologies. The means of first-party data collection will vary, but could include a Content Management System (CMS) or Data Management System (DMS) employing first-party cookies embedded with tracking parameters to capture keywords, ad IDs, campaign IDs, or other relevant user information.
First-party cookies are one way for companies to own and save user information. Without relying on a third-party source, this method allows businesses to create remarketing audiences based on user behaviors and analytics data. With legal permissions in place, first-party data can also be shared with a digital marketing agency for more precise audience development.
For companies who can not rely entirely on first-party cookies, Paid Media Team Lead Jenny Williamson suggests Google Ads enhanced conversions to supplement existing conversion tags. Enhanced conversions send hashed first-party conversion data from a website to Google in a privacy-safe way. This one-way hashing algorithm (one-way hashing = secure; nearly impossible to derive the original text from the new data string) matches consumer data (such as email addresses) to a Google Account, and then attributes consumer actions to ad events (such as clicks or views).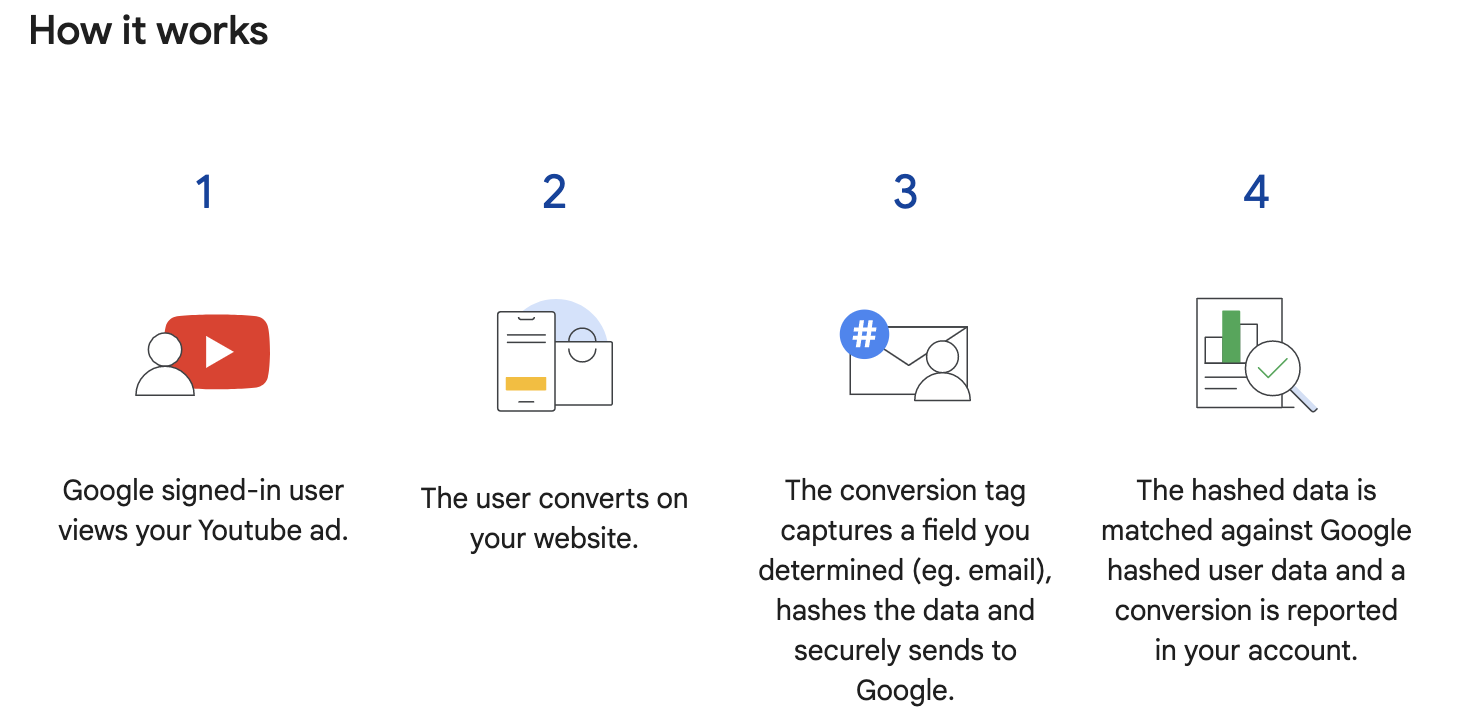 Shift from conversion to capture mindset
First-party data doesn't have to be tied to cookies or Google Ads events. For some industries, particularly ecommerce, valuable data exists in the relationship between coupon codes and backend sales.
Senior Paid Media Manager Preston Pezzaro offers the following example:
"If 5,000 users click an ad offering a unique coupon code, backend sales will indicate how many codes were entered, thus validating the effectiveness of that particular campaign without the need for cookies."
For a broad range of industries, such as software as a service (SaaS) or financial services, tracking top of funnel ad conversions tied to downloads of white papers or ebooks offers another source for user activity data.
As we move away from cookies, we encourage our clients to align sales and marketing teams in an effort to understand marketing impact on the sales process.
When solely looking at PPC campaign transaction revenue, we may come to the conclusion that some campaigns are hitting efficiency targets; however, combining this data with the client's internal business metrics can uncover that certain campaigns aren't actually hitting the mark. This creates better understanding of what campaigns are most valuable & provide guidance to improve true underperforming campaigns.
One way to do this is by calculating the client's net present value per click as the cash flow from an ad campaign subtracted from investments. Given diminishing user data, supplementing with tangible business calculations to see what's working and what's not is a solid alternative.

Wrap Up
For the time being, we can still use third-party cookies to provide user information about keywords, audiences, and user journeys. With changing data access in mind, championing cross-team collaborations and leveraging first-party data (in a variety of forms) will be key for businesses' PPC strategies moving forward.
Are you a marketer interested in elevating your PPC strategies? Check out our PPC Services for more information.